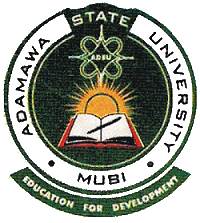 The Adamawa State University (ADSU)
is a state government-owned and operated Nigerian university.
Adamawa State University has been officially accredited and/or recognized by the National Universities Commission (NUC), Nigeria.
Do you want to find out the list of courses you can study at the Adamawa State University (ADSU)? Below is the list of high-quality courses on offer at Adamawa State University.
Read Also:
ADSU Courses & Programmes
ACCOUNTING
AGRIC-ECONOMICS AND EXTENSION:
AGRICULTURAL SCIENCE AND EDUCATION
AGRICULTURE
AGRONOMY
ANIMAL PRODUCTION
BANKING AND FINANCE
BIOCHEMISTRY
BIOLOGY
BOTANY
BUSINESS ADMINISTRATION
BUSINESS ADMINISTRATION
CHEMISTRY
COMPUTER SCIENCE
COMPUTER SCIENCE AND MATHEMATICS
CROP PRODUCTION
EARLY CHILDHOOD EDUCATION
ECONOMICS
EDUCATION AND BIOLOGY
EDUCATION AND CHEMISTRY
EDUCATION AND COMPUTER SCIENCE
EDUCATION AND ECONOMICS
EDUCATION AND GEOGRAPHY
EDUCATION AND MATHEMATICS
EDUCATION AND SCIENCE
ENGLISH LANGUAGE
FISHERIES AND AQUACULTURE
GEOGRAPHY
GEOGRAPHY
GEOLOGY
GUIDANCE AND COUNSELLING
HISTORY
HOME ECONOMICS
INDUSTRIAL CHEMISTRY
LAW
MARKETING
MASS COMMUNICATION
MATHEMATICS
MICROBIOLOGY
PHYSICS
POLITICAL SCIENCE
PRIMARY EDUCATION STUDIES
PUBLIC ADMINISTRATION
PUBLIC ADMINISTRATION
PURE AND APPLIED PHYSICS
SOCIOLOGY
TAXATION
ZOOLOGY
Also Check:
Senate had approved five (5) relevant credits including English and Mathematics except English, History and Mass Communication, which must be met for all programmes in the Faculty of Social and Management Sciences, while in the Faculties of Agriculture, Science and Science Education, candidates must have four (4) relevant credits pass, including Mathematics, then sign an undertaking to meet O'level credit pass in English before proceeding to 300 level. Candidates will be placed as follows:-
100 Level

: UTME, and Direct Entry (DE) OND, ND with a pass.

200 Level

:

NCE with a minimum of 9 points having met O' level requirements for the programme.
IJMB with a minimum of 6 points have met O' level requirement for the programme.
ND with a minimum of LOWER CREDIT and having met O' Level requirements for the programme.
The official website for Adamawa State University is – http://www.adsu.edu.ng/.
---
---
Get in touch with us
---
If this post was helpful to you, please help us to reach others by sharing with the buttons below!