This post is all about Landmark Beach Lagos. So you will get information about the location, opening time, gate fee, joints and spots. You will also get information about the activities and tourist attractions that are in Landmark Beach. Then you will read what happens at the beach on and off festive periods, and every other thing you need to know before visiting the beach .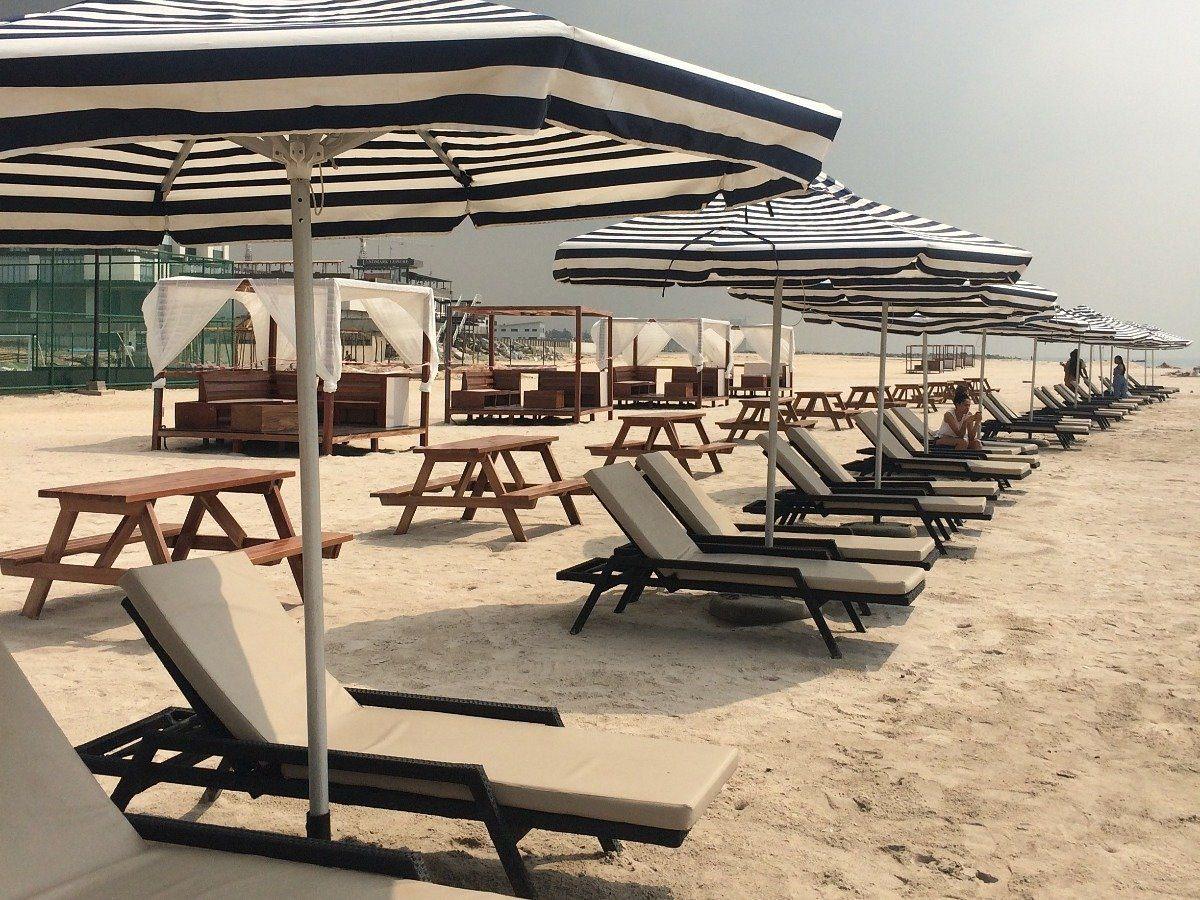 Landmark Beach Lagos
Lagos state is home to so many beaches. The simple reason is the proximity of the state to the Atlantic Ocean.
The Landmark beach is one of the several beaches in Lagos. Actually, the beach is located along the Lagos coastline.
Landmark beach is a very popular beach in Lagos and is privately owned. It is also close to the Oniru Royal family beach.
Like you know, life in Lagos is full of hassles and bustle mostly having to do with endless traffic. Landmark beach provides a serene environment for Lagosians to relax and unwind especially on weekends.
The management of Landmark beach Lagos provided high quality facilities having family and friends in mind. More so, they had different age brackets in mind, making sure that everyone has fun regardless of their age.
Landmark beach is one of the best in Lagos for many reasons which you will yet read in this article. But for now, let me tell you that Landmark beach is located at Oniru in Victoria Island. So it doesn't require several hours of driving to go and enjoy the beauty of nature. It simply takes less than 10 minutes drive from Lekki Phase one and this is much unlike most other beaches in Lagos.
Landmark beach is an incredibly beautiful beach with crystal clear water, lovely and natural scenery. The place is also neat and serene. In fact, the beach is one of the many tourist attractions you should visit in Lagos.
More Info About Landmark Beach Lagos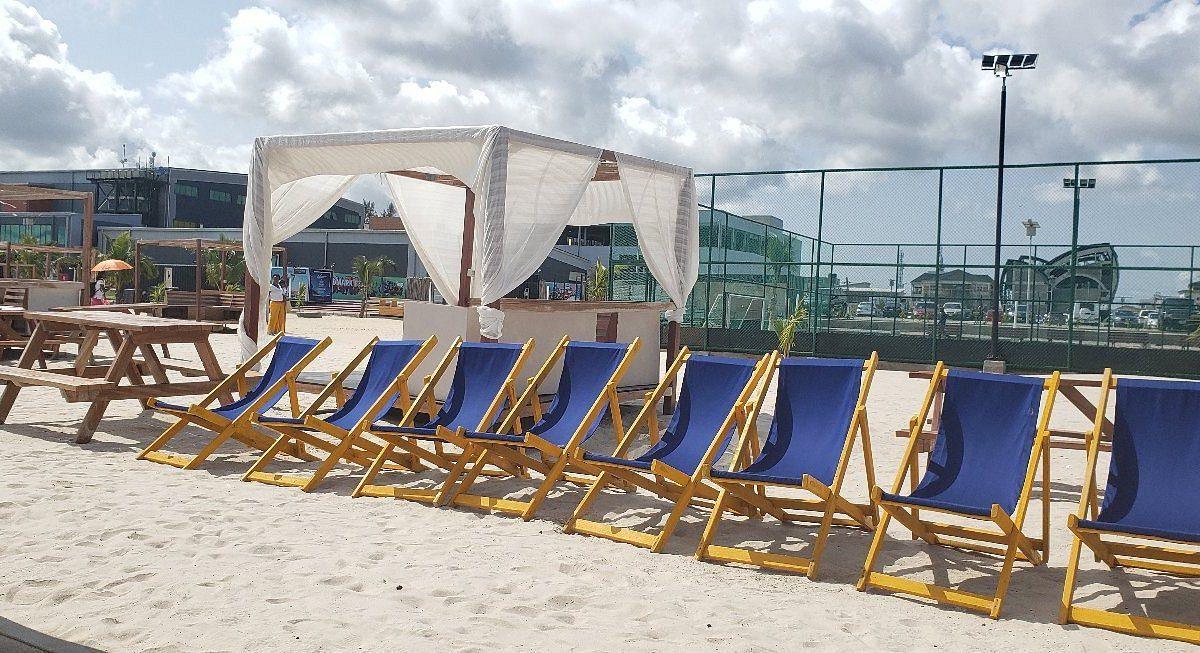 I already told you that Landmark beach is one of the best in Lagos. The reason is because the beach has many world class recreational facilities and is easily accessible. It is just about 1 hour drive from Lagos mainland, and a little above 5 minutes drive from Eko Hotel. Landmark beach is privately owned and very beautifully styled. It shares the same facility with the Landmark event centre.
At Landmark beach, you are sure of optimum security, a neat and serene environment. You are also assured of world class services rendered with well-maintained facilities. All these are geared towards giving you an unforgettable beach experience regardless of your peculiar needs.
There are lots of exciting leisure and recreational activities and entertainment for children and adults. Of course, these include swimming and other water sports.
The Landmark beach stretches from Shiro Restaurant, through Hard Rock Café and Landmark event centre, down to the Landmark hotel.
When Did the Landmark Beach Open?
Landmark Beach was fully open and operational on December 16, 2018. The opening ceremony was a big one having some notable dignitaries in attendance. From that day, the beach has been growing in popularity among Lagosians.
Activities you can Engage in at Landmark Beach Lagos
Although Landmark Beach is one of the newest additions to the list of beaches in Lagos, it has become the favorite for most Lagosians. This is partly due to its proximity to Lagos Island but majorly because of the world class facilities it offers.
These facilities are the reason why there are lots of fun and recreational activities one can engage in at Landmark Beach Lagos. I'm going to mention some of them now…
1. You can explore foods and drinks on the beach. Yes, the beach has several restaurants that offer varieties of food, drinks and other edibles. So, depending on your program or event, the beach can cater for your food and drink needs.
2. You can enjoy a boat cruise at Landmark Beach just for a little fee. For a fee as little as 5,000 Naira, you can get a boat ride and have fun.
3. If you are in love with water sports, Landmark Beach also has a special activity for you. It is called jet skiing. Jet skiing is a fun recreational water sport that makes use of a bike-like machine called a jet ski.
However, jet skiing is a bit on the crazy side. So, if you'd like to get your adrenaline pumping, you can try this real fun activity. Trust me when I say that you will have an unforgettable adventure on the sea.
4. The Landmark Beach offers a football and volley ball pitch where you can compete with your friends for a fun moment. More so, you guys may decide to play in the American Beach soccer in crystal white sand.
5. The Landmark Beach also offers clients the opportunity to bring back their childhood memories. With the beach wind fully at your disposal, you can fly a kite. More so, you can get on a bouncing castle.
Other Fun Activities at the Landmark Leisure Beach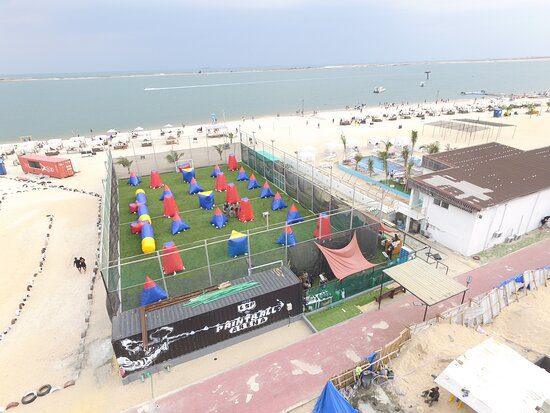 1. Landmark Beach offers clients the opportunity to rent quad bikes. A quad bike is a motorcycle with four large tyres, for off-road use. So you can get on a quad bike and know what it feels like to ride on it.
2. Horseback riding is another fun and exotic activity available at Landmark Beach Lagos. The good thing about this is that it is not very expensive. So for a relatively little fee, you can announce your presence in a heroic way by getting on a horse and walking down the aisle of the Atlantic to the admiration of everyone.
The agents and operators are gentle and nice. So there is nothing to fear even if it's your first time riding on a horse. You are very free to snap pictures with a horse.
3. You can just decide to go to Landmark beach to take amazing pictures. Yes, it can be a whole lot of fun doing so. You may eventually post these pictures on social media and show the world how beautiful Lagos is.
4. If you are planning a picnic or party, Landmark Beach is the perfect venue for you. The facilities at the beach are well suited for any event, whether it is a church hangout, reunion, family event, birthday party, bridal shower and so on.
5. Finally on this, you can order exotic drinks from the Landmark Beach lounge. The beach boasts of a world class VIP type lounge fully equipped to meet all your needs. There, you can order some exotic red wines, beach drinks like sex on the beach, pina colada and your favourite coconut drinks.
Landmark Beach Rules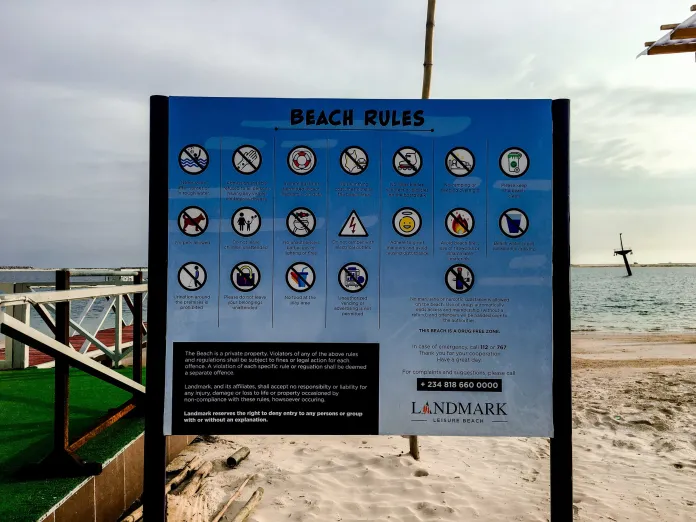 As you know, Landmark beach is privately owned. So it is natural for the management to set up some rules and regulations that would ensure the safety of every beach user.
Therefore, you need to take cognizance of the rules before you visit this beach. Here are the rules…
1. Do not swim after sunset or in rough water.
2. Admission shall be refused to all persons having any visible contagious disease.
3. Swimming is not permitted except lifeguard is on duty.
4. Swimming costumes are not allowed outside the beach area.
5. No roller scooters or bicycles on the boardwalk.
6. No camping or sleeping overnight.
7. Always keep the beach clean.
8. Pets are not allowed.
9. Do not leave children unattended to.
10. No unauthorized barbecues or lighting of fires.
11. Do not tamper with electric cables.
12. Adhere to good manners and avoid causing disturbance.
13. Avoid the use of fireworks or inflammable materials.
14. Do not drink the beach water.
15. Drugs are not allowed, no marijuana, narcotic etc. Offenders will lose access to the beach and will be handed to the authorities.
Landmark Beach Gate Fee
At the gate, there is an entry fee to be paid in order to gain access into Landmark Beach. In this section, I will give you the gate fee and other accompany rates.
Landmark Beach Gate fee for Non-members
Landmark Beach gate fee for Adults is 2,000 Naira. The gate fee for Children within the age range 5 – 12 years is 1,000 Naira. However, entry is free for children below 5 years.
Landmark Beach Gate Fee for Members
The Landmark Beach grants free entry to members. So the gate fee for Landmark Beach members is free.
Landmark Beach Booking
Below is the cost of booking some facilities at Landmark Beach Lagos.
Loungers (a beach bed with Shared Umbrella) – 2,000
Cabana 25,000
Jet ski 10,000 for 10 minutes
Kayak 6,000 per hour
Boat cruise 5,000 per hour
Bouncing castle 500
Volleyball 16,000 per hour
Astroturf Football 23,000 per hour
Corkage
Corkage is a charge made by a restaurant or hotel for serving food or wine that has been brought in by a customer. So if you are bringing food and drinks from outside, this fee will apply.
However, you must be on the group package to be able to bring in food.
Here is the corkage for different categories of foods and drinks:
10,000 per cooler of food
10,000 per cooler of alcoholic drinks
5,000 per cooler of non-alcoholic drinks
5,000 per pack or carton of beer, or a cooler of mixed alcoholic and non-alcoholic
List of Restaurants at the Landmark Beach
Landmark Beach is home for different types of restaurants, bars, grills and clubs. They are tailored to meet different classes of clients with different needs. Here are some of them.
Spur
Lagos Boat Club
The lounge/bar
Bubbletii
Ricy's 411 Grill
Eko Spicy
Travis Cocktail bar
Sooyah Bistro
Landmark Beach Address
The Landmark Beach is located at the Landmark Village, Water corporation Drive, Victoria Island, Lagos, Nigeria.
How to get to Landmark Beach Water Corporation Drive Lagos
You can access Landmark Beach either from the Roundabout by Pinnacle Filling Station or through Victoria Island via Eko Hotel Roundabout.
Landmark Beach Opening and Closing Time
The Landmark Beach opens at 8 am and closes by 10 pm daily.
Membership Plans for Landmark Beach Lagos
Non Member
2,000 Naira per Adult
Child Entry (5 – 12 yrs) ₦1,000
Additional Kid Entry (0 – 5 yrs) Free
General Beach Access
Blue Member
50,000 per Annum
Admits 1 Adult
₦25K for Additional Adult
5% Discount on Beach Facilities & Activities
Entry Fee for Member's Guest ₦1,500
Gold Member
200,000 Naira per Annum
Admits 2 Adults & 4 Children
20,000 for Additional Child
40% Discount on Cabanas
10% Discount on Beach Furniture
10% Discount on Beach Activities
Entry Fee for Member's Guest ₦1,000
2 Free Foldable Chairs per Family
JeT-Ski Member
400,000 Naira per annum
Admits 1 Adult
Storage for 1 Jet Ski
1 Free Blue Membership
Platinum Member
500,000 Naira Annually
Admits 2 Adults & Unlimited Number of Children
60% Discount on Cabanas and Beach Furniture
20% Discount on Water Sports
20% Discount on Other Beach Activities
Entry Fee for Member's Guest ₦1,000
5 Free Foldable Chairs per Family
Gold Corporate Member
1,000,000 Naira per Annum
15 Staff Families
Admits 2 Adults & 4 Children
40% Discount on Cabanas
50,000 Nara for Additional Family
10% Discount on Beach Facilities & Activities
Entry Fee for Member's Guest ₦1,000
2 Free Foldable Chairs per Family
Free Use of Astroturf for 4 Weeks Annually
Diamond Corporate Member
5,000,000 Naira per Annum
30 Staff Families
Admits 2 Adults & Unlimited Number of Children
25,000 for Additional Family
60% Discount on Cabanas & Beach Furniture
20% Discount on Watersports
20% Discount on Beach Facilities
Entry Fee for Member's Guest ₦1,000
5 Free Foldable Chairs
Free Use of Astroturf for 12 Weeks Annually
10% Discount on Beach Hire for Events
Other Tourist Centers Close to Landmark Beach Lagos
The following are some other tourist attraction centers close to Landmark Beach Lagos:
Lekki Leisure Lake
Twin waters
Shiro/Hardrock Cafe
Moist Beach Club
Nike Art Gallery
Conclusion
Landmark Beach is a very lively and mostly crowded fun spot. It shares the same facility with Hardrock Café, Shiro Restaurant, Landmark Event Centre and Retail Boulevard. It combines a myriad of leisure and recreational activities which caters to adults and children.
Landmark Beach is a perfect place for good fun and relaxation. However, if you prefer a quiet and serene environment, visiting this beach in the evening or on the weekends may not be the best choice. It's better to visit during the weekdays.
However, if you're looking for a packed beach with non-stop fun and music, Landmark Beach is highly recommended for you.
So here's where we end this very informative article. I trust that it is helpful. Really thanking you for visiting this website. I want to encourage you to bookmark this site on your browser. By so doing, you will be able to access other information without hassle.
Also remember that you can use the comments section to just share your thoughts about Landmark Beach with us.
Furthermore, kindly help us to reach others with this post. Share with friends on Social Media. Just scroll down to see the Facebook and Twitter and WhatsApp buttons.
See you on the next article.
---
Still Got a Question? Drop Your Question Right HERE 👇👇 and click on Search.
Get an Immediate Response...
---
---
---
Get in touch with us
---
If this post was helpful to you, please help us to reach others by sharing with the buttons below!