How to Prepare with Sure Success UNN Post UTME Past Questions. That's exactly what this post is all about. Yes, the exam is around the corner. Very soon the registration modalities and dates will be announced. And UNN Post UTME examination will be upon. I want to probe your preparations and see how you are really doing. I hope you don't mind.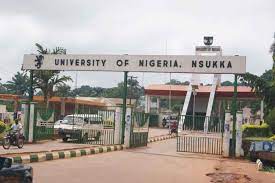 UNN Post UTME is a Real Clash of the Titans
You see, when you have developed the will and desire to win, you must endeavor to move beyond that level. Yes because, "It's not the will to win that matters—everyone has that. It's the will to prepare to win that matters." This means that the will to win is worthless if you do not have the will to prepare.
Maybe I should ask again, "Are you sincerely and genuinely preparing for your UNN Post UTME Screening Exam?" I don't know what you answered but don't forget that if you are not preparing, somebody else somewhere is. And he will be getting ready to take your place come November this year. Yes, because to be prepared is half the victory.
Dear prospective/aspirant of the one and only University of Nigeria, Nsukka (UNN), I want to use this medium to inquire about how you are handling the issues of preparations towards the announcement  of the dates, registration and commencement of the forthcoming UNN post UTME screening showdown. Showdown? Yes! That's the word. It would be a battle. A real clash of the titans. And you must develop enough will and desire to win.
Sure Success UNN Post UTME Past Questions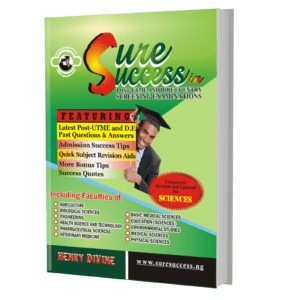 In order to for you to be adequately prepared, you need to make religious use of very good and necessary books and materials. What books are you preparing with?
Have you gotten that unique, all-in-one UNN POST UTME AND DIRECT ENTRY PREPARATORY HANDBOOK called SURE SUCCESS? Maybe I should take a few lines to tell you about this book.
The SURE SUCCESS (UNN POST UTME Past Questions and Answers) handbook contains everything requisite for the actualization of your UNN admission dreams. The Unique Features of the Book include:
Live UNN Post UTME Past Questions and Answers, and UNN Direct Entry Past Questions.
Time-proven UNN Admission Success Secrets and Tips,
Quick Subject Revision Aids,
2022/2023 UNN Post UTME likely Exam Questions,
Powerful Keypoints and Summary of each Subject,
Prophetic Prayers for Exam Success.
Is the SURE SUCCESS UNN Post UTME Past Questions Updated Every Year?
This is one of the many questions we get from UNN aspirants concerning the Sure Success Post UTME Past Question. Many of them get older editions maybe from older siblings or friends. And they want to know whether they can use it or still go ahead to purchase a new one.
If you have an older version or edition of Sure Success UNN Post UTME Past Questions, you would be missing some years depending on how old the edition you have is. So it is advisable to buy the latest edition that is current and updated in terms of the most recent UNN Post UTME exams.
Where Can I Buy the Sure Success UNN Post UTME Past Questions?
There are many Sure Success outlets and agents across the nation. So if you are in states like Lagos, Enugu, Ebonyi, Anambra, Imo, Abia and so on; you can find the shop or agent closest to you by opening >>this link<<.
However, if you don't find any SureSuccess sales outlet close to your state, you can call me on 08060848179. When you call, we shall make arrangement to waybill your copy to you.
SureSuccess UNN Post UTME Past Questions Testimonials
Below are some of the SureSuccess Testimonials from teachers and students:
"This work sets positive guidelines for overwhelming success in UNN post-UTME tests. An intellectually arranged salient points and steps to merit admission. It is an impeccable companion to candidates of this category."

–

      

Stone Ede Christian

Professional Linguist cum Polyglot.
"SURE SUCCESS in UNN Post-UTME is by far the best and most comprehensive admission preparatory handbook I have ever seen. I was privileged to prepare with it and I can say it was very helpful because I gained admission courtesy of the book."

300 Level, 

Fine and Applied Arts

"From my experience in preparing candidates for post-UTME, this book (

SURE SUCCESS in UNN Post-UTME

) has all it takes to equip candidates adequately for excellent results."

Proprietor, PKC, Enugu.
"SURE SUCCESS is the book for every student who desires to attain his or her next level with respect to academics. It is especially useful for preparation for UNN Post UTME and other similar examinations. I strongly recommend it to everyone who desires to gain admission to the UNN."

– Engr. Ogechukwu Uche
Proprietor, Divine Delight Int'l School, Enugu.



"SURE SUCCESS

can best be described as a treasure chest. A rare Post UTME preparatory handbook. If you find it, buy it; and voraciously read and digest it, for therein lie the untold secrets of successful Post UTME and admission venture."

Pauline Nwosu U
Conclusion
I want to believe that the testimonials said it all. If you are a UNN 2022/2023 Post UTME candidate and have not gotten
SureSuccess
till now, don't wait any longer because time waits for no man.
Click Here
to access a comprehensive list of the nationwide distribution outlets of
SureSuccess
. Look through the locations and contacts, find out which is closest to you, call to procure your own copy today.
For more details on how to get the SURE SUCCESS (UNN POST UTME PAST QUESTIONS AND ANSWERS), call Henry Divine on 08060848179.
Best Wishes from yours sincerely, HD.
---
Still Got a Question? Drop Your Question Right HERE 👇👇 and click on Search.
Get an Immediate Response...
---
---
---
Get in touch with us
Join our 2023 JAMB Tutorial Classes on WhatsApp or Telegram or Facebook
Like and Follow us on Facebook @SURE SUCCESS NG
Join our Aspirants Facebook Group @JAMB Tutorials & Updates
UNN Aspirants and Students, Join MY UNN DREAMS (MUD)
---
If this post was helpful to you, please help us to reach others by sharing with the buttons below!