This post is about TRCN. So I will be giving you information on the full meaning of TRCN, TRCN Registration, TRCN Past Questions and so on. I will also inform you about the exam date so that you can plan your preparation very well.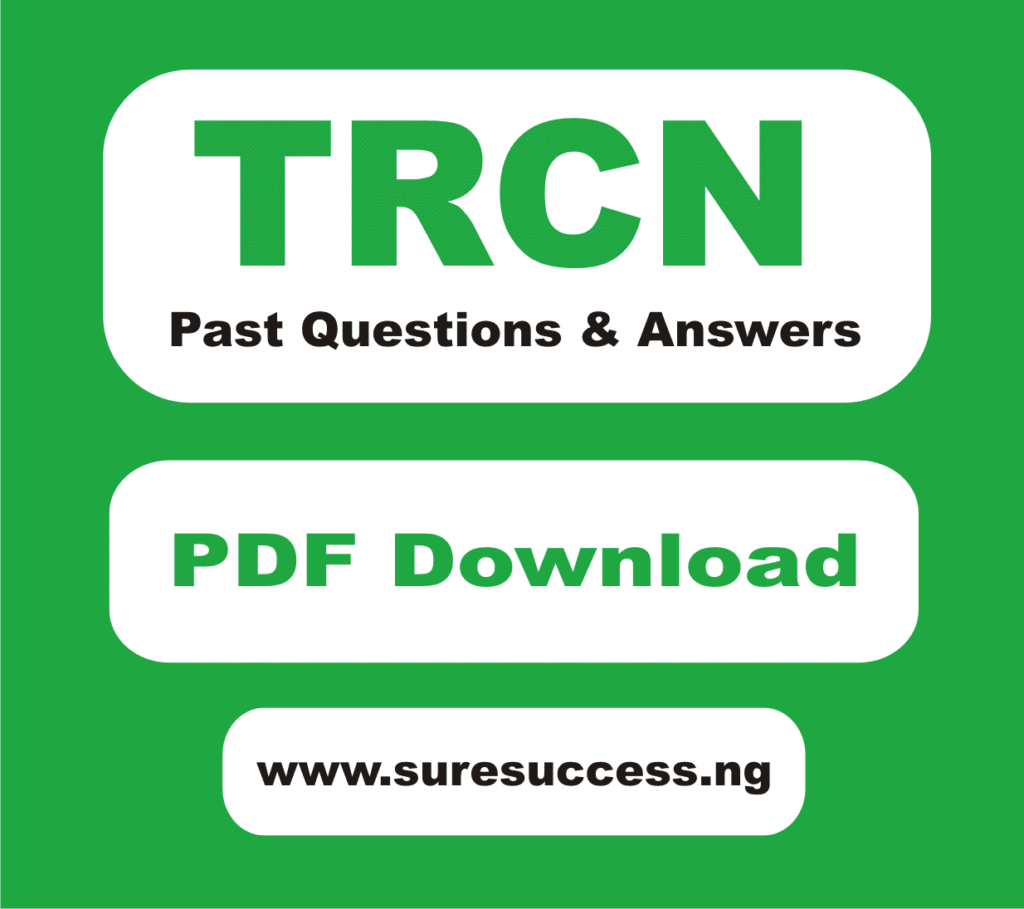 What is the Full Meaning of TRCN?
The full meaning of TRCN is Teachers Registration Council of Nigeria. It is an agency of the Federal Ministry of Education of Nigeria.
The mandate of the TRCN is to regulate and control the teaching profession at all levels both in the public and private sectors.
The agency assures excellence and professionalism among teachers using effective registration and licensing.
TRCN Application Procedure and Fees
1. Before the licensing of a teacher under TRCN, the teacher must first enroll for the Professional Qualifying Examination (PQE).
2. The application fee varies depending on the category a teacher falls in. For example, there are categories A, B, C and D. Categories A, B, C and D represent teachers with PhD, Masters, Bachelors and NCE respectively. Their application fees are N5000, N4000, N3500 and N3000, also in that order.
3. After making the payments, candidates are to visit the TRCN state office to obtain the application form.
4. They are to complete the application forms and return them to the state office with evidence of payment for the examination. [Also remember that each candidate must pay according to their category.]
5. Thereafter, candidates are to proceed to the Remitta Portal. There, they are to click on "PQE Application Fee."
TRCN Registration
After the PQE application, TRCN will conduct the examination. It is the outcome of this examination that determines those who would qualify for actual registration and licensing.
So PQE application is not the same the as TRCN registration or licensing. Also worth noting is the fact that the Professional Qualifying Examination fee does not cover the cost of registration.
Therefore, if you scale through the PQE, you will still pay registration fee for eventual registration as a professional teacher.
Cost of Registration and Annual Dues for Different TRCN Categories
The following is a breakdown of TRCN registration fees and annual dues for the four categories.
Cost of Registration for Category A (Ph.D Holders): N10,000.
Annual Dues: N5000.
Cost of Registration for Category B (Masters Degree Holders): N8,000.
Annual Dues: N4000.
Cost of Registration for Category C (Bachelors Degree Holders): N6,000.
Annual Dues: N3000.
Cost of Registration for Category D (NCE Holders): N3,000.
Annual Dues: N2000.
TRCN Registration Procedure
So successful PQE candidates are to pay the above TRCN registration fees according to their category. After payment, they are to visit any of the TRCN offices close to them with their teller. They will be issued a payment receipt to enable them process their registration.
Do bear in mind that TRCN requires all teachers to renew their license every three (3) years. However, they must have paid their annual dues consecutively for those three years to qualify for license renewal.
More so, teachers must be of good conduct to qualify for license renewal. They are also expected to participate regularly in TRCN membership activities.
How to Pass the TRCN Professional Qualifying Examination (PQE)
I know that virtually every person interested in writing the TRCN Professional Qualifying Examination is already a teacher in one way or the other.
So I can safely assume that they all know what is obtainable when it comes to examinations. They know the secrets to passing examinations.
However, I will still go ahead and drop one or two helpful guides to help you to prepare for PQE and pass once and for all.
Obviously, one of the biggest secrets to effective preparation for an examination is understanding the nature of the exam itself. This has to do with knowing the nature of the questions, the number of questions, the time allowed and so on.
If you get to know these things, then you will be the position to decide how best to prepare so as to come through in flying colors.
Those are the things we shall look at in the next few sections before I conclude this article.
How Many Questions are in TRCN Professional Qualifying Exam?
Going by what obtained in the previous years, TRCN examinations have 50 questions.
The total time given to candidates to attempt these 50 questions is 1 hour.
So TRCN expects candidates to answer or solve each question in a little above one minute.
This is exactly what I mean when I talked about understanding the nature of the examination itself. The question is, how would you prepare if you know that you will answer 50 questions in 1 hour?
The next thing to understand is the nature of the questions. And that's where the past questions come in. So let's talk about it briefly.
TRCN Past Questions
The TRCN Past Questions are a compilation of questions from previous Professional Qualifying Examinations.
Of course, looking at the sample TRCN past questions above, you don't need a prophet to tell you that you need to see and practise more of them.
Practicing with TRCN past questions and answers will help you to prepare effectively. The past questions will help to save the time you would have used to be reading unnecessary materials.
Preparing with the TRCN Past Questions will also guarantee that you will pass the PQE once and for all.
Benefits of Studying TRCN Past Questions and Answers
Studying TRCN Past Questions is a valuable part of preparation for PQE.
The past questions help you to understand the nature and scope of the examination. This will help you to focus on the necessary materials.
Considering the fact that TRCN does not give out their syllabus, the past questions are one of the most helpful tools available for preparation.
The past questions will also help you to assess your progress as you study towards the TRCN exam.
More so, TRCN repeats many of their questions every year. Studying the past questions will expose you to the repeated questions and their formats.
Download TRCN Past Questions PDF Now
Of course you know that the TRCN past questions are in categories because the PQE has different categories. So there is category A, B, C and D.
On this website, you will download free TRCN Past Questions PDF for Categories A, B, C and D teachers. The Past Questions were painstakingly compiled, giving accurate answer to each question and offering a comprehensive explanation alongside.
So in each of the four categories, I will offer you two types of TRCN past questions to aid your preparations:
TRCN Past Questions PDF.
TRCN Past Questions and Answers with Comprehensive Explanation PDF.
I hope you can already spot the difference?
It's very simple.
The first is a compilation of Past TRCN Questions ONLY.
While the second contains the same TRCN Past Questions but with their correct answers and comprehensive explanations.
The first type of past questions are completely FREE of charge and you can download them at any time.
But we charge a little token for the type with provided answers and comprehensive explanations.
The reason for producing the two types of TRCN past questions is so that those who genuinely cannot afford the premium version can download and use the free one.
How to Download the Free TRCN Past Questions Only
To download the Free TRCN Past Questions Only, simply click on DOWNLOAD button below.
Download Free TRCN Past Questions Now
Once you click the button, your FREE download will run automatically.
How to Download TRCN Past Questions with Answers & Explanation
The process of downloading this version of TRCN Past Questions is also very simple. All you need to do is to contact me via suresuccessunlimited@gmail.com and request for the account details to pay for TRCN Past Questions with Solutions.
As soon as your payment is confirmed, a download link will be sent to you.
So that's the much I have for you on this. But before I sign out, I will drop more sample TRCN past questions for you so that you can be practicing even before you are ready to pay for the full EBook.
More Samples of TRCN Past Questions and Answers
Our compilation of TRCN Past Questions and Answers eBooklet has hundreds of questions from the year 2015 to 2019. And many of them have been repeated over time.
But I have selected the ones below as samples for you to study online pending when you purchase the full ebook.
1. Pioneers of comparative education exclude the following
A.) John Griscom
B.) Victor Cousin
C.) Austin Saunders
D.) Horrace Mann
2. The application of philosophical approach to comparative education is associated with
A.) Julius Nyerere
B.) Rasmos Sergius Hassan
C.) Serguis Hassan
D.) Hegel
3. Which of the following computer networks does not use the global system?
A.) intranet
B.) google
C.) info@atrcn.gov.ng
D.) www.trcn.gov.ng
4. Teacher education curriculum is designed particularly to equip trainee teachers with knowledge and skills in the following except
A.) liberal knowledge
B.) subject knowledge
C.) scientific knowledge
D.) professional knowledge
5. The import of research in special need education excludes to—
A.) Evaluate authenticity of concepts in the field.
B.) Assess effects of beliefs and decisions
C.) Assess effectiveness of programme
D.) Contribute theories in the field
6. Environment of effective classroom interaction is
A.) Noisy               B.) Silent
C.) Interactive       D.) Engaging
7. Which of the theories most emphasize the teachers role
A.) Cognitive
B.) Behaviorism
C.) Gestalt
D.) Instructional Theory
8. In the library, the call number is critical to
A.) Lending
B.) Shelving
C.) Retrieval
D.) Cataloging
9. Key component of defining intellectual retardation exclude which of these variables
A.) Nomenclature
B.) Intellectual Function
C.) Systems Support
D.) Adaptive Behavior
10. In English writing, replacing "and" with "&" is called
A.) Abbreviation
B.) Short form
C.) Ampersand
D.) Slang
11. A test whose expected learning outcome is limited to WAEC curriculum is called
A.) Achievement test
B.) Norm referenced test
C.) Standard test
D.) Teacher made test
12. Which of these is charged with the responsibility for ensuring quality supervision in education?
(a.) Federal Inspectorate Service
(b.) TRCN
(c.) The Police
(d.) Ministry of Education
13. The Nigeria 6-3-3-4 educational system was adopted from—
(a) Britain
(b)Germany
(c) America
(d) Japan
14. The Universal Basis Education (UBE) was established in what year
(a) 1999         (b) 1980
(c) 2007         (d) 1976
15. The TRCN teaching license is usually renewed at what interval
(a) Four years            (b) One year
(c) Three years           (d)Two years
16. What does the Acronym "AFTRA" stand for?
(a) African forum of Teachers Registration Authority
(b) Africa Forum of Teaching Regulatory Authorities
(c) African forum of Teaching Regulating Authorities
(d) Africa Front for Teaching Regulation in Africa
17. The ultimate goal of curriculum planning is to
a.) Develop programmes for society
b.) Develop individual skills
c.) Establish more schools
d.) Guide educational programmes
e.) Design teachers' programmes
18. Curriculum design differ primary in
a.) Teaching and learning outcome
b.) Principles of teaching and learning
c.) Method, content and structure
d.) Methodology and application
e.) Scope and sequence
19. Broad – field curriculum design is usually criticized because
a.) It is difficult to organize
b.) Of its cumbersome nature
c.) It does not include fieldtrips
d.) It does not take care of student's interests
e.) Subject demarcations still exist
20. Activity curriculum does not require
a.) A lot of instructional materials.
b.) Co-curricula activities
c.) Game and sports
d.) Planned activities
e.) Infrastructure and equipment
Read Also: MTN Scholarship Past Questions, Format and Facts
Kindly help us to reach others with this post by sharing with friends on Social Media. Just scroll down to see the Facebook and Twitter and WhatsApp buttons. Thank you so much!
See you in the next post.
---
Still Got a Question? Drop Your Question Right HERE 👇👇 and click on Search.
Get an Immediate Response...
---
---
---
Get in touch with us
---
If this post was helpful to you, please help us to reach others by sharing with the buttons below!