This Post is about MTN Scholarship Past Questions. So I will furnish you with some facts about the MTN Foundation scholarship examination and award process. I will also show you some past questions from previous MTN scholarship exams to give you an idea about the format of the exam. Approximately 37,800 students applied in 2021 and the number is usually that high.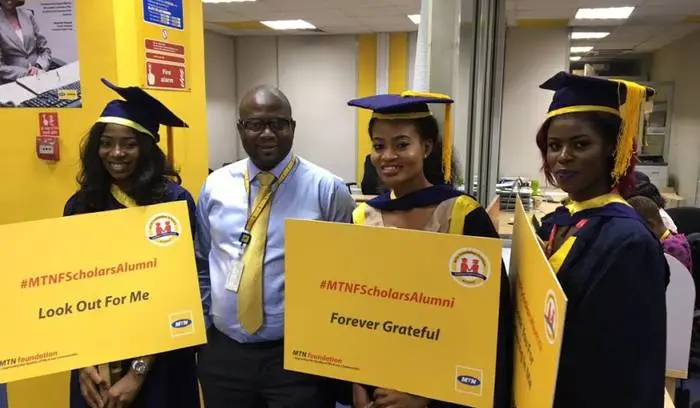 Things to Note About MTN Foundation Scholarship Exam and Award
The MTN Foundation Scholarship exam is computer based and will be digitally timed. So all candidates have equal amount of time.
It's a very competitive exam. So expect a good number of questions to be answered in about two hours.
The exam is organized by JAMB and comprise of the following sections: One Comprehension Passage with about five questions, Quantitative Reasoning, Verbal Reasoning, Analogy, and of course Information Technology Questions plus Current affairs/General Knowledge, and so on.
The Exam will last for about two hours.
A transport stipend of ₦2,500 will be disbursed either by cash immediately after exam or DYA on a later date.
MTN Scholarship exam result is usually released about 3 weeks after the examination.
A total of 500 winners will be shortlisted for the award.
Award ceremony holds about 3 weeks after shortlist of winners.
Shortlisted candidates will be contacted via email and the the national dailies will also have the publication as well as the MTNF official website.
Each winner should receive an alert of ₦200,000 in about three weeks time in the bank account they submit on the award day. In 2015, MTN partnered with Diamond Bank for the Diamond Yellow Account which was used as the method of disbursing the cash.
Old Awardees who are still eligible as per their CGPA will also be invited for renewal of their ward. This implies that you can have the scholarship until you graduate as long as your CGPA does not fall below 3.5 or 2nd class upper as well as their equivalents for Polytechnic students.
Read Also: MTN Foundation Scholarship for Undergraduate Students
MTN Scholarship Past Questions and Exam Format
Please Note: If you are a candidate for the scholarship, you should please note that there is absolutely NO guarantee that these are the questions that will be set for you, so avoid spending time trying to cram them. These are just past questions and should be seen as such.
Here are some sample past questions:
1. What is the most appropriate software for calculating in computer?
Answer: Microsoft Excel
2. Adobe Photoshop is a:
Answer: Graphics Software
3. What is the name of the first Computer Network?
Answer: ARPANET (Advanced Research Projects Administration Network)
4. What is the number of Computer Generation?
Answer: Five
5. She has lived here _____ 1975.
for
since
ago
from
Answer: B) since
6. The company uses heavy _________.
machinary
machinery
machine
machinari
Answer: C) Machinery
7. P and q are integers that are multiple of 5. Which of this is NOT true about p and q?
q + p is divisible by 5
P – q is divisible by 10
q + p is divisible by 20
P + q is divisible by 25
8. If the sector of a circle of an angle of 60° with a radius of 30 cm is bent to form a cone, find the base radius of the cone?
Logical Reasoning Sample Questions:
Six different students – Adam, Ben, Carl, David, Edgar, and Frank – compete in a "Homework race" in which the student with the most completed homework assignments is said to finish the race first and the student with the fewest completed homework assignment is said to finish the race last. The other students are ranked between first and last according to the number of completed homework assignments. The following statements are all true about the results of the home work race EXCEPT:
Ben finished either immediately before or immediately after David.
Edgar finished third
Adam did not finish last
There were no ties.
Which of the following is the possible order of the students from first to last?
Adam, Edgar, Ben, David, Frank, Carl
Ben, David, Edgar, Frank, Carl, Adam
David, Adam, Edgar, Ben, Carl, Frank
Frank, Adam, Edgar, David, Carl, Ben
Carl, Adam, Edgar, frank, David, Ben.
All of the following are possible orders of the student's from first to last, EXCEPT
Adam, Ben, David, Edgar, Carl, Frank.
Carl, Frank, Edgar, Adam, David, Ben,
Frank, Adam, Edgar, Ben, David, Carl.
David, Ben, Edgar, Frank, Adam, Carl,
Ben, David, Edgar, Carl, Adam, Frank.
If Adam finishes fifth, which of the following must be true?
Frank must finish either first or last
Carl must finish either second or fourth
David must finish either first or second
Ben must finish either first or third
Edgar must finish last.
Read Also: MTN mPulse National Spelling Bee Competition For Young Students (Over N7 Million Cash Prizes to be Won)
Source: https://nigerianscholars.com/
---
Still Got a Question? Drop Your Question Right HERE 👇👇 and click on Search.
Get an Immediate Response...
---
---
---
Get in touch with us
---
If this post was helpful to you, please help us to reach others by sharing with the buttons below!