The MTN Foundation Scholarship Scheme is a scholarship for Undergraduate Students and over 500 qualified and successful full-time Nigerian students studying science and technology related courses are awarded the scholarship which covers tuition, book allowance and stipends.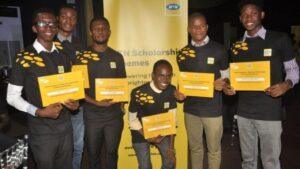 MTN Foundation Scholarship Scheme Details and FAQs
The MTN Scholarship Scheme is an annual scholarship award that seeks to recognize and reward qualified high performing students. It is made up of the MTN Science and Technology Scholarship Scheme (MTN STSS) and the MTN Scholarship Scheme for Blind Students (MTN SSBS). Both Scholarships under the Youth Empowerment Cause, are currently in their 10th and 8th phase respectively.
Under both scholarships, eligible 300 level students studying Science & Technology related courses and blind students studying in Public Tertiary Institutions (Universities, Polytechnics and Colleges of Education) across Nigeria are awarded scholarships worth N200,000.00 annually till graduation as long as they maintain the required grades.
Since 2010, over 5,000 scholarships have been awarded. The scholarships, awarded on an annual basis, is worth N200,000.00 (Two hundred thousand Naira). This covers tuition, book allowances and living allowances for one academic year.
The MTN Foundation scholarship is renewed every year until graduation for existing awardees provided they have maintained a minimum CGPA of 3.5 or its equivalent (second class upper/upper credit) while new applications, when advertised, are welcome from full time students in their second year of study.
Who is eligible for the MTN Foundation scholarship?
STSS is open to all:

3rd year students from Public Tertiary Institutions with 3.5 CGPA or its equivalent Second Class Upper.
HND Students with a minimum of 3.0GPA (Upper credit) at their OND Programme.

Scholarships will be renewed for the existing students who have maintained a minimum Cumulative Grade Point Average (CGPA) of 3.5 or its equivalent (second class upper/upper credit).
Blind students studying any discipline in their 2nd and 3rd year, with a minimum CCPA of 2.5 or its equivalent, are open to apply for the SBSS.
What is the category of the scholarship?
This scholarship falls under the undergraduate scholarships category.
What are the information required to complete the MTN Foundation Scholarship application?
Interested applicants require the following information in order to apply:
Email Address
Phone number
Matriculation Number
Date of Birth, State of Origin
LGA, Faculty, Department, Course of study,
Year of admission
JAMB Registration Number
School Location
Current CGPA,
Academic level and many more information you will fill in the form.
What are the Basic Requirements for the test?
Applicants details will be verified and shortlisted candidates will be invited for an assessment test. They will be required to come with 2 recent passport photographs as well as the original and photocopy of the following documents:
A valid Student ID card
Any other means of identification (National ID card, International passport or Driver's license)
Admission letter from JAMB and institution of study.
Admission letter for the HND programmes (For Polytechnic students only).
How do I apply for the scholarship?
To access and complete the form follow this link below to MTN scholarship application portal:
Also See: MTN Foundation Scholarship Examinations: Past Questions | Format | Facts
Application Deadline:

15th August 2021

Only Shortlisted applicants will be contacted and MTN Foundation bears sole responsibility for final selection of successful beneficiaries.

For more details, please contact Oluwafemi Raji on 08032003181 or oluwafemi.raji@mtn.com and Christian Osi on 08032002473 or Christian.osi@mtn.com.
About MTN Foundation
Operating from Nigeria's business capital of Lagos, the MTN Foundation was incorporated in July 2004 to offer a sustainable and focused channel through which MTN Nigeria would drive its Corporate Social Responsibility initiatives in all 36 states of the Federation and the Federal Capital Territory.
The Foundation is funded by up to 1% PAT (Profit after Tax) from MTN Nigeria and deploys a unique brand of wide impact and project-driven corporate social investment programmes which have won several accolades.
It has also created a vibrant network of local and international partner organisations through which its various projects are executed.
Through its efforts, the MTN Foundation has made huge impact and has become a model for good corporate citizenship, endorsed by a wide variety of stakeholders, Government, Regulators, Tax authorities, and the beneficiaries of its numerous projects.
---
Still Got a Question? Drop Your Question Right HERE 👇👇 and click on Search.
Get an Immediate Response...
---
---
---
Get in touch with us
---
If this post was helpful to you, please help us to reach others by sharing with the buttons below!