How to Write Letter of Undertaking for Student University Admission. Letter of undertaking in Nigeria and Letter of undertaking sample. You will learn how to write undertaking letter for various reasons.
Today, we are going to learn about Letter of Undertaking – what it is, the need for it, how to write it and who can write it.
What is a Letter of Undertaking?
Generally speaking, a letter of undertaking (LOU) is a letter of assurance written by one party to another party to show an intention, a promise or a pledge to fulfill the obligation that had been previously agreed on.
So, letters of undertaking always have to do with prior or previous agreement and is normally employed in the day-to-day transactions between parties. Normally, one party does it to prevent incurring loss. A good example is a situation where some students destroy school properties in the course of a demonstration. The school management requires the students to write a letter of undertaking showing that they will not do such wrongful act again and also stating the alternative consequences in case of default.
Read Also: How to Write Letter of Attestation [See Samples]
In Nigeria, students who are newly admitted into universities, polytechnics, colleges of education and secondary schools are required to write a letter of undertaking and submit as part of the documents required for clearance.
Who can / should Write a Letter of Undertaking?
Letter of Undertaking for students admission can be written by:
You.
Your Parents.
The Spiritual leader (Rev. Father or Pastor) of the one for whom the undertaking is written.
Your Traditional ruler or leader.
An Attorney.
Read Also: How to Write Application Letter for Teaching Job in School
Reasons for Writing Letter of Undertaking
There are many reasons why you may need to write a letter of undertaking for someone. In the same way, there are several reasons why you may be required to obtain a letter of undertaking. The reasons include:
Admission
Payment of debt
Good conduct
Misconduct
Loan
Employment
School fees
Building permit
There are more reasons. But, let's just move to the next section.
So, let's go…
How to Write a Letter of Undertaking
Note the following, they will serve as a guide to the format of the letter.
Letter of undertaking is a kind of formal letter. And like every other formal letter, it must therefore contain the date, your address and that of the institution (or organization), salutation and heading.
The letter must also contain an introduction which should show clearly if the letter is written by a solicitor or by the person in need. State briefly the purpose of writing also. For example: I am Henry Divine, a newly or provisionally admitted student of Biochemistry, UNN. I write in respect of the above subject.
You then proceed into the body of the letter. Here, you state your intentions in addition to any other necessary info.
Add a complementary close; Yours faithfully and sign before you put your full names.
Lastly, as you would do to any official document, cross-check to ensure that your letter aligns with your intentions.
Before you submit, make photocopies and keep one or two for future use. Or convert your Letter of Undertaking to PDF format and save in your gmail (email) account.
Read also: 36 Useful Advice to the Newly Admitted Students on Campus
Below is an Undertaking Letter Sample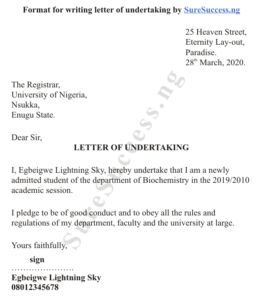 Once again, congratulation on your well-deserved admission.
---
Apart from students who got admitted into school, company employees, workers and staff members also have need to write letter of undertaking.
In many companies and business organizations, employees with salary and terms of job are required to write undertaking letter for record keeping and for reference purposes.
Read Also: How to Write a Letter for Promotion Request [Samples]
Below are Formats of Undertaking Letter for Job
Format 1
Subject: Undertaking
I hereby solemnly confirm that I have carefully studied the rules and regulations contained in my appointment letter. And I will abide by them throughout my service. I also hereby confirm that the information I have filled in this form is correct to the best of my knowledge.
In case you require any further information, I will be ready to furnish you with them as soon as possible.
Signature & Thumb impression of the Employee
Format 2
Undertaking Letter by Employee
Mrs Nkechi Presh,
Mea Mater Elizabeth High School,
Agbani.
Dear Sir,
LETTER OF UNDERTAKING
This is to notify you that I have taken the job of substitution teacher at Mea Mater Elizabeth High School for one year (i.e. from 1 September 2022 to 31 August 2023). I agree that I shall be paid the sum of one hundred thousand Naira per month.
Further more, I have completely read and understood all the terms and conditions of the job. I understand that my working hours will be from 8 am till 3 pm daily. I undertake that I can be terminated from job at any time without prior warning if I break the terms of the contract.
Yours faithfully,
[Signature] Best employee
Recommended: 3 Simple Steps to write an Essay on "Why I deserve a Scholarship".
So we have come to the end of this article. Help us to reach others. Share this post using the social media share buttons below. In addition, you can comment any questions you may have.
---
Still Got a Question? Drop Your Question Right HERE 👇👇 and click on Search.
Get an Immediate Response...
---
---
---
Get in touch with us
---
If this post was helpful to you, please help us to reach others by sharing with the buttons below!