You're on this page likely because you need to write an application letter for teaching job. If I'm right on that, then you have a very daunting task before you. You'll even find it more daunting if you're new to the field or haven't applied for a job in a while. Through this guide, you will garner essential tips that will help you to write a compelling application letter that will set you above your competitors. I'll break the process down into simple steps as I guide you to write the application letter that'd land you your dream job. Use the comments section if you need to ask questions about how to write application letter for teaching job in school.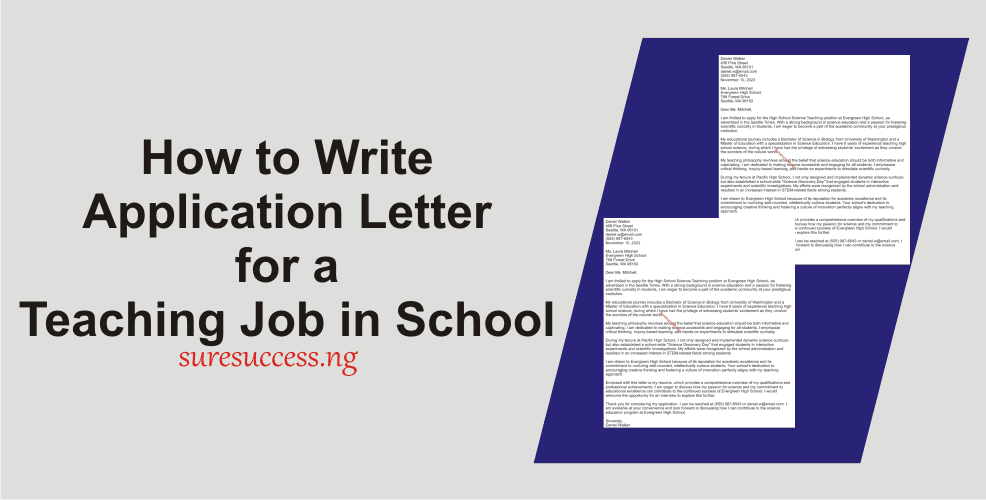 What to Do Before Writing Your Application Letter for Teaching Job in School
Job search is a very competitive venture. As a result, everything you want to do along the line must be thorough. For example, if you need a teaching job in a school, you don't just dabble into writing an application like every other job seeker. There are first things you must do first.
You must first of all thoroughly research about the school and the job posting. If you are able to do this research well, it will show in your letter because you will write with the school's needs in mind. Understanding the school's needs will also help you to express genuine interest and commitment to helping out in your own way.
Here are the two things you must do at this stage:
Carefully read the job posting
Do some research about the school
Carefully Read the Job Posting
The very first thing to do is to carefully read the job posting or vacancy announcement. As you read, here are details you need to pay attention to:
Job requirements and qualifications
Grade level or subject you'll be teaching
Application deadline
Specific instructions for application submission
Contact information
If you can thoroughly understand the job requirements and the school's expectation of you, you can align your qualifications and experiences with their needs.
Do Some Research About the School
Doing some research about the school will give you information that would stand you out above your competitors. But beyond information gathering, researching about the school would also demonstrate your genuine interest in the institution and the position you are seeking.
It's as simple as visiting and exploring the school's official website to gather information about its mission, vision and values. Also read about their notable achievements, programs, recent news and events.
Your findings will help you to align your application letter to the school's needs, culture and values.
Read Also: How to Write a Scholarship Application Letter [Quick Tips & Samples]
The Format and Structure of Application Letter for Teaching Job
For your application letter to be easy to read and also leave a positive impression on the job selection team, you need to organize it very well.
You must format your letter following a standard structure. Here is a guiding structure:
Heading
Salutation
Introduction
Body of the letter
Conclusion
In the following sections, I will explain each part of the structure of an application letter for teaching job in school.
Heading
The heading comes at the top of the application letter. That is where you would write your contact information. Your contact information should include your full name, address, phone number and email address.
Immediately under your contact information, write date.
Salutation
This part of your letter is very important and you need to carefully word it. If the job posting specified a person as in charge of hiring, you must address the letter to them. Otherwise, address it to the hiring committee.
Then use a formal salutation such as "Dear [Hiring Committee's Name]" or "Dear [Principal's Name]" and so on.
Introduction
The introduction of the letter is done in the the opening paragraph. There you are to introduce yourself and mention the specific position you are applying for. Also, express your enthusiasm for the opportunity to serve in that capacity.
For example, you can say something like, "I am writing to express my strong interest in becoming the Chemistry teacher at Heaven's Gate Academy."
Body of the Application Letter
The body of your application letter is a very important part of your letter. The reason is because that's where you'll provide detailed information about your academic qualifications, job experiences and how they all align with the needs of the school.
With respect to qualifications, you should elaborate on your educational background, teaching certifications and any other training you might have. Then go ahead and emphasize how your qualifications make you a suitable candidate for the teaching position. Remember to be as concise and clear as possible in your descriptions.
You can also share your teaching philosophy and approach in the body of your letter. Let them know your own methods for engaging students and achieving educational goals. However, you must ensure that your philosophy aligns with the school's mission and values, as revealed through your research.
Furthermore, you should detail your relevant teaching experience. For example: the previous school where you've taught, the grade levels and subjects you've taught, your special projects and accomplishments. Link those experiences to the school you're now applying to teach.
Conclusion
Your conclusion comes in the closing paragraph(s) of your application letter. How you conclude your letter is as important as how you introduced it. You must conclude in such a way that you make a strong positive impression on the hiring committee.
So you need to conclude your application letter with a strong and confident statement. In a nutshell, reassert your enthusiasm for the job and your desire to play a key role in the actualization of the school's vision. Move the committee to consider your application by succinctly expressing your readiness for an interview. You can say something like…
"I look forward to the opportunity to discuss my qualifications in more detail during an interview."
Such statement is both a call to action and an expression of your eagerness and proactive nature.
Finally, say how grateful you are for the opportunity to apply and thank the hiring committee for favorably considering your application.
Read Also: How to Write Dedication for Project [Samples & Templates]
The Language and Tone of an Application Letter for Teaching Job in School
Now that we are done with discussing the format and structure of an application letter for teaching job, it's time to tell you what you need to know about language and tone.
When writing your application letter for teaching job, you must always bear in mind that it is a formal letter. The implication is that you must maintain a professional and respectful tone throughout. Avoid using informal language, abbreviations, slang and so on. Just use short sentences that are straight-to-the-point.
Here are some tips to help you:
Address whoever that will read your application letter politely and respectfully.
Do not use contractions (e.g., "I'm" instead of "I am").
Ensure that you use formal language and avoid overly personal anecdotes.
Take some time to carefully proofread and edit your letter to eliminate typos and grammatical errors.
How to Proofread and Edit Your Application Letter for Teaching Job
I'm including this section in this guide because of the importance of doing thorough proofreading and editing before submitting your letter. You must appreciate the fact that having typographical and grammatical errors in your application letter can leave a negative impression on the hiring committee.
So you must do everything possible to avoid making such an impression as that may jeopardize your application.
Here are some things you can do:
In a relaxed mood, read your application letter aloud to yourself. By so doing, you will identify awkward and ambiguous sentences in your letter. Correct them to ensure that your letter flows smoothly from beginning to end.
They say that fresh eyes can often spot issues in a write-up which the author might miss. So you need to get a friend, family member or colleague to read your letter and give you a feedback.
Finally, check your application letter for consistency. There has to be consistency in formatting, style and tone. The information in your resume must also be consistent with what you've written in your application letter.
Read Also: How to Write Letter of Attestation [See Samples]
Submitting Your Application Letter
If you have satisfactorily done everything we have discussed so far, you are ready to submit your application letter.
You need to follow the clear instructions provided in the job advert for submission. Some schools may require you to email the letter while others may require an online application form.
In addition to your application letter, you may be required to submit other documents. Other documents you may need to submit alongside your application include your resume, teaching certifications, transcripts and letters of recommendation. Arrange and organize all the necessary documents before submitting.
Ensure that you have a copy of your application letter for your records. This is important in case you need to reference it during an interview or for future job applications.
Follow Up Your Submitted Application Letter
After going through the rigors of crafting and submitting a compelling application letter for teaching job, it would amount to carelessness not to follow it up.
So it's a good practice to follow up with the school to express your continued interest. Following up your application letter will also enable you to know the status of your application per time.
You can always follow up with the school by sending a polite email or making a phone call.
If you choose to send an email, reiterate your enthusiasm for the job and ask if they need any additional information or documents.
If you opt for phone call, be polite and professional. Enquire about the application timeline and ask when you can expect to hear from the school.
Read Also: How to Write Letter of Undertaking [See Samples]
Sample of Application Letter for Teaching Job
Below are two samples of application letter for teaching job…
Application Letter for Teaching Job Sample 1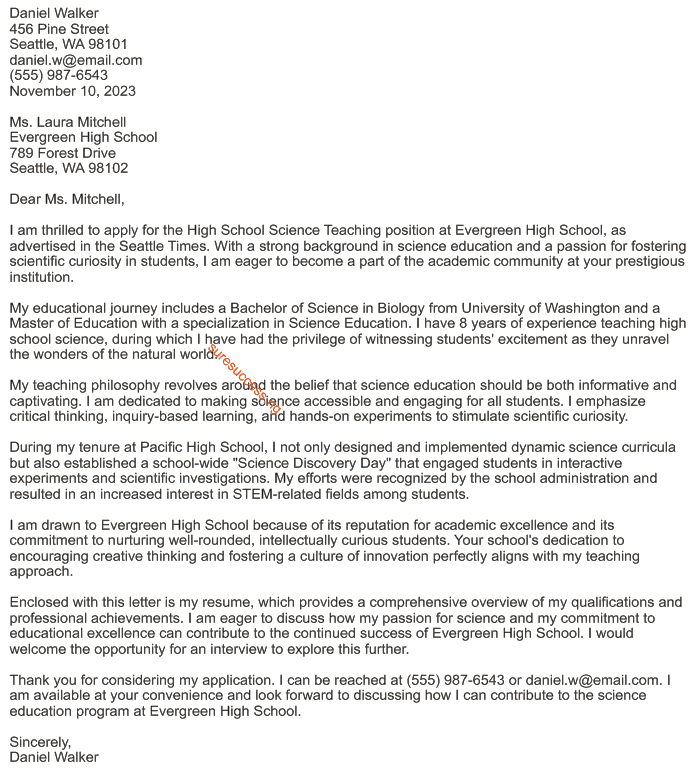 Application Letter for Teaching Job Sample 2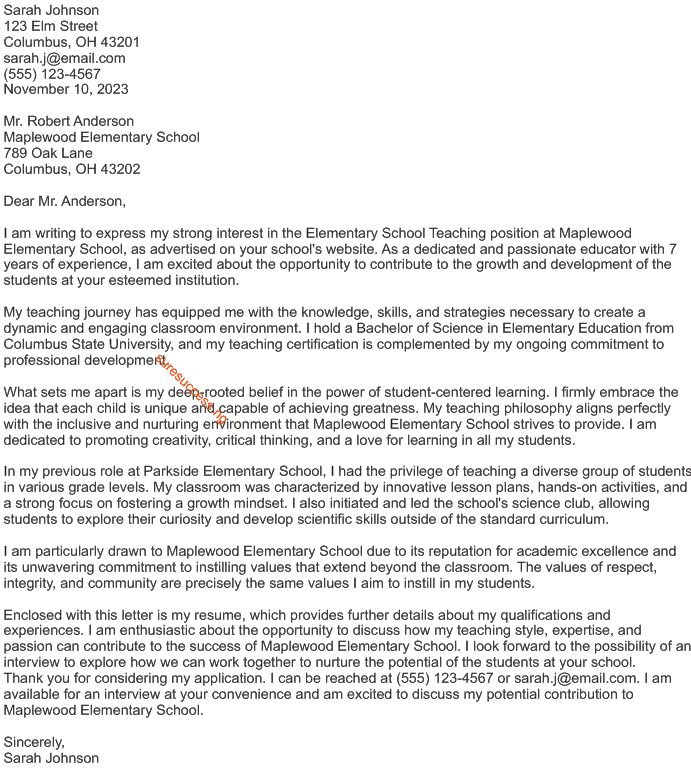 PDF of Application Letter for Teaching Job Sample 1 & 2
Conclusion
We have come to the end of this comprehensive guide. We have seen that writing an application letter for a teaching job in school requires careful research about the school and the job posting. Emphasis was laid on the need for crafting a letter that is well-organized using professional tone, as well as highlighting your qualifications and experiences, and proofreading your letter for errors. All of these can increase your chances of making a positive impression on the hiring committee and securing the job of your dreams.
We trust that you got value from this article. Kindly help us to reach others by sharing with friends on Social Media. Just scroll down to see the Facebook and Twitter and other social media buttons. Thank you so much!
---
Still Got a Question? Drop Your Question Right HERE 👇👇 and click on Search.
Get an Immediate Response...
---
---
---
Get in touch with us
---
If this post was helpful to you, please help us to reach others by sharing with the buttons below!