On this post, we are going to give you a list of top social media platforms. Then we shall describe the top 50 social media sites 2023. This will be followed by social media apps list and a list of popular social media apps. And finally, free social networking sites for chatting.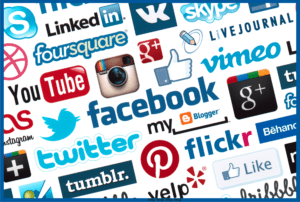 What are Social Media Sites?
Social media sites are interactive websites and apps that allow users to sign up, network with others, create and share contents. It facilitates the creation of virtual communities and the cross-fertilization of ideas among members of the communities. The various social media platforms offer different features and possibilities. However, they all share the same goal which is to bring people closer and make communication easier and faster.
Benefits of Social Media Sites
The social media sites enable you to reach very large audience with your products and services. In other words, it opens the door for your business to have more leads.
Social media sites make it possible for businesses and organizations to connect directly with their audience. The audience follows and interacts with the accounts of the brands they are interested in.
For bloggers and website owners, top social media platforms can make their sites look more valuable in the eyes of users.
Top social media sites can help you to make more money by increasing your brand visibility.
You can drive millions of traffic to your site via social media platforms.
On social media platforms, you can create organic contents for free. These organic contents can endear people to your company and increase your leads.
Beyond posting organic contents, many social platforms give you access to paid advertising services.
Now here is the last benefit. Social media platforms make it easy for people running marketing campaigns to assess and monitor their performance.
What we have given above are some of the benefits of top social media sites and apps.
What are Top 50 Social Media Sites?
The top 50 social media sites are those social networking websites and apps that are rated among the best in terms of their popularity, flexibility, acceptance and number of users or subscribers around the world.
So, on this post I'm going to give you the list of the top 50 social media sites and social networking apps in the world.
List of the Top 50 Social Media Sites in the World
Here is a list of the top 50 Social Media Sites in the world;
Facebook
TikTok
YouTube
Twitter
Instagram
Thread
WhatsApp
MySpace
Flickr
Photobucket
LinkedIn
Digg
Ning
Yelp
Tagged
Squidoo
Scribd
StumbleUpon
Hi5
Bebo
Reddit
myYearbook
Technorati
Kaboodle
Friendster
Flixster
Xanga
Epinions
Plaxo
MyBlogLog
Yuku
MetaFilter
BlackPlanet
Care2
GetSatisfaction
FriendFeed
ClipMarks
CafeMom
NewsVine
Omgili Ltd
Gigya
Ballhype
Current
Revver
Ping
Tribe
Magnify
Diigo
DZone
Xing
Faves
TwitPic
Ecademy
Twine
1. Facebook
Facebook social networking site was launched in February 2004. It is arguably the world's leading social networking site with over three billion active users as at August 2022. On Facebook, users can sign up, add friends, send messages and share videos and pictures. In addition to these, users can also update their personal profiles, create groups and pages to grow communities around their brand.
Users can also link their Facebook accounts seamlessly with Instagram and WhatsApp. These and many more features are what makes this site very popular.
Access www.facebook.com
2. TikTok
As a social media, TikTok provides short-form video hosting services. It is owned by ByteDance. Users of app can submit videos which can range in duration from 3 seconds to 10 minutes. And already, TikTok is playing host to hundreds of millions of videos which viewers can easily discover on a device or on the web.
Users of the TikTok social media app can also send their friends videos, emojis, and messages with direct messaging. It also has a feature to create a video based on the user's comments.
Just like other foremost social media apps, content creators on TikTok can earn revenue via their videos. But they must meet certain criteria including having at least 100,000 followers.
Access TikTok.com
3. YouTube
YouTube is a social media platform that deals exclusively with videos. So the users can upload, view and share videos on other social media platforms like Facebook and Twitter. More so, with the aid of third party applications, users can download videos in flash format.
Most of the contents on YouTube are uploaded by individual users. The platform allows users who meet certain criteria to monetize their contents. This is the main reason why it has been successful all these years.
This video sharing site was launched in February 2005.
Access www.youtube.com
4. MySpace
MySpace is another popular social media platform. It is a product of News Corporation.
One of the features going for MySpace is that it allows its members to stay anonymous using screen names otherwise referred to as nicknames.
Much like Facebook, users of MySpace can have personal profiles, upload pictures, share contents and chat with friends online.
Access www.myspace.com
5. Twitter
Twitter is another very popular social media platform. It was founded on the 21st of March 2006. 
As a social networking and microblogging service platform, Twitter that enables its registered users to send and receive messages from other users. Twitter users connect with each other via the "Follow" button.
Once connected, they can read updates, otherwise referred to as tweets, from people they are following.
Twitter has attracted millions of users around the world because of its simplicity and high compatibility with SMS.
More so, many brands, businesses and organizations use Twitter services to reach their customers. There, they receive their complaints and help to solve them without having to meet face-to-face.
Twitter also gives users opportunity to create and monetize their space. So, it is a of choice for people looking to make money online.
Access www.twitter.com
6. Flickr
Flicker is a platform where users can host images and videos. Actually, it is a home for tens of billions of photos.
The platform was launched on the 10th of February 2004 and has a massive online community.
Flickr offers several other web services.
Bloggers and vloggers use the platform to host images and videos which they embed on their social media pages and blogs.
Access www.flickr.com
7. Photobucket
Photobucket was founded in America in 2005.
It is a photo and image hosting and sharing website with a massive online community.
The website has over 100 million registered members and still counting. It hosts more than 10 billion images from these members.
Photobucket supports remote storage of avatars for display on different online forums. It also supports personal photographic albums and storing videos. The platform gives users the option of either keeping their albums private or giving password-protected access. Others may choose to leave theirs open to the public.
Access www.photobucket.com
8. LinkedIn
Just like many other platforms already discussed above, LinkedIn is an American company. It is basically a business and employment oriented online service.
The online service, which was launched on May 5, 2003, is operated via the website and mobile apps.
LinkedIn is mainly used for professional networking and career development. It is a meeting place for employers and job seekers. There, the job seekers post their CVs and the employers post available jobs.
The platform boasts of over 756 million members registered users from over 500 countries around the world.
LinkedIn is also available in many world languages like German, English, Portuguese, French, Spanish and Italian.
Access www.linkedin.com
9. Digg
Digg is a popular social news website that features the best of articles, photos, videos and other original contents currently trending online.
The contents (stories, articles and others) on the platform are called digg.
Digg allows its registered members to vote for these contents so as to promote them.
It was founded in November 2004 as an experiment to aggregate the most interesting and trending news and stories. These are offered to some specific target audience on the internet.
Now the platform has become very popular and that's because some great feature got to be incorporated into it. Such features include a curated homepage, awesome interface, friends' lists, and the ability to digg any story. Users can also find, read, and share the most interesting and talked about stories on the internet.
Access www.digg.com
10. Ning
Ning is a very popular online social media networking platform. It is arguably the largest online community building platform.
Ning allows individual users and organizations to create their own social networks. Interestingly, this takes just a few minutes.
The platform was launched in October 2005 and currently has over 120 million social websites running on it.
Ning is a premium platform with different packages to meet the needs and budget of users. However, users can take 14 days free trial, after which they can upgrade to paid accounts.
Access www.ning.com
11. Yelp
The name Yelp is a contraction of "Yellow Pages".
It is a social networking platform that publishes crowd-sourced reviews about brands and businesses.
The businesses reviewed on Yelp by users include shops and grocery stores, restaurants, Entertainment and other services.
If you are a business owner, Yelp can help you to easily connect with your potential customers and rapidly grow your business.
Yes, because the platform has over 70 million users. In addition to that, it is commonly used as a local research website by many people.
Access www.yelp.com
12. Tagged
Tagged is a widely-used, popular social networking website. It is a new people-meeting app that allows users to initiate conversations with people in their local city and those from other parts of the world.
The app, which currently has to 50 million downloads on Google Play alone, allows users to chill and play games with millions of other users around the world.
In addition to the above, Tagged allows registered users to share virtual gifts and tags . It also suggests people with similar interests and helps them to easily connect.
Tagged was founded in 2004 and has its users scattered in different countries of the world.
Access www.tagged.com
13. Squidoo
HubPages is the company that acquired Squidoo in August 2014. Until then, Squidoo was article-writing and revenue-generating platform. The written articles were called "lenses".
The site grew rapidly in popularity. So much so that by 2010, registered users had created as much as 1.5 million lenses covering different subjects of interest.
Squidoo started in October 2005 and became very popular partly because of its search features and social networking capabilities.
Access www.squidoo.com
14. Scribd
Scribd is a Web 2.0 based ebook and audiobook subscription service. It is a document-sharing site that allows users to post documents in various formats. The posted documents are embeded into a web page using the iPaper format.
The platform, which was founded in 2007, hosts over 60 million documents on its open publishing platform. Scribd also publishes research papers and other academic contents.
Access www.scribd.com
15. StumbleUpon
StumbleUpon is an online social networking service that was originally conceived as a discovery and advertisement engine.
It is designed to push web content recommendations to its users. By so doing, users are allowed to discover and rate articles, photos and videos on web pages. Of course, these contents are personalized to their unique interests, tastes and preferences using social-networking, peer-sourcing and advertisement principles.
The platform was founded in November 2001.
Access www.stumbleupon.com
16. Hi5
Founded in 2003, Hi5 is a platform that provides social networking services.
Just like Facebook and other prominent apps, Hi5 users can create their personal online profiles and provide information about them including their location, interests, age and photos.
User of the Hi5 platform can also play online games and set up music players for themselves.
Access www.hi5.com
17. Bebo
Bebo was a social networking website that was founded in 2005. However, it only operated from 2005 to 2013 and went down as a result of bankruptcy.
But the good news is that Bebo was resurrected and relaunched in February 2021. Since then, they have tried to create for their teeming users, something fresh and new.
On Bebo, each member is allowed to have a personal profile page. On this profile page, they can post blogs, photos, videos and music files. Where the need arises, users can also post questionnaires for other users to help with answers.
Lastly, users can add friends, send messages in form of chats, update their profiles and receive notifications.
Access www.bebo.com
18. Reddit
So Reddit is a social network of communities. Each of the communities represent one or two related interests. And this is such that there is a community for whatsoever your interests, hobbies and passions are.
The platform, founded on 23 June 2005, is also a social news site where users can browse and submit links to news articles for other users to read and vote.
The front page of the platform is exclusively reserved for the most successful links. That is, links with the highest views and votes.
Reddit is a news aggregation website with interest-oriented communities.
Access www.reddit.com
19. myYearbook
myYearbook is a social networking website that began in a high school in the United States in 2005. Amazingly, the platform's popularity grew so much that it recorded a mobile page view of over one billion.
The reason behind the popularity of myYearbook is that it offered features different from other similar platforms at the time. It allowed users to meet new people by simply creating profiles. There was a real time stream chatter via which users could interact and send virtual gifts.
The platform also allowed members to play online games.
Note, however, that MyYearbook is no longer online because it has become MeetMe.
Access www.myyearbook.com
20. Technorati
Technorati is a very powerful hybrid between blog search engine and a news search engine, which as well provides publisher-advertising services.
It was founded in November 2002 and used to index blogs and provide content search services. With Technorati, one was able to search trending news from different Internet websites.
Technorati is very easy to use to search for blogs with specific contents in different niches.
Access www.technorati.com
21. Kaboodle
This is a fun community that enables users to easily updates and information from their neighborhood. With it, they can see what is going on in their community and seamlessly connect.
Kaboodle enables users in its community to receive package notifications and exclusive deals, communicate directly with their property manager, pay rents and do much more.
It was launched in 2005 and has grown to become one of the most important shopping tools online.
Access www.kaboodle.com
22. Friendster
Friendster was founded in 2002 and launched in March 2003.
It was a world's top social media and social networking platform for some time. It was basically a social network game with dating features. There, users could connect with other users based on their profiles and preferences, as well as share online content with them.
Access www.friendster.com
23. Flixster
Flixster is a social networking movie site that allows its community of users to learn about movies and also discover new movies. So users can stay up to date with movie news and even buy show tickets.
On Flixster, users also connect with others who have the same or similar tastes of movies.
In addition to the above, users are also allowed rate movies and share their favorite movies with their friends of connection.
The platform was founded June 2007.
Access www.flixster.com
24. Xanga
Xanga is a social networking platform that hosts photoblogs and weblogs of its registered members.
The platform also hosts users' personal profiles. It allows the sharing of music, photos and videos it its over 50 million members around the world.
Access www.xanga.com
25. Epinions
Epinions is a general consumer review website that was founded in 1999.
It was acquired in 2003 by DealTime and later acquired by eBay in 2005.
On Epinions, visitors access and read reviews about different brands and products. By so doing, they are able to make their purchase decisions. Users can also provide review by themselves, especially when it has to do with products they had used before.
Access www.epinions.com
26. Plaxo
Plaxo is a social networking service and the proud pioneer of online or smart address book. It was launched in November 2002.
On Plaxo, users get to connect with others via their contacts lists. The site allows automatic updating of contact information for all users.
Access www.plaxo.com
27. MyBlogLog
MyBlogLog is a social networking platform essentially designed for the blogger community.
The platform functions on the basis of mutual interactions among bloggers. These interactions are made possible by a popular web widget which members are expected to install on their blog.
When bloggers sign up for MyBlogLog, they are allowed to create a community around the blog they authored and manage. In the community, members can subscribe and bookmark blogs for future visits.
The platform was established in January 2005 and was seen as the first thing any serious blogger must start to get their blog(s) socialized around the world.
Access www.mybloglog.com
28. Yuku
Yuku is an online forum that was established in September 2005. It actually went public in January 2008.
The platform allows member registration and provides a message board for users. On the message board, members can enjoy tools such as tags, RSS and much more.
Access www.yuku.com
29. MetaFilter
MetaFilter, otherwise referred to as MeFi by members, is a community weblog that provides registered members with a platform to discuss contents they stumble upon as they browse the Internet.
Members are also allowed to share links to different contents and media they discover online.
MetaFilter was founded in 1999. However, it included the popular question-and-answer subsite "Ask MetaFilter" in the year 2003.
Access www.metafilter.com
30. BlackPlanet
BlackPlanet is a social-networking site that offers match-making and job posting services.
The platform, launched in September 2009, targets the African-American community.
It also has forums where members can create profiles, meet new people and share media.
On the forums, black people discuss on trending political and social issues, and make their mark.
Access www.blackplanet.com
31. Care2
Care2 is a social networking website created with the goal of connecting activists from around the world. These  activists are also connected to millions of other individuals, businesses and organizations.
Care2 is arguably the world's largest social network community for good. The platform stands for humanitarians, animal lovers, feminists, and other categories of people who really love to do the right thing.
Access www.care2.com
32. GetSatisfaction
GetSatisfaction is a customer-networking community that provides a platform for online conversations about the products and services of companies.
The online community platform connects companies and customers together and helps to foster a relationship between them. This is made possible through interactions between clients and businesses. There, complaints, questions and suggestions are attended to.
Access www.getsatisfaction.com
33. FriendFeed
FriendFeed is a real-time feed aggregator. It was configured to consolidate updates from social networking websites, blogs and social media pages.
More so, the platform aggregates micro-blogging updates and other RSS or Atom feed sites. By so doing, it streams information for sharing or commenting by friends in the community.
The platform was launched in October 2007.
Access www.friendfeed.com
34. ClipMarks
Clipmarks is a social bookmarking website that works based on a plugin or browser extension.
The website helps to collect and bundle information, and share them on their browsers. With ClipMarks, users can collect different kinds of media including texts, pages, videos and pictures among other types of media.
Access www.clipmarks.com
35. CafeMom
CafeMom is a supportive social networking website whose target audience are mothers and mothers-to-be.
These women are provided with parenting tips and updates on conception, parenting and marriage. There, they can also engage in real talks and celebrity news and gossips.
The site also offers member-generated contents including journals, photos, polls and profiles.
The platform was launched in December 2006 and happened to be the most visited website by women within the first year of its advent.
Access www.cafemom.com
36. NewsVine
NewsVine is an online newspaper website that is community-powered and based on collaborative journalism. The contents of the platform are drawn from users.
More so, syndicated contents are drawn from mainstream sources such as The Associated Press.
On NewsVine, registered users could write articles within which they are permitted to place links to external contents. They can as well discuss news items in an online forum.
NewsVine was established in March 2006.
Access www.newsvine.com
37. Omgili Ltd
Omgili is an acronym for "Oh My God I Love It". It is a crawler-based vertical search engine that indexes millions of online discussions worldwide.
It focuses on "many to many" user generated content platforms such as discussion groups and forums.
Users of the Omgili platform access information on consumer opinions, personal experiences, answers and solutions.
Access www.omgili.com
38. Gigya
Gigya is a private technology company that was founded in October 2006 in Tel Aviv, Israel. It, however, has offices about two separate cities in the United States.
The platform offers Customer Identity Management services that enables businesses to identify customers, aggregate data & personalize campaigns.
Access www.gigya.com
39. Ballhype
Ballhype is an online entertainment application. The entertainment platform is based on a sports aggregator that pools information from millions of sports blogs.
In addition to this, it also accepts article and contents submitted by users.
Just as is obtainable in Digg, users of Ballhype can vote for popular stories and other contents. But beyond all these, the platform has social networking features like friends, profiles and groups.
Access www.ballhype.com
40. Current
Current is a social networking platform that targets users between the ages of 18 and 34 years.
It was launched in August 2005 with the goal of connecting its users with information and updates about happenings around the world. They do so by exploring very captivating and popular stories and events around the world.
Access www.current.com
41. Revver
Revver is an American website that hosted user-generated contents. The contents here are majorly videos and pictures. The platform allows user-submitted video clips to be monetized through advertising.
The revenue generated from the ads are shared with the original video content creators.
These videos can be displayed, shared and downloaded in QuickTime or flash format.
Revver was established in 2004.
Access www.revver.com
42. Ping
Ping.fm is a free social networking and micro-blogging web service that supports advertising. The platform allows users to post their status, article or whatever to different social media platforms all at once.
So, with just one click, user updates could be sent simultaneously to multiple social networks.
Ping.fm was launched on 7 March 2008.
Access www.ping.fm
43. tribe
tribe.net is a website that hosts a relatively large online community seen as a tribe of friends. It is just like other regular social media platforms where users can register, have a personal profile and interact with others.
However, users are allowed to form their own networks of users (tribes) within the platform.
Membership is open to anyone interested in joining regardless of their location. However, a vast majority of the current members are from San Francisco Bay Area.
tribe was founded in early 2003.
Access www.tribe.net
44. Magnify
Magnify is a robust video content solutions provider. The company is cloud based and enables websites to upload, aggregate, and sort video contents by context and relevance to users.
The network also makes use of Search Engine Optimization (SEO) and other marketing techniques to monetize their video contents. In the process, they place adverts relevant to consumers.
The videos can as well be seamlessly embeded into blogs and other social media platforms.
Access www.magnify.net
45. Diigo
Diigo is the acronym for Digest of Internet Information, Groups and Other stuff. It is a social bookmarking site that allows users to bookmark and tag web pages so as to be able to easily access them in future.
Apart from that, Diigo makes it possible for users to highlight any part of a webpage. They can also attach sticky notes to a whole page or just to a specific highlight.
The service was launched in July 2006.
Access www.diigo.com
46. DZone
Dzone is a free professional technology publishing platform. The platform was created exclusively for software experts – architects and engineers
The aim of the platform is to make available valuable resources in form of contents for developers and software architects all over the world.
Registered users of the platform can post their own contents and interact with others. They can as well comment on and share other people's posts.
Access www.dzone.com
47. Xing
Xing is a career-oriented social networking website. On the Xing platform, professionals from different industries can meet up to find jobs, colleagues, partners and other experts.
The platform has a good user-interface and displays how each member is connected to another. More so, there is room for personal profiles, discussion forums and many other social networking website features.
Xing was established in November 2003.
Access www.xing.com
48. Faves
Faves is a social bookmarking and networking software. It works by installing a browser button that enables users to "fave" a webpage. Once users fave a webpage, the page automatically becomes part of the user's Faves profile.
The service has other social features which include personal profiles, friends, content rating and free chatting platform.
It was founded in 2004.
Access www.faves.com
49. TwitPic
TwitPic is a social networking and app that enables users to post pictures to twitter in real time.
The image hosting service is commonly used by citizen journalists to upload and distribute images.
This site was launched in 2008 by Noah Everett.
Access www.twitpic.com
50. Ecademy
Ecademy is a membership organisation for entrepreneurs and business owners. It is a leading UK networking platform that offers a variety of services related to networking e.g. forums, classified ads and jobs.
The platform has several membership levels and each membership level has its own benefits. The site has a very flexible page design that allows users to design their own page.
Access www.ecademy.com
51. Twine
Established in October 2007, Twine is a social web service for storing, authoring and discovering information.  It combines a variety of services including wikis, forums, newsgroups and databases.
Access www.twine.com
Author's Recommendation on the "Top 50 Social Media Sites"
Now that you know the names, features and links to the top 50 social media sites and social networking sites, you can choose the ones to sign up with depending on your goals and aspirations as an individual or a business.
Remember to share this post using the social sharing buttons below.
---
Still Got a Question? Drop Your Question Right HERE 👇👇 and click on Search.
Get an Immediate Response...
---
---
---
Get in touch with us
---
If this post was helpful to you, please help us to reach others by sharing with the buttons below!