LASU Venue Checker for CBT Courses. See how to check LASU student exam venue. Also note the eligibility and requirements for admittance into CBT halls.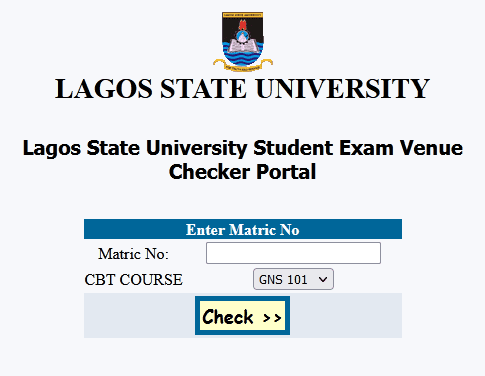 LASU Venue Checker for CBT Courses
The Lagos State University Student Exam Venue Checker Portal is an online platform where students of LASU can check their exam venue for CBT courses.
However, there is a basic requirement.
Requirement for Checking Venue on LASU Portal
The basic requirement for accessing CBT exam hall on LASU Venue Checker Portal is students' matric number.
Link to LASU Venue Checker and How to Check
So all LASU students preparing to sit for CBT courses can access the Venue Checker via THIS LINK.
Enter your matric number.
Select the CBT course from the drop down menu.
Then Click on the CHECK button.
Once you follow the steps above, you will see your exam venue, batch and time.
Read Also: 7 Strategies to Deal with Exam Stress and Anxiety
LASU Venue Checker Instructions
Note carefully the following important instructions and information.
Admittance into the exam hall is strictly by batch and allocated time only. Therefore students who fail to comply with this shall not be allowed to sit for the exam.
Wearing of nose mask and possession of personal hand sanitizers is compulsory.
The meeting point for students sitting for CBT exams at language lab is the classroom at the ground floor of language lab.
The meeting point for students sitting for CBT exam at LASU CBT center is Buba Marwa New Auditorium. Therefore, students are not allowed to come directly to the CBT center.
Do not bring bags and handsets into the examination premises.
Read Also: How to Build a Very High CGPA in LASU
Conclusion
So we have come to the end of this article. I trust that you found what you were looking for. You can scroll down to use the comments section if you have further questions. Comment your questions or just share your thoughts with us. We will be glad to hear from you.
Finally, help us to reach others with this informative post. It's very simple. Just use the Social Media buttons below to share with your friends. See you in the next article!
---
Still Got a Question? Drop Your Question Right HERE 👇👇 and click on Search.
Get an Immediate Response...
---
---
---
Get in touch with us
---
If this post was helpful to you, please help us to reach others by sharing with the buttons below!