Joint Admissions and Matriculation Board (JAMB) CBT centers approved for the 2023 Unified Tertiary Matriculation Examination (UTME) registration in Edo State. Approved JAMB CBT Centers in Edo State.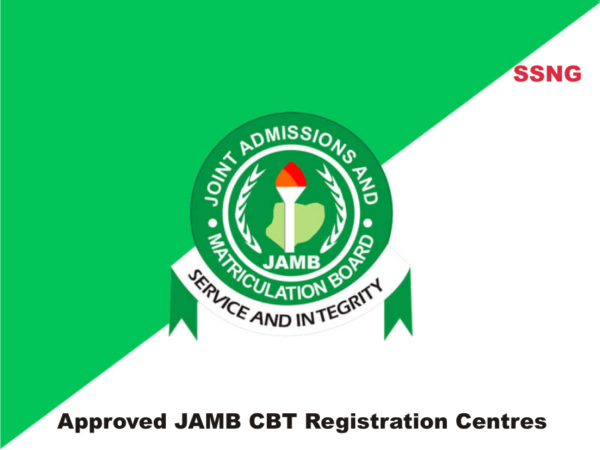 If you are seeking admission in 2023 and wish to do your online registration for UTME in Edo state, you can go through the table below for a complete list of the approved CBT centers in your state. Find the one closest to you and go for your registration. Remember, it is always advisable to do your registration on time so as to be able to choose the most convenient exam town before they are filled up.
We strongly advise that you don't do anything hasty in your admission search. We, therefore, recommend that you go through the following articles before proceeding with your registration:
✴ 2023 JAMB Form: Registration Procedure & Guidelines
✴ Mobile Application to Register for 2023 JAMB UTME & DE
JAMB Registration Centres in Edo State.
✴ Also Recommended: JAMB CBT Centres Approved for 2023 UTME Registration – Other States.
S/N
REFERENCE NO
CENTER
1
UTME2018/12000003
Ambrose Alli University, e- Library Halls C, Ekpoma, Edo State.
2
UTME2017/12030006
Ambrose Alli University, Ekpoma, e-Library Hall A and B, Ekpoma, Edo State.
3
UTME2018/12000001
Bishop Gabriel Ghaikhono Dunia Foudation, St. Anthony (Catholic), Education Centre, Imiegba, Edo State.
4
UTME2017/12060001
College of Education, Igueben, Edo State.
5
UTME2017/12030011
Complete Computers and Technology Institute, 11 Adesuwa Road, Opp Sterling Bank, GRA Benin City, Edo State.
6
UTME2018/12000005
Cyberlinks Digital World, Inside Eigbbhalu Oriasotte Memorial Group of Schools, N0. 5, Ewaile Foh Uwalor Road, Uromi, Edo state.
7
UTME2017/12030001
DA Civic Centre, 79 Airport Road by Benoni Juction , Benin city.

8

UTME2017/12030002
Daniet Global Resources, No. 6, Aburime Street, Off Costain Road, Oredo L.G.A Benin City, Edo State.
9
UTME2017/12010001
DIICT Nigeria , Ase Secondary School, Afuze, Edo State.
10
UTME2017/12030009
Edo State ICT Ageny, State Sectariat, Block D, Sapele Road, Benin City, Edo State.
11
UTME2017/12030004
Gateway Edutech & Multiconcept, (Former Savannah Bank Building, 177, 1st East Circular Road, By Sapele Road, Opp.
Mrs Filing Station, Benin City, Edo State.
12
UTME2017/12080001
Igbinedion University, Okada, Ovia East Local Govt. Okada Town, Edo State.
13
UTME2017/12030008
JAMB ZONAL OFFICE BENIN (REGISTRATION ONLY), 21 Ikpokoan Rd, GRA, Benin City, Edo State.
14
UTME2017/12100001
lighthouse Polytechnic, Evbwobanosa, Km. 12, Benin- Asaba Expressway, Abudu, Edo State.
15
UTME2018/12000002
Lumen Christi International High School CBT Centre, Uromi, Edo State.

16

UTME2017/12030012
Mikon Institute , 34A Boundary Rd, GRA, Benin- City, Edo State.
17
UTME2017/12050001
MJ & Eshoiza ICT Centre, No. 31 Upper Secretariat By MTN Mast, Ugbogbo Igarra, Edo State.
18
UTME2017/12040001
Mount Carmel Secondary School, Along Ambrose Alli Univeristy, Part Time Campus, Campus Road, Emaudo, Ekpoma, Edo State.
19
UTME2017/12030007
NABTEB ICT Training Centre, 1, Ikpoba Hill, Benin City, Edo State.
20
UTME2017/12030010
National Open University of Nigeria, Benin Study Centre, Old SDP Secretariat, Off Ekenwan Road, Benin-City, Edo State.
21
UTME2017/12020002
Oseni Elamah OCT Institute, 39, Poly Rd, Auchi, Edo State.
22
UTME2017/12090001
Samuel Adegboyega University, Km 1, Ehor/ Ogwa Rd, Ogwa, Edo State.
23
UTME2017/12030005
University Of Benin International ICT Centre, Iyayi Computer Building, Benin City.
24
UTME2018/12000004
Zincom Technology Institute, Auchi, Edo State.
---
Still Got a Question? Drop Your Question Right HERE 👇👇 and click on Search.
Get an Immediate Response...
---
---
---
Get in touch with us
---
If this post was helpful to you, please help us to reach others by sharing with the buttons below!