This post is all about JAMB Profile Code. I will be showing you how to get JAMB Profile Code through email. You will also learn how to get JAMB Profile Code via sms. These would, of course, be possible when you create or generate your JAMB Profile Code login. I will definitely show you how. In dealing with JAMB Profile Code issues, I will show you why JAMB is not sending your profile code and how to retrieve a lost profile code.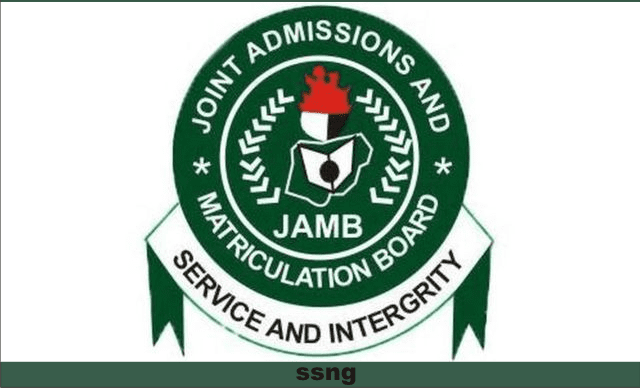 What is JAMB Profile Code?
Every academic session, JAMB has to deal with nearly 2 million candidates seeking admission into various Nigerian tertiary institutions. These include candidates seeking admission through either the UTME or Direct Entry mode. In order for JAMB to properly attend to each candidate and not muddle them all up, a unique profile is assigned to each candidate.
JAMB Profile Code is a unique 10-digit code assigned to the online profile of individual UTME and Direct Entry candidates on JAMB Portal.
So this means that no two candidates share the same JAMB Profile code. Yours is different from those of others and only works for your JAMB Profile.
What is JAMB Profile Code Used for?
The JAMB Profile Code is used to purchase JAMB e-pin for UTME and Direct Entry registration. So the candidate will submit the code at the JAMB CBT registration center.
More so, it is your JAMB Profile Code that will link you securely to your JAMB CAPS account.
Does JAMB Profile Code Expire?
The question of expiration of JAMB Profile Code comes up sadly because of inadequate admission spaces for tertiary education in Nigeria. Almost 1.8 million people sit for JAMB yearly and just a little above 500,000 candidates get admitted at the end of the year.
So you find some people repeating JAMB for three or more years before getting admission. Such are the people who ask, "Does JAMB Profile Code expire?" Some others ask, "How long does it take for JAMB profile code to expire?" because they want to know if they can re-use their old profile code for new registration.
The answer is NO. JAMB Profile code does not expire. Actually, you can use the same old JAMB profile code to register another JAMB if you need to. Only be sure that the phone number you used to create the profile is still available and active.
What Does JAMB Profile Code Look Like?
Like I said earlier, the JAMB profile code is a unique code that JAMB assigns to each candidate. See what it looks like when generated on the JAMB Portal.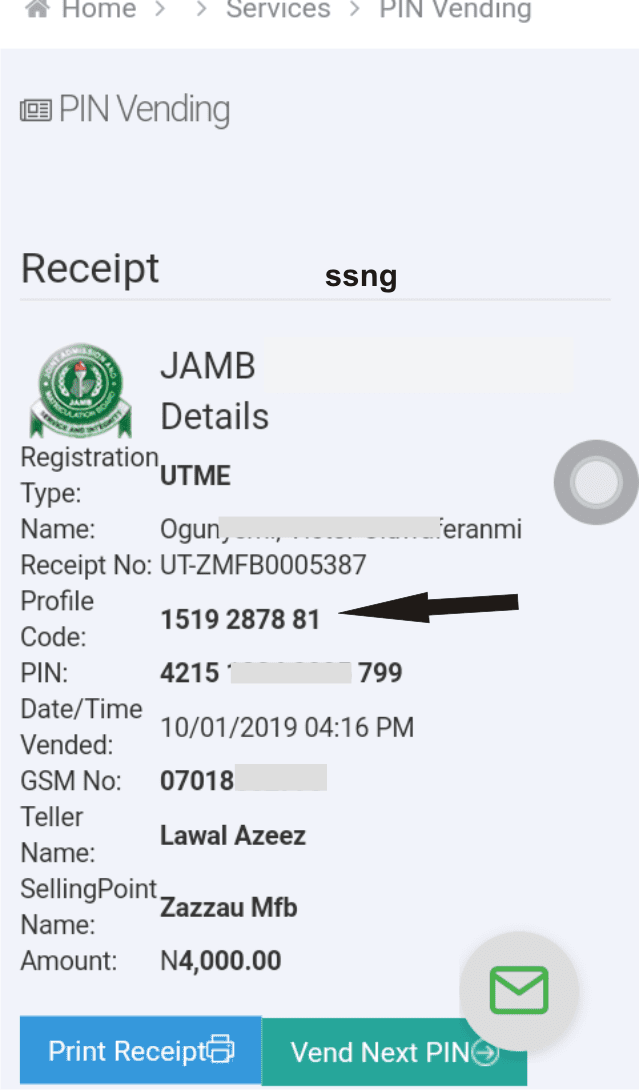 So what you have in the picture above is a sample of a typical JAMB Profile Code. When you generate your own JAMB Profile code, it is very important that you save it somewhere. You can save it in your email account.
The reason is because you must provide your JAMB Profile Code to the agents in any accredited JAMB CBT center if you want to upload your O'level result or correct any mistake. See the 8 Mistakes You can Correct After JAMB Registration.
So you can now appreciate why you need to keep your JAMB Profile Code safe.
Further to the reasons given above, you need to supply your JAMB Profile Code before you can pay for JAMB e-pin. See How to Get JAMB e-pin: Price and Selling Points.
Before I leave this section to the next, I will like to clear one more confusion common among candidates. The confusion is that many candidates, for one reason or the other, mistake their JAMB Profile Code for Registration number. Your JAMB registration number and JAMB Profile code are not the same. Actually, they serve different purposes.
Read Also: JAMB Form 2023: Mistakes that will Make you Lose Admission this Year.
Basic Requirement to Create JAMB Profile Code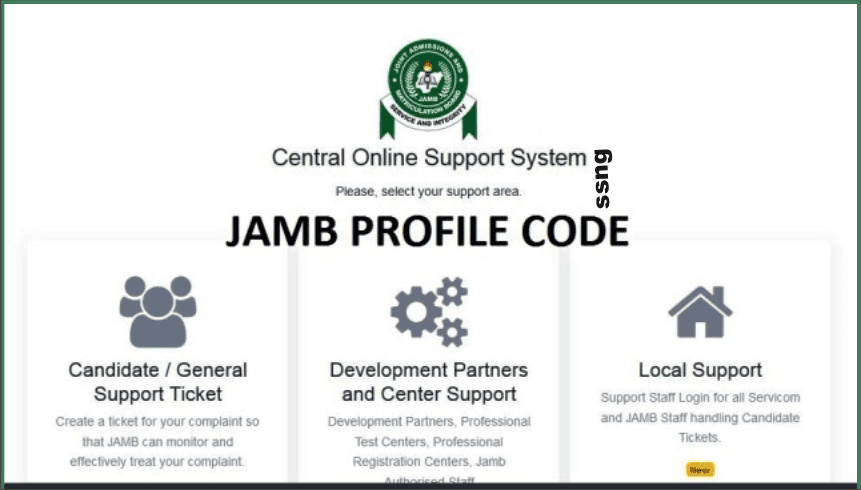 Creating JAMB Profile Code is the first step that every JAMB candidate must take in order to register for UTME. So if you don't generate your JAMB Profile Code, you will not be able to register for JAMB. You can get more details on JAMB Registration Here.
However, there are some basic requirements that the candidate must meet before they can get their JAMB Profile Code. They include.
You must have a active phone number.
You must have a National Identification Number (NIN).
Can I use Another Number to Get my Profile Code?
So this is concerning the number 1 requirement above. Note that a candidate can either use new phone number or a previously used phone number. By previously used number, I mean a SIM card that was used for Profile Code creation, e-pin vending and registration in previous registration exercises.
This previously used number can be used for 2023 registration. However, it can only be re-used by the same person that used it previously.
So, from the above, we see that in addition to having an active phone number, you must have a NIN. Actually, your names will be retrieved from the data you filled when registering for NIMC.
This is the singular reason why you must ensure that you fill your details correctly when registering for NIN. Any error there will always reflect every time you use your NIN for anything.
How To Get NIN Required to Generate JAMB Profile Code
Before I get into this, I must inform you that the process you have to undergo in order to obtain your NIN is a stressful one. The obvious reason is that too many people are applying for NIN on a daily basis. However, this should not discourage you because you already know that without NIN, you can't get your JAMB Profile Code. More so, without your JAMB Profile Code, you cannot register for UTME.
Follow the instructions below to register for NIN.
You will need to show your birth certificate before you can register. Other necessary information to provide include your BVN (if you have a bank account), Correct Name, Occupation, e.t.c
Locate the NIMC office nearest to you. This may be in a bank or Office. Just go there with your documents and apply for NIN.
When it gets to your turn, they will ask you to provide the necessary information. Subsequently, they will take your Passport and Biometrics.
Upon completion of the registration, they will give you a white slip. Note, however, that this is not the original Slip and as such, does not contain your NIN. You will have to go back on a later date to collect your Brown slip. Most times, the brown slip gets ready in two weeks time.
When you collect the brown slip, it will bear your NIN.
If you already have your NIN, then dial *346# and follow the prompts to retrieve your NIN.
How To Get JAMB Profile Code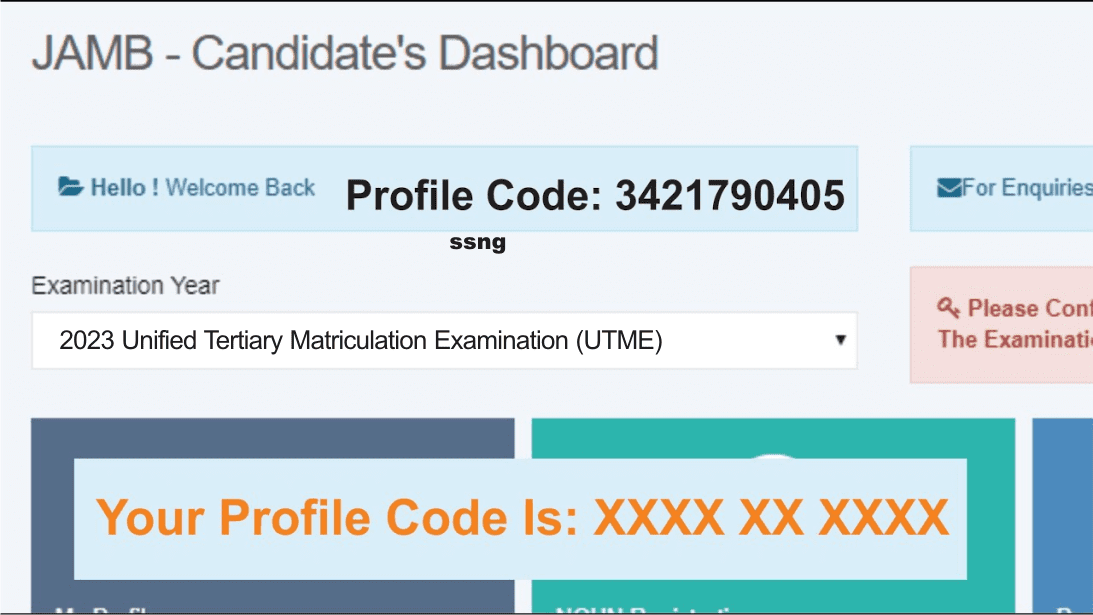 When you go through the process elucidated above, you will have your NIN ready. When you do, then you will be eligible to generate your JAMB Profile Code.
In the following sections, I will show you how to generate JAMB Profile Code.
Presently, there are two methods you can use to generate your JAMB Profile Code for 2023 UTME and DE Registration. They include…
The SMS Method
The USSD Method
These two methods work and would yield the same result. So you are free to choose any of them. Albeit, you will incur a service charge of N50.
How To Get Jamb Profile Code Via SMS
This is quite easy. Just adopt the following simple steps to get your JAMB Profile Code. This is especially for candidates registering for JAMB for the first time.
Go to your phone's messaging App.
Click on the create new message.
Fill the message box with the following information: NIN YOUR NIN.
Send the message to 55019 or 66019.
I hope this is not confusing? The format is to type the word NIN, leave a space and type the full 11-digits of your National Identification Number and send to 55019 or 66019. See the image below. That's how the message should look.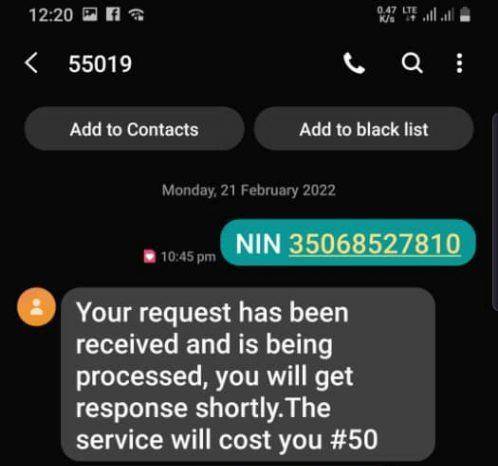 So that's it.
But apart from using the above SMS method, you can also get your JAMB Profile Code via USSD. In the following section, I shall give you the steps to do that.
How to Get JAMB Profile Code Through USSD
This method is relatively much simpler to follow through.
Just dial *55019*1*Your NIN#
As before, make sure to replace "Your NIN" in the format with the actual 11-digits of your National Identification Number.
When you do this correctly, JAMB will send you your JAMB Profile Code still through SMS. Thereafter, you can go ahead and do your JAMB registration.
How To Get JAMB Profile Code through Email?
Many candidates are really asking how to get JAMB Profile Code through email. More and more people want to know how to generate their profile code via this method.
However, the truth is that JAMB has not made any such provision.
Presently, you can only create JAMB Profile Code via SMS or USSD. I have treated these extensively in some of the sections above.
JAMB Profile Code Issues
Many candidates experience all manner of issues with respect to JAMB Profiles. However, JAMB anticipates these issues and constantly updates what the candidates need to do. Some of the JAMB Profile Issues include.
Loss of JAMB Profile Code.
SMS sending failure for JAMB Profile Code.
JAMB not sending candidate's profile code.
Candidate has no NIN.
1. Loss of JAMB Profile Code
I have emphasized the need to keep your JAMB Profile Code safe and ensure that you do not lose it. However, I know that it's also very possible to lose it.
So if you lost yours, see how to retrieve it below.
How to Retrieve a Lost JAMB Profile Code
To retrieve a lost JAMB Profile Code, send [RESEND] to 55019 or 66019 as a text message from the same mobile number.
Candidates can reset lost or forgotten Profile Password on their registered cell phone by sending [password] space [email address] to 55019 or 66019 as a text message from the same mobile number
2. SMS Sending Failure for JAMB Profile Code
So this is one of the issues you may encounter. That is, SMS sending failure. You are trying to send SMS to the number given. This may be as a result of insufficient balance, poor network or network congestion.
What is the Solution To SMS Sending Failure for JAMB Profile Code?
The Solution to this problem depends on the cause as already discussed. So if it is as a result of insufficient balance, just recharge your line with at least N50 and try again.
If the problem is because your SIM card has not been registered, then go to the nearest Sim registration center, register your Sim and try again.
If the problem is from Poor network, then give it a break for a while. Avoid the network congestion by requesting for your code very early in the morning, say 2 a.m. The network will definitely be free by then.
3. JAMB not Sending Candidate's Profile Code
The reason why JAMB may not send a candidate's profile code may be due to one or all the factors explained in Number 2 above.
So try to figure out what the problem is and handle it based on what you have learnt here.
4. Candidate has no NIN
How Can I Get Jamb Profile Code Without NIN?
It is not possible to get your JAMB Profile Code without using your NIN.
So, if you happen not to have your NIN with you, simply follow the steps I have shown you on this page to get your  NIN.
When is the Closing Date for JAMB Profile Code?
July, 2023.
Conclusion
So we have come to the end of this article. I trust that you found what you were looking for. You can scroll down to use the comments section is you have further questions. Comment your questions or just share your thoughts with us. We will be glad to hear from you.
Finally, help us to reach others with this informative post. It's very simple. Just use the Social Media buttons below to share with your friends. See you in the next article!
---
Still Got a Question? Drop Your Question Right HERE 👇👇 and click on Search.
Get an Immediate Response...
---
---
---
Get in touch with us
---
If this post was helpful to you, please help us to reach others by sharing with the buttons below!