This Article is written for UTME Candidates. Consequently, It would cover JAMB Novel 2022 PDF download. All JAMB Novels. So, download the Life Changer JAMB Novel. JAMB 2022 English Novel. The Life Changer JAMB Novel Summary. The Life Changer JAMB Novel Audio. Questions and Answers on the Life Changer JAMB Novel. When is JAMB 2022 starting?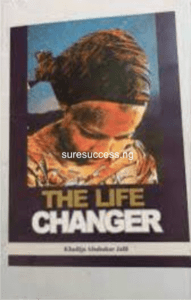 Like you have already seen in the scope of this article, I will be helping you to answer all your questions concerning JAMB's novel for Use of English for 2022 UTME. I will give clarity in all perceived grey areas.
So, just tag along with me.
Is English Compulsory in JAMB's UTME Exams?
Yes, Use of English is a compulsory subject for all candidates sitting for JAMB CBT exams. So, regardless of your prospective course, your proficiency in the Use of English will be tested. This also applies to both UTME and Direct Entry candidates, although DE candidates will not partake in UTME.
Because of the importance placed on Use of English, it is the only subject out of your four UTME Subject Combination that would have 60 Questions.
Comprehension passage would have 5 questions.
Close passage would have 10 questions.
The Life Changer would have 10 questions.
Sentence completion: 5 questions.
Sentence Interpretation would have 5 questions.
Antonyms: 5 questions.
Synonyms: 5 questions.
Test on Oral English: 15 questions.
All gives a total of 60 questions.
Note also that this goes just beyond JAMB exams. Test of Use of English is compulsory in every official/external examination in Nigeria, be it WAEC, NECO, GCE, NABTEB and so on. You, therefore, need to get ready if you belong to any of these categories.
Recommended: How to Reprint JAMB Slip for Exam Date & Center Venue – 2022
Is JAMB Novel for 2022 Out?
The novel that 2022 JAMB candidates are expected to read is already out and has been officially announced.
Going by experience, every novel that JAMB recommends for Use of English is used for two sessions (two years). So, we can easily make predictions with 100% accuracy.
Take for example.
In 2017 and 2018, the JAMB recommended novel for English was Independence.
In 2019 and 2020, the JAMB recommended novel for English was Sweet Sixteen.
However, as expected, the novel was changed in 2021. And the novel, The Life Changer was recommended.
So, going by the same logic, the novel, The Life Changer would be recommended by JAMB in 2022. And that's exactly what they have done.
See also: Recommended Textbooks for 2022 JAMB UTME: All Subjects
Which Novel is JAMB Using for 2022?
The question, "Which Novel is JAMB Using for this year?" has been severally asked by candidates. That is why I have taken time to give a detailed answer in the preceding section.
The JAMB recommended novel for Use of English 2022 is "The Life Changer" by Khadija Abubakar Jali.
It is the general text for all 2022 UTME candidates irrespective of their choice of course.
The novel, which is about the university life of a girl called Salma, is quite interesting and educative.
How Many Questions Should you Expect from the JAMB Novel?
You should expect roughly 10 – 15 random questions from the novel. The keyword here is random.
So JAMB would usually select and frame their questions from the general text randomly.
This is in keeping with JAMB's standard of setting examination. This is so that candidates will earnestly study and not depend on summarized literature materials.
Don't just read The Life Changer Summary and expect to pass excellently. You need to read the whole book.
The good news is that the novel is not even voluminous. It's something you can finish within 2 days.
However, if you need a reliable summary of The Life Changer Novel, >>Click Here<< to download the free PDF to your phone.
How Much is JAMB Novel 2022?
The JAMB novel for 2022 costs Five Hundred Naira (₦500) as usual.
Although you can buy this novel in any good bookshop across the country, you don't need to waste your money. The cost of the novel has been factored into your JAMB registration fee.
So, the novel will be given to you after you have successfully registered for JAMB.
Read: 2022 JAMB UTME Registration – Instructions, Guidelines and Exam Details.
How can I Get JAMB Novel 2022?
Just like I said above, you will be issued the JAMB Novel at the point of registration in any Approved JAMB CBT Center. You can get a comprehensive list of all the JAMB registration centres nationwide via this link.
Download The Life Changer JAMB Novel (PDF)
You must not wait to register JAMB before you can have access to The Life Changer JAMB Novel. We have provided a free download link on this website.
The Life Changer PDF Download Link
So get the book and start reading right away. Your success depends on you.
What are the Possible or Likely Questions from The Life Changer?
In addition to free PDF download of The Life Changer, we have provided link to possible questions and answers from the book. However, it is not in PDF Format.
So, here are questions you can expect from the JAMB novel Life Changer.
LINK TO THE LIFE CHANGER QUESTIONS AND ANSWERS 2022
Best wishes in your JAMB Exam.
Remember to share this post. Use the comment box below for your questions.
We are committed to your success. Because of that, you must succeed. So, make use of every resource on this website. Go for success. And don't stop.
However hard and tough the journey, keep going. Dare to be different. Work hard. Work smart. Set goals and reach your goals.
---
Get in touch with us
---
If this post was helpful to you, please help us to reach others by sharing with the buttons below!