5 Reasons Why Lady Ibiam is The Best Hostel in UNEC
Lady Ibiam which is the biggest female Hostel in UNEC is named after Lady Eudorah Ibiam, the wife of Francis Akanu Ibiam. The popular dormitory located at the heart of the Enugu Campus is a three-storey building consisting of twenty rooms on each floor.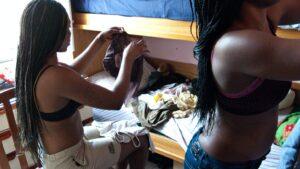 Read Also: Hostels in UNEC
Here are five reasons why you should live in Lady Ibiam Hostel.
Five Reasons Why Lady Ibiam Hostel is the Best in UNEC
Proximity to the Lecture halls
Business Opportunities for entrepreneurial students
Sport Facilities
Social Life Hub
School Politics
1. Proximity to the Lecture Halls: Lady Ibiam which is strategically located in the heart of the campus offers unrestricted proximity to various Lecture theaters, Access Bank ATM Gallery, Fellowship venues, shuttle park, food vendors, and most importantly IJ Port where you get academic materials for studies. Any where you are on Campus, her glory sings forth.
Read Also: 8 Reasons To Stay In School Hostel And 5 Disadvantages Of Nigerian Universities Hostel
2. Business Opportunities for entrepreneurial students: Lady Ibiam being the largest female Hostel offers entrepreneurial students the ability to make their goods and services to meet a very large audience. No wonder the biggest business Hub in UNEC is located at Lady Ibiam. Are you a makeup artist, Hairstylist, Caterer, etc Lady Ibiam is definitely the best place to stay.
3. Sport/Wellness: For the sport lovers, Lady Ibiam is definitely the hostel to live in because of the mini stadium located beside the hostel and at the front of IJ Port. No other female Hostel in UNEC can boast of a football pitch. There is also a 'standard' basketball court at the quadrangle of the hostel.
Read Also: A Complete Guide to Getting UNN Hostel Accommodation
4. Social Life Hub: The social life in lady Ibiam is top notch. Due to the large number of students occupying the hostel, there is never a dull moment here. Lady Ibiam is the only hostel in UNEC that has a love garden where students can enjoy and appreciate the beauty of nature. The positive vibe of the hostel occupants is way exhilarating. During the evenings, you can mistake the hostel for a shopping mall. Over the years, the Directors of Socials have emerged from Lady Ibiam.
Read Also: All You Need To Know About UNN Accommodation – Hostels, Lodges, Off Campus
5. School Politics: If UNEC is going to produce a female SUG President, she is definitely going to be from Lady Ibiam. The hostel has the most robust political support system which is evident in her voting capacity. This is why during school elections you will mostly find politicians hovering around the hostel looking for political endorsement and trying to garner supporters. If you want to win an election in UNEC, ensure that you get the support of the ever-vibrant Ibiam ladies.
All Hail the Ibiam Ladies!
Lion O.B.O
MLS 0'23

Read Also: How To Get a Good Student Accommodation In Manchester City (An Effective Guide)
---
Still Got a Question? Drop Your Question Right HERE 👇👇 and click on Search.
Get an Immediate Response...
---
---
---
Get in touch with us
---
If this post was helpful to you, please help us to reach others by sharing with the buttons below!