In recent times, there has been this unusual difficulty experienced by lions and lionesses in their quest to secure UNN hostel accommodation. It's been so bad on UNN hostel portal that it is now believed in some quarters that it is easier to gain admission in UNN than to get accommodation. Everyone is entitled to their own opinion though.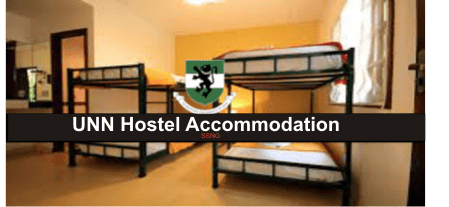 As is our custom, we want to arm you with some very important information with regards to UNN hostel portal and accommodation for this session. We are doing this so that things will work out easily for you with little or no hitches. And this is not minding whether you are a newly admitted student or returning student.
Read Also: Secrets to Getting a Good Hostel Accommodation in UNN
UNN Hostel Portal: A Guide to Getting Hostel Accommodation
1. You must appreciate the fact that the University has limited spaces for student accommodation.
2. These limited spaces are allocated on a first come, first serve basis. The UNN hostel allocation system is fully automated and can only be accessed from the UNN hostel application portal.
3. As expected of any sensible institution, the school gives high priority to First Year and Final year students during allocation.
4. First years are allocated 40% of the total accommodation, final years 30% while others and special needs are allocated 30%. (If this doesn't suit you, you have to deal with it)
5. If you are a Nursing Mother, you must apply for accommodation online and must notify the authorities early enough.
6. Note that all hostel accommodation invoices are valid for only three days after generation. (Any student who fails to pay online within the three day period will forfeit the allocation and fees paid).
7. All Reverend Sisters are to follow the authorized process for accommodation.
8. Physically challenged students are also expected to generate invoice online and proceed to make payments.
Read Also: Hostels in UNEC
Conditions you Must Meet Before Applying for Accommodation on UNN Hostel Portal
At this point, I must remind you that UNN hostel accommodation is given only to those who apply early enough. But only students who have specifically met the following conditions will be qualified for accommodation on UNN hostel portal:
You, therefore, need to know where you stand before carrying out your UNN hostel application.
UNN Hostel Rules and Regulations for Students
I'm adding this one here because I'm sure you need it. Many of you love wisdom and you have craved for it till now. You see your admission into the tertiary institution as liberation from the 'restrictions' of your parents. So you are planning to fully exercise your liberty as an adult when you get to campus.
If you've got such mindset and plans, my dear UNN hostel accommodation is not recommended for you. The reason is because the school hostels are highly regulated. You can't do or live the way you want to otherwise, find accommodation off campus!
In fact, there are many things that are highly prohibited and some actions that can attract outright eviction from the hostel. Some of them include:
Squatting of any kind.
Late return to the hostel at night
Smoking.
Drinking of Alcohol.
Stealing.
Fighting and quarreling.
Use of hotplates, electric boiling ring, refrigerator, gas cooker and so on.
Use of generator sets.
Defecating and bathing at undesignated places.
Pouring of water in undesignated places.
Defacing of Hostel walls by posting of bills, posters and any document.
Application for Temporary Application on UNN Hostel Portal
At the beginning of a new academic session, many ask if UNN can give them temporary accommodation. Some say even if it's for 2 weeks or something like that.
This question comes mainly from newly admitted students for obvious reasons. They are new in the campus and need a place to stay to process and pay their fees before they could be given their own bedspace.
Sadly, there is no room for temporary accommodation.
Read also: 36 Useful Advice to the Newly Admitted Students on Campus
UNN Hostel Fees
For those who ask the question, "How much is UNN hostel fees?" You need to appreciate the fact that UNN hostel fees vary slightly on the basis of gender. There are also other peculiar conditions based on which UNN hostel accommodation fees vary. Here are the current fees.
Female : 15,000
Male : 12,000
Concessional : 18,000
Nursing Mothers (Zik's Flat E-Block): 20,000
How to Apply for UNN Hostel Accommodation
Application for UNN hostel accommodation is done on a platform referred to as the UNN hostel portal. I will quickly give you the process flow for application for bedspace on the portal.
Here are the 10 simple steps…
1. When the UNN hostel portal is opened, log on to – www.unnportal.unn.edu.ng.
2. On the UNN Hostel Portal Login Page, enter your username and password.
Note: Your username is your Jamb Registration Number for New Students. For returning students, your username is your Registration Number.
3. Click on Hostel Allocation.
4. Click on Apply for Bed space (Select Hostel and Room No and Bed Space).
5. Then Click on Apply.
6. Print the Invoice carrying your RRR number and proceed to the bank or make payment using your ATM Card.
7. Return to the hostel portal and Click on Hostel Allocation.
8. Select print Allocation Slip.
9. Print Allocation Slip.
10. Go for clearance and sign in thereafter.
UNN Hostel Clearance
So far so good. At this point, you are almost done with everything required to secure your UNN hostel accommodation. Subsequently, you need to go for hostel clearance. It is a physical clearance that requires you to appear with some stipulated documents arranged in order. See the UNN Order of Hostel Documentation for Clearance and Signing in.
* As already pointed out, the above process must be completed within 3 days else you lose the allocation. 
Finally, remember to help us reach others with this informative post. Kindly use the Social Media Share buttons below. Thanks for visiting. See you on other posts.
---
Get in touch with us
---
If this post was helpful to you, please help us to reach others by sharing with the buttons below!