This post would answer the following questions: How many hostels are in UNN? How much is hostel fee in UNN? UNN off campus accommodation. How do you get a hostel at UNN? How many female hostels are in UNN? Lodges in UNN. UNN Hostel fees.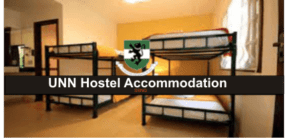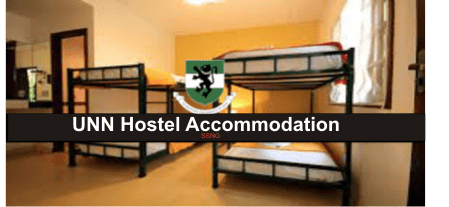 Secrets to Getting a Good Hostel Accommodation in UNN
In recent times, getting a school hostel in UNN is more stressful than securing an admission.
These secrets I am about to share is the result of so many years of experience in the field of computer services/ cybercafé business and the secrets have helped me a lot in getting hostels for both friends, family and customers.
The secrets have worked for me in my business and have also worked for others too. If you follow them carefully, I can assure you that that hostel you have always wanted will be yours.
Note that sequel to this post, no date has been announced for opening of the hostel portal, though information has it that will be any time soon.
Now lets explore the secrets of getting that hostel you have always dreamed of.
Firstly, you have to pay your School fees. Of course you already know that the first thing you have to do to be eligible to apply for hostel in UNN is to pay your school fees as soon the portal opens.
Secondly, get a valid UNN students e-mail. That is UNN e-mail address. Its usually your middle name + your surname + your regno. without the year and slash. E.g damian.ogbonna.190008@unn.edu.ng. Though, the email doesn't affect the first years its only for returning students.
Make sure that the e-mail is correctly entered in your student's profile.
Read Also:
If you haven't done that, you can Login into your student's profile to do that. If you have done the above it means that your are ready to start applying for hostel.
Thirdly, get a P. C or smart phone with a strong and reliable internet access and if possible a steady power source. This is very important.
Look for a comfortable place without distraction and then start to apply for hostel when the portal opens.
Fourthly, give your details to cybercafe operators and try to commit them with reasonable amount of money or stay there to make sure they are trying it for you every minute. Often times, some people usually go to cybercafes and just drop their Reg no, not knowing that the way they dropped theirs is also they way other people dropped theirs too.
The cybercafe operators usually login the accounts of those that gave them money, in fact they even use to save their details in the system.
It will be better for you to use your phone or P.C and be trying it than depending on cyber people. Most times they will have a lot of people that have given them details for them to apply for them, the people they usually try theirs are the people that have paid them. Be wise, don't just give them your details then go home and relax. If possible, call the person every minute.
This is the reasons why most people don't usually get hostel even though they have paid their school fees on time. I am talking from experience.
Give your details to your trusted friends and relatives in different places but make sure to change your password afterwards.
This is because there is always network congestion in some places especially on campus.
Now, pay attention when you click on a particular hostel for instance Akpabio and it opens displaying available rooms, lets say Rom 101, Room 122, Room 313, Room 401, Room 421 and Room 426 are the available rooms showing do not click on the first or second room instead, click on the middle, second to the last or the last room.
The reason is that your page might be a little bit slower in loading and someone somewhere with a faster network may have clicked on them before you. Then, you will go back to try another room and hear that it has been taken by another person. So do not click a room just because you like the room number, you will be losing the chance of getting another room. Do not be too choosy in selecting a room.
Order of UNN Hostel Accommodation Reservation
Another very important point to note about UNN hostel accommodation is that some hostels are usually reserved and assigned to some faculties. Though not all faculties are accorded this special consideration.
Recommended: Check out the Currently Available Undergraduate Scholarship offers
Bello Hall is usually for pharmacy students,
Aja Nwachukwu and Awolowo Halls are for Agric students,
Isakaita Hallis for Biological Sciences,
Presidential Hall is for Medical and Health Sciences,
Okpara Hall, 100 series is usually for special students.
Eyoita, Mary slessor, Okpara, Nkruma, Bello, Akintola and Akpabio could be shared among others.
Note that, hostel allocation is usually on first come, first serve basis and first years and final years have the highest slot.
So, be careful to know when the hostel that is usually assigned to your faculty is been opened, so that you won't waste your time in trying the hostel that is meant for other people.
Mary Slessor has always been the highest hostel sought after and they don't usually open much rooms. The hostel is sometimes reserved for those with "long legs." The next is Akintola and Akpabio for the big girls. If you, you know.
The Best Time to Apply for UNN Hostel Bed Space
We can't finish this essay without dropping this very important point for you: when they say that the hostel application portal will open by, say, 10 am, ensure that you are logged in before that time because once the time reaches the network won't allow you to log in because of traffic.
The best time to apply for hostel apart from the time they said it will be open is usually from midnight till early hours of the morning.
If you are in or around the school campus, look for a place where the wifi is strong and make use of it.
Lastly, don't go and be wasting your time in Pharmacy Container. Use your phone or your P.C to generate your invoice. When you generate the invoice, you can go and print it there.
Read also: 36 Useful Advice to the Newly Admitted Students on Campus
UNN Staff Kid?
If you are a staff kid, you can make use of the staff quota.
In conclusion, as we all know this is Nigeria anything can happen. It is the survival of the fittest. Make use of everything you have. After you have secure a bedspace and made your payments, the next thing is to go for hostel clearance and signing in. Open this link to see the Correct Order of Hostel Documentation for Clearance and Signing in at the Hall Supervisor's office.
I hope this piece is helpful, you can share it to help a soul.
Yours in the Aluta struggle, Hon. Ogbonna Damian Ifeanyi, C. E. O e-pheco computerz., UNN.
Your welfare is always my concern.
OGBONNA DAMIAN IFEANYI a.k.a Minister is a 300 level student of the Department of Plant Science and Biotechnology, an entrepreneur and a professional in the field of computer and online related services with many years of experience.
Recommended for you:
List of Things You Must Never Do in Your First Year
How To File Your Documents in the Acceptable Order for Clearance
Get self contain in unn. Learn about life in unn. Find unn hostel pictures. Access unn portal. Know the number of lodges in unec. Read how girls in unn hostels behave. Receive unn postgraduate accommodation news. Learn fun facts about unn. See the complete names of hostels in unn. See the state of unec hostels now. Get an idea of the cheapest guest house in nsukka.
Sharing is caring. Share this post. Help someone today.
---
Still Got a Question? Drop Your Question Right HERE 👇👇 and click on Search.
Get an Immediate Response...
---
---
---
Get in touch with us
---
If this post was helpful to you, please help us to reach others by sharing with the buttons below!