Hostels in UNEC
UNEC is the Enugu campus of University of Nigeria. Unlike the Nsukka campus, securing hostel accommodation in UNEC is a big challenge for new and crossover students. At the beginning of every academic session, students get stranded because they do not have anywhere to stay. This accommodation problem has the capacity of destabilizing students and sometimes, affecting their academic performance especially those in first year, first semester.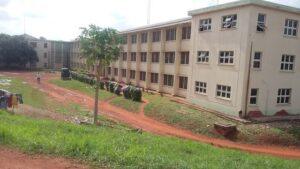 The aim of this post is to give you a general overview of the nature of school-provided hostel accommodations in UNEC so that nothing will take you by surprise when you finally get to the den, whether as a first year student or a cross over student from UNN.
Read Also: A Complete Guide to Getting UNN Hostel Accommodation
How Many Hostels are in UNEC?
UNEC boasts of a total of nine massively built hostels. Two of these hostels are exclusive for male students, while six are for their female counterparts (making eight). The ninth hostel called Kwame Nkurumah hostel is reserved for Postgraduate students (both male and female).
List of Male Hostels in UNEC
Just like we have already noted, there are just two hostels assigned to boys in UNEC:
Kenneth Dike Hall (or IJ Hostel)
Mbonu Ojike Hall (or GH Hostel)
How Many Students are Accommodated in Each Room in Male Hostels?
In UNEC, there are four official or legal occupants assigned to each room in the boys hostels, though it is not uncommon to find one or two unofficial or illegal occupants in the rooms. These illegal occupants are normally referred to as squatters. They 'squat' on the permission of one or more legal occupants for one reason or the other. Most of the times, it is because such illegal occupants are still facing accommodation challenges at the moment.
Each room contains a study table, wardrobe, locker, a bunk and so on.
The major disadvantages of living in the boys hostels in UNEC are
poor sanitary condition of the hostels.
lack of privacy.
lack of calm environment for study.
If you cannot do without the above three, off-campus might be the best option for you.
Read Also: All You Need To Know About UNN Accommodation – Hostels, Lodges, Off Campus
List Female Hostels in UNEC
It is the general culture of University of Nigeria to give her female students are greater consideration when it comes to accommodation, maybe because they are considered weaker vessels. The school reserves six hostels for female undergraduate students. The names of the hostels are as listed below:
Lady Ibiam Hostel
Presidential Hall
Samuel Manuwa Hall
Jereton Marriere Hostel
Odumegwu Ojukwu Hall
Adelabu Hall
Lady Ibiam Hostel
Lady Ibiam is the largest, and arguably, the best female hostel in UNEC. It is a three-storey structure with a right and left wing comprising one hundred and sixty rooms. The hostel accommodates as much as eight hundred students at five legal occupants per room, and has a similar structure to the male hostels. As you would expect, there is never a quiet time in Lady Ibiam Hostel.
Students living in Lady Ibiam enjoy certain advantages which are mostly because of the location and numerical strength of the hostel. The hostel is located in the centre of the school environment and it's easy to access any other part of the school from there.
Read Also: 5 Reasons Why Lady Ibiam is The Best Hostel in UNEC
More so, Lady Ibiam is the best place to stay if you want to combine your academics with a side hustle. Almost all the mini-markets and food joints in the school are around Lady Ibiam Hostel.
Disadvantages of Staying in Lady Ibiam Hostel
Noisy Environment: Lady Ibiam is the noisiest female hostel in UNEC. Considering the population of girls in the hostel, one can't expect anything less.
Poor Sanitary Condition: The sanitary condition of Lady Ibiam is the poorest amongst the female hostels in UNEC. For this reason, most students do whatever it takes to ensure that they never get assigned to Ibiam.
Electricity Problem: Electrical outage is a challenge in Lady Ibiam hostel. It is common for some sections of the hostel not to have power supply for several nights owing to the very old structure of the hostel.
Presidential Hall UNEC
Presidential hall is a special female hostel in UNEC. It is relatively new and normally reserved for staff kids and medical students most of who crossover from Nsukka Campus. The hostel accommodates ten female students per room and is not very easy to get through application on the school hostel portal.
The presidential hall has far more better sanitary conditions, calm and serene environment, and security. If you desire these conditions and fall into the category of female students for whom presidential hall is reserved, you need to make further inquiries from the student affairs department to find out procedures for getting asigned.
Other Female Hostels in UNEC
The remaining four female hostels in UNEC, namely: Manuwa, Marriere, Ojukwu and Adelabu hostel all have similar structures and are the most sort after by female students. The major reason is that the legal number of occupants in these halls are three students per room, which translates to lower population, more serene environment and better sanitary conditions.
Amongst these hostels, Manuwa is the favourite followed by Marierie, even though Adelabu is the best when serenity is a priority.
In terms of location, Ojukwu hostel is a little off from the other hostels giving it the advantage of being very close to the Faculty of Environmental Studies for students in that faculty.
Read Also: Secrets to Getting a Good Hostel Accommodation in UNN
SUMMARY
If you have the intentions of running for any political post in SUG, if you need popularity boost, go for Lady Ibiam Hostel.
If you are the business type and you want to go into any business like makeup or sales of products like bags, perfume, brassier, shoes, watches, jewelleries, coconut oil, etc. Lady Ibiam is your best choice as the large population of girls gives you a vast reach to potential customers.
If what you need is a serene and clean study environment with minimal population, your target should be to get any of Manuwa, Marierie, Adelabu and Ojukwu hostels.
How Much is Water in UNEC Hostel?
On every other normal day, a gallon of water goes for fifty naira in the hostel. But students get free water in the hostel mostly during SUG electioneering campaign days.
Read Also: How To Get a Good Student Accommodation In Manchester City (An Effective Guide)
self contain in unn, life in unn, unn hostel pictures, unn portal, lodges in unec, unn postgraduate accommodation news, facts about unn, cheapest guest house in nsukka, Names of hostels in UNN, How to survive in UNN, UNN off campus accommodation, Lodges in UNN Nsukka, Types of hostels in UNN
---
Still Got a Question? Drop Your Question Right HERE 👇👇 and click on Search.
Get an Immediate Response...
---
---
---
Get in touch with us
---
If this post was helpful to you, please help us to reach others by sharing with the buttons below!