On this page, we give you the latest Nigeria ASUU Strike Update Today. We shall be drawing the latest news on ASUU strike from credible sources like Daily Trust, Vanguard, Punch, Channels, BBC and Arise News. So we encourage you to bookmark this site and also subscribe for notifications. This will ensure that you are always among the first to know about any development in the current face-off between ASUU and FG.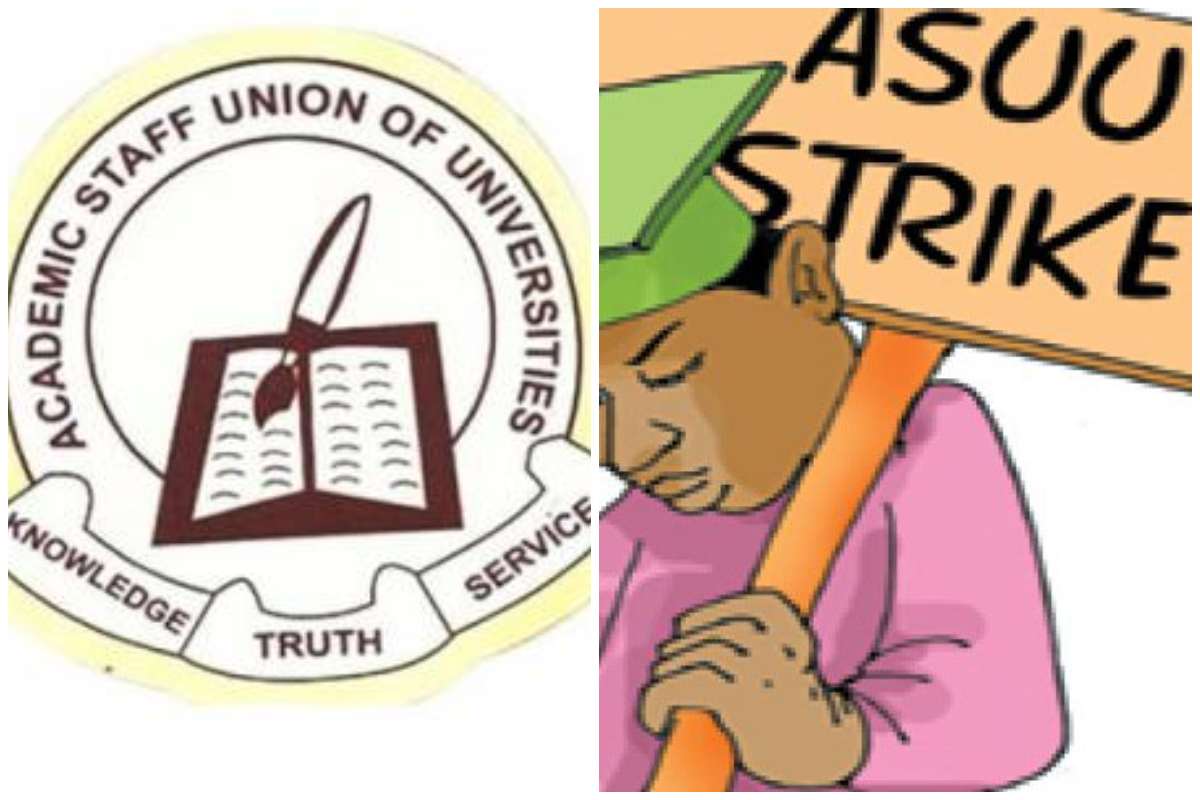 ASUU Strike
Just in case someone is asking what ASUU Strike is all about, I'm going to start this post by first introducing the concept.
ASUU Strike is the cessation of work or refusal to work by academic staff of Nigerian universities. As a matter of fact, ASUU is the trade union of lecturers working in federal and state universities in Nigeria.

ASUU now embarks on strike or industrial action almost every year. They do so as a last resort to press home various demands like fair wages, university autonomy, infrastructure development and more. All geared towards bringing Nigerian universities to standard and giving the students the best in terms of learning environment, facilities and quality education.
Read Also: 20 Low-Cost Businesses You Can Do As A Nigerian Student On Campus
Reason For Recurrent ASUU Strikes in Nigeria
Someone jokingly said that ASUU strike has now become a yearly ritual as far as tertiary education in Nigeria is concerned. So the Academic Staff Union of Universities' strike go on and off virtually every year.
The reason is because ASUU would present the needs of Nigerian universities on a negotiation table with the federal government. The government would listen and make a promise to ASUU, only for the union to wait forever for the fulfillment of the promise.
So new strike actions are consequences of the failure of the government to fulfill its promise to ASUU. Sometimes, what they even have with the government is beyond a promise, it's an agreement.
The government will always fail to keep its promise. Then ASUU will have no other option but to embark on strike.
Then the government would make more promises and stakeholders in the education system would add their voice pleading with ASUU to suspend the strike. When ASUU responds to the promises of the government and the pleas of the stakeholders to suspend the strike, the government would revert to its characteristic failure to fulfill their promises or honour the agreements reached.
Then ASUU would go on strike again and the cycle continues.
Read Also: How to Be Attractive on Campus: 18 Smart Rules
Reason For the Current ASUU Strike in Nigeria
As a responsible union of intellectuals, ASUU always goes for dialogue in it's bid to get the government to fund the tertiary education sub-sector. There is obviously need for adequate funding if Nigerian universities would stand shoulder to shoulder with their counterparts around the world.
So in a meeting between the FG and ASUU in 2009, the two parties deliberated and reached agreement which they sealed in an MoU. But, unfortunately, successive governments, including the current one, have failed to honour the agreement. What ASUU normally gets is partial implementation and payments which come only after strike actions.
The reason for the current ASUU strike is to get the government to implement the 2009 Agreement. And to get them to pay the arrears of salaries of lecturers for about 8 month that they were on strike over the failure of government to implement the same agreement.
Read Also: How to Reduce Spending and Save your Pocket Money on Campus
The Need for ASUU Strike Update Today
There is need ASUU strike update today because the government schedule meetings with ASUU every now and end in a bit to resolve the impasse between the two parties. Sadly, these meetings always end with deadlock.
But be that as it may, the students, parents and other stakeholders in the education sector need to get update at the end of each in order to be abreast with developments.
So we shall devote this section of this page to giving you ASUU Strike Update Today. We shall be updating the page as latest news on ASUU strike from credible sources like Daily Trust, Vanguard, Punch, Channels, BBC and Arise News.
Read Also: Open and Distance Learning Universities in Nigeria
ASUU Strike Update Today
Here is ASUU strike update today with most of your questions answered.
Has ASUU been paid?
No, the FG is yet to pay ASUU both the demands from the 2009 agreement and their 8 months arrears of salaries from the previous strike.
So the lecturers are still patiently waiting for the federal government to do the needful.
Is ASUU planning another strike?
In as much as ASUU is not actively hatching a plan to embark on another strike now, the possibility of that happening soon is not far-fetched.
The universities in Nigeria need serious urgent attention. There's need to address the age-long issue of dearth of facilities and dilapidation of infrastructure. Additional universities need to be built across the country to address the issue of inadequate carrying capacity of tertiary institution in the country.
More so, the disturbing issue of massive brain drain needs to be addressed as a matter of urgency. Nigeria must begin to retain her lecturers by paying them well. They should be able to earn what their counterparts earn in other countries without cutting corners. That way, they wouldn't find the need to move to other countries in search for greener pastures.
Otherwise, another strike is looming. And it is sure to happen again if the government continues to sleep over it promises to the university dons.
Read Also: 7 Proven Ways To Easily Immigrate To Canada
Conclusion
So here's where we end this very informative article for today trusting that it is helpful. Really thanking you for visiting this website. We want to encourage you to bookmark this site on your browser and also subscribe for notifications from us. By so doing, you will always be the first to read ASUU Strike Update Today and other information. If you stay in touch with this website, you won't miss anything.
Also remember that you can use the comments section to ask questions in case there's something you don't understand. You may as well drop a comment if you have academic related issue that you would want us to help you with. Otherwise, just share your thoughts with us; we'd love to hear from you.
Furthermore, kindly help us to reach others with this post. Share with friends on Social Media. Just scroll down to see the Facebook and Twitter and WhatsApp buttons. Thank you so much!
See you on the next article.
---
Still Got a Question? Drop Your Question Right HERE 👇👇 and click on Search.
Get an Immediate Response...
---
---
---
Get in touch with us
---
If this post was helpful to you, please help us to reach others by sharing with the buttons below!