UNIZIK Pre science Form is now out for the 2022/2023 academic session. The form is required to admit students into the UNIZIK Pre Degree program.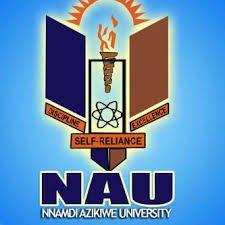 To this effect, applications are invited from suitable qualified candidates for admission into the 2022/2023 Academic Session of Pre-Science Programme, Nnamdi Azikiwe University, Awka.
UNIZIK Pre Science Requirements
To be admitted into the UNIZIK pre science programme, you must meet the requirements. The requirement for admission into the programme is five O' Level credits which will include English, Mathematics and any other three relevant science subjects in SSCE, NECO, GCE and NABTEB. Whether the candidate is coming with WAEC, NECO or NABTEB, the result must be obtained at not more than two sittings.
How Much is UNIZIK Pre Science Form?
The cost of the UNIZIK pre science form is N15, 000.00 (Fifteen Thousand Naira) only. The form can be purchased in any commercial bank nationwide.
How to Apply for UNIZIK Pre Science Programme
For those who are still asking, the sale of UNIZIK pre science form would commence on 15th October, 2022. Find below the procedure you should adopt if you are interested in applying for the program.
Click on "Create Account".
On the form enter your email, phone number, password, select the access level and click on "submit".
Your login details will be sent to your email address instantly.
Continue with the application by logging in with the login credentials sent to your email.
After successful login, click on Step One, click on Generate Application Form RRR.
Print the RRR (Remita) page; proceed to any bank of your choice nationwide to make a payment of N15, 000 only.
Login to the portal, click on Step Two, click on Confirm Payment, enter the RRR number and click on verify payment. If payment confirmation is successful, or if you get notification payment already verified, then proceed to Step Three.
Click on Step Three, click on Fill Application Form, Fill out the application Form. You can save each stage of the application and continue at a later time. Also you can edit your information as often possible. However, once you submit your application, you cannot edit again.
Check the "I Agree" box and click on "Submit".
Print out the Application Form as your copy.
Available UNIZIK Pre Science Courses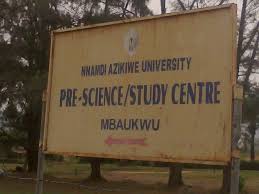 UNIZIK Pre-Science Programme is only for candidates who are interested in the following Faculties/ Departments.
i. Faculty of Bio-Sciences
a. Department of Botany
b. Department of Parasitology & Entomology
c. Department of Zoology
d. Department of Applied Biochemistry
e. Department of Applied Micro-biology and Brewing.
ii. Faculty of Physical Sciences
a. Department of Geological Sciences
b. Department of Mathematics
c. Department of Computer Sciences
d. Department of Statistics
e. Department of Pure and Industrial Chemistry
f. Department of Pure and Industrial Physics
iii. Faculty of Medicine
iv. Faculty of Pharmaceutical Sciences
v. Faculty of Health Sciences and Technology
a. Medical Laboratory Sciences
b. Radiography
c. Medical Rehabilitation/Physiotherapy
d. Nursing
vi. Faculty of Engineering and Technology
a. Department of Industrial and Production Engineering
b. Department of Civil Engineering
c. Department of Mechanical Engineering
d. Department of Electronic and Computer Engineering
e. Department of Metallurgical/Material Engineering
f. Department of Chemical Engineering
g. Department of Polymer Engineering
h. Department of Electrical Engineering
vii. Faculty of Environmental Sciences
a. Department of Architecture
b. Department of Building
c. Department of Estate Management
d. Department of Survey and Geoinformatics
e. Department of Geography & Meteorology
f. Department of Environmental Management
g. Department of Quantity Surveying
viii. Faculty of Education
a. Department of Technical Education with Options in
ii. Woodwork and Building Technology
iii. Mechanical and Automobile Technology
iv. Electrical and Electronic Technology
b. Department of Science Education with options in
i. Science Education/ Biology
i. Science Education/ Physics
ii. Science Education/ Chemistry
iii. Science Education/ Computer Science
iv. Science Education / Integrated Science
ix. Faculty of Agriculture
a. Department of Agric Economics
b. Department of Food Science
c. Department of Crop Science and Horticulture
d. Department of Soil Science
e. Department of Fisheries and Aquaculture
f. Department of Animal Sciences and Technology
g. Department of Forestry and Wild Life Management
Available UNIZIK Pre Science Subjects
There are just six available subjects in UNIZIK Pre Science Programme. They are: Mathematics, Geography, English Language, Physics, Chemistry, and Biology.
Each of these six (6) subjects will be taught by four lecturers. So in total, there will be 24 lecturers in the pre science programme.
Students of UNIZIK Pre-science Programme are permitted to choose five or four subjects to take the the pre science programme examination. Your scores in four out of these five subjects will be calculated over 400. In other words, your best four subjects will be taken.
UNIZIK Pre Science Cut off Mark
Officially speaking, the minimum score that is considered a pass or credit in the UNIZIK Pre-science Program is 200. This means that if at the end of the program, you score 200 or above, you are considered to have passed. However, that does not guarantee admission.
Qualification for admission is actually determined by both pre-science program score and JAMB score. The current JAMB cut off mark for admission into UNIZIK via the pre degree program is 180.
I will explain how JAMB score and UNIZIK Pre science score, by their interplay, determine your admission chances.
Case Number 1:
Case number one is that of a candidate who scores 179 or below in JAMB and then scores 200 or above in UNIZIK Pre science programme. This means that the candidate did not reach the JAMB cut off mark (180) for admission into UNIZIK through the pre degree program. Therefore, the candidate will not be admitted.
Case Number 2:
Case number two is that of a candidate who scores 180 or above in JAMB but scores 199 or below in UNIZIK Pre science programme. This means that the candidate did not reach the UNIZIK Pre science cut off mark (200) even though they met the JAMB required score. So the candidate did not qualify for admission into UNIZIK through the pre degree program and will, therefore, not be admitted.
Case Number 3:
Case number three is that of a candidate who scores 180 or above in JAMB and also 200 or above in UNIZIK Pre science programme. If you fall into this category, you may be admitted into the university but you may be offered another course different from your preferred course.
The truth is that the higher your UNIZIK Pre-science programme examination score, the greater your chance of getting admitted into your preferred course. This is true as long as your JAMB score is above the cut off mark.
If you applied for very competitive courses like Medicine and surgery and scored 180 in JAMB, all it would take for you to get admitted is to score 300 or above in your UNIZIK Pre science programme examination.
Do UNIZIK Pre Science Students Write Post UTME Screening Exam?
Nnamdi Azikiwe University (UNIZIK) does not require her Pre Science students to write or participate in the university's Post UTME exercise in whatever form.
UNIZIK Pre Science Classes
The entire pre science program has the similitude of a secondary school where students are grouped into different classes according to their registration numbers. There are eight classes in the pre-science programme. They include B1, B2, C1, C2, D1, D2, E1, E2.
UNIZIK Pre Science Fees
Many interested students also want to have an idea of what the UNIZIK Pre science school fees is like. So they ask, "How much is UNIZIK pre science school fees?"
The UNIZIK Pre-science program school fees is N45,000 for candidates with one result and N46, 500 for those with combined results.

Tips to Help you Succeed in your UNIZIK Pre Science Programme
When the lecturers advise students, they always say that UNIZIK pre degree programme is survival of the fittest. But can I shock you? In this programme, even the fittest lose sometimes.
Listen my friend, UNIZIK Pre-science Programme is actually tougher than what most people are made to believe. I'm not trying to scare or discourage you. Rather, I'm preparing your mind ahead of time.
Read the following tips. They will help you to go through UNIZIK Pre-science Programme and come out successful.
UNIZIK Pre Science Programme Success Tips
1. Don't listen or act on what everybody is saying. There are three people you must listen to for the sake of your safety and sanity — the lectures, your class reps and yourself.
2. You will see many pre science students carrying large textbooks. You will hear others always answering questions in class. Don't ever feel intimidated. No, don't. Many of those folks are just trying to impress. Some don't get to read those large textbooks throughout the 6 months duration of the program. The best attitude you can have towards such people is to let them motivate you to become more studious and wise in your dealings.
3. Try to balance your religious, social and academic life. Too much emphasis on any one of them is bad. Don't miss lectures to attend fellowships, prayer vigils or parties. Do your best to give God his place and time in your life as a young person. Don't neglect your social life, but always remember that there will be an examination soon.
4. Anybody who has gone through the UNIZIK pre science programme will tell you that the very things the lecturers say during lectures are the questions you will see on the examination day. So wisdom is to try not to miss any lecture.
5. Although I strongly advise you to buy textbooks and past questions, don't put your entire faith in them.
6. Finally, stay focused. It's just a six months programme and not the time to fall in and out of love or f*ck around.
UNIZIK Pre Science Hostel
There is a hostel within the UNIZIK pre science campus. It is located in a very serene environment and is conducive for study. The hostel goes for a very affordable rate of 30,000 Naira only. 
If you would rather prefer to stay off camp, budget around  N65,000 to N150,000 for accommodation.
Resumption Date for UNIZIK Pre Science Program
UNIZIK pre-science students resumption date is Monday 8th February 2022.
---
Still Got a Question? Drop Your Question Right HERE 👇👇 and click on Search.
Get an Immediate Response...
---
---
---
Get in touch with us
---
If this post was helpful to you, please help us to reach others by sharing with the buttons below!