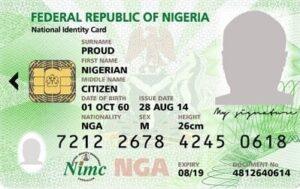 What is NIN?
NIN is an acronym which stands for National Identification Number. It consists of 11 non-intelligible numbers coined through a high-tech permutation system. The number is assigned to individuals of Nigerian origin; after they have completed their enrollment into the National Identity Database (NIDB).
The NIN is very unique in nature. Once it is assigned to an individual; it can never be reassigned. The NIN identifies every Nigerian citizen for life. In the case of death; the late individual's NIN is retired once a death certificate is presented to the Commission and the individual's death is confirmed.
Why You Need an NIN?
In the process of NIN registration; a lot of data about an individual are captured. So NIN is a means of recording all the data about an individual in the NIMC database to be used to establish or verify their identity. So just as people can contact you via your phone number; you will be identified via your NIN.
The NIN is used to match you with your authentic biometric data and other details about you. All of these are stored in the National Identity Database after verification and authentication.
There are many transactions in Nigeria that require identity verification; and your NIN would be required for them. Such transactions include…
obtaining your National e-ID card.

travel (international passport application & acquisition).
opening personal bank accounts.
getting your driver's license.
obtaining your Permanent Voters' Card.
participating in the National Health Insurance Scheme.
payment of your taxes.
transactions related to your contributory pension scheme.
access to welfare and other relevant services from the Nigerian Government.
transactions with social security implications.
land transactions subject to the Land Use Act.
any other transactions NIMC may so prescribe and list in the Federal Government Gazette.
To ensure smooth and effective coordination of activities; the NIMC is engaged in harmonization and integration of data with the various agencies across Nigeria who deal with the services mentioned above.
Who is Eligible for Apply for NIN?
The following are considered eligible for NIN enrolment.
All Nigerian citizens.
Every legal resident of Nigeria.
All individuals from age zero (birth) and above.
How do I Enrol for NIN?
NIN Enrolment has simply to do with registration. NIN registration consists of
recording of an individual's demographic data.
capture of the ten (10) fingerprints.
head-to-shoulder facial picture.
digital signature.
All of these are used to cross-check already existing data in the National Identity Database to confirm that there is no previous entry of the same data.
All individuals interested in obtaining their NIN are advised to apply on the NIMC Pre-Enrolment Portal; and follow the process as defined for applying for National Identification Number. If you need assistance with the enrolment form; you can visit the any of the Enrolment Centres near you. At the center; a Support Officer will assist you to correctly fill the form with the required information.
Supporting Documents for NIN Registration

If you are ready to do your NIN registration; the first thing you must do is to identify the nearest NIMC Enrolment Centre in your locality. Get your BVN ready; if you have one. Otherwise; go with any of the following required Original and Valid supporting documents:
Old National ID Card
Driver's License
Voter's card (Temporary or Permanent)
Nigerian International passport
Certificate of Origin
Attestation letter from a prominent ruler in your community
Birth certificate
Declaration of age
Attestation letter from religious/traditional leader
NHIS ID card
Government staff ID card
Registered/recognized private organization staff ID card
School ID Card (private/public)
Tax Clearance certificate
Valid immigration documents
Steps Involved in NIN Registration
Step 1: Fill up the pre-enrolment form online. Download and print Pre Enrolment Slip.
Fill the NIMC Pre Enrolment online form by visiting Pre Enrolment Portal.
Completely fill all the mandatory fields with correct information.
Download and print your Pre-Enrolment Slip
Step 2: Submit Your Application.
Walk into the nearest NIMC Registration Centre with any one of the supporting documents listed above.
At Enrolment Center; you will be directed to a counter where an Enrolment Officer will verify the presence and compliance of all the details of your application.
If your application is in order; the enrolment officer will guide you to proceed with the capture of biometrics (ten fingerprints and facial image).
You will collect the Transaction ID Slip as evidence of the transaction.
Note :
Applicants who cannot read or write should be accompanied by a literate individual who can fill the form for them.
Minor applicants should be accompanied by parents/guardians who can fill the form for them.
Minor applicants should only bring an original and valid birth certificate; and NIN slip of one of the Nigerian Parent / Guardian.
Step 3: NIN issuance.
The normal time frame for issuance of the National Identification Number (NIN) Slip is 2 to 3 working days; from when the biometric details are captured at enrolment centres.
In certain cases; the issuance of NIN may take longer due to the validation of details at NIMC.
The Transaction ID Slip is required to be stored carefully by the applicant. The ID is required to be presented at the time of collection of NIN Slip indicating completion of enrolment.
NIMC Check Tracking ID
If you are asking the question; "How can I check my NIMC tracking ID?". here is what NIMC tracking ID is all about and how to use it.
The NIMC tracking ID is what is popularly known as the National Identification Number (NIN).
How Do I Check For My NIMC Tracking ID?
The process of checking for your NIMC tracking ID is actually very easy. If you have successfully done your NIN registration; there is an initial transaction ID slip that was given to you. If you have your transaction ID slip; all you need to do is to follow the steps below to get your NIMC tracking ID.
Wait for 1 to 5 working days from the day you did your NIN enrolment.
Go back to the NIMC office or outlet where you did your and present your Transaction ID Slip.
Wait for your Transaction ID Slip to be processed.
Thereafter, the main slip containing your National Identification Number (NIN) will be issued to you.
This NIN Slip has 11 digits situated at the top left corner usually at the second row – that is your NIN.
How to Check NIN Number Online
Many Nigerians ask; "How can I find my NIN number online?" The simple way to check is using the method expatiated below.
How to Check or Retrieve National Identity Number (NIN) Via USSD

If you have registered for the national ID card scheme and have been given your National Identity Number (NIN); there is a possibility that you may lose or forget your NIN is you don't carefully store it away. In case you forget or lose your NIN; you can retrieve it on your mobile phone for free. All you need to do is to follow these steps.
dial *346# — this works regardless of your service provider and would attract a service charge of N20.

From the various options displayed on your screen; choose: "NIN Retrieval", by pressing '1'.
Your NIN will be displayed on your phone's screen.
Copy the number or screenshot it and save it on your phone or Google Drive.
Like I already pointed out; this NIN retrieval service is FREE OF CHARGE on all the Nigerian Mobile Networks. So if you are looking for information on how to check NIN number on MTN, AIRTEL, GLO or 9mobile; what you have here will suffice.
How to Know if your NIN Card is Ready for Collection

If you want to check if NIN card is ready, follow the simple steps below.
Visit the National Identity Management Commission [NIMC] website – www.nimc.gov.ng.
Scroll down the homepage. and click on 'e-ID Card Status Portal' to check if your card is ready and now available at the activation centre.
Fill in your first name; last name and your NIMC check tracking ID; and hit the 'check now' icon button.
How to Link your NIN to your SIM Card
So far so good. We are going to end this article after this section. Here we are going to show you very quick and easy steps to link your NIN to your phone number in compliance with the Nigerian Communication Commission (NCC) policy. Whether your network provider is MTN, Glo, Airtel or 9mobile; you will find this section very useful.
How to Link your NIN to your MTN Number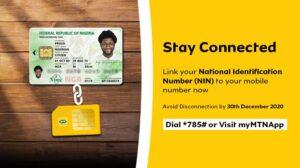 Dial *785# from the phone number you wish to link.
Enter your NIN and submit.
Or just dial *785*Your NIN# from the phone number you wish to link.
The number will be linked to your NIN automatically. Another way to go about it is to visit https://mtnonline.com/nin/; or download MyMTN App to submit your NIN details.
How to Link your NIN to your
Glo Number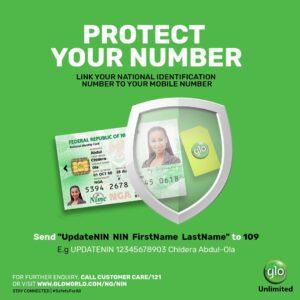 If your network provider is Glo; you can link your NIN to your phone number by simply texting…
"UPDATENIN NIN FirstName and LastName" to 109.
How to Link your NIN to your
Airtel Number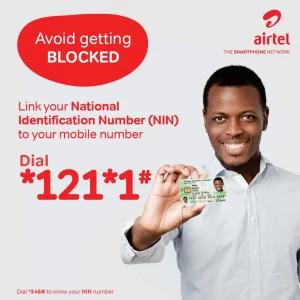 If you are an Airtel subscriber; you can link your NIN to your phone number by simply dialing *121*1#.
How to Link your NIN to your
9Mobile Number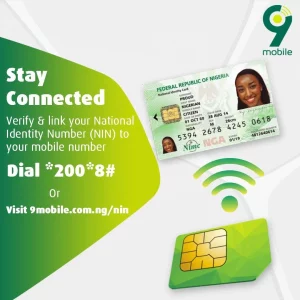 If your network provider is 9mobile; you can link your NIN to your phone number by visiting http://www.9mobile.com.ng/nin. Or you just dial *200*8#
---
Still Got a Question? Drop Your Question Right HERE 👇👇 and click on Search.
Get an Immediate Response...
---
---
---
Get in touch with us
---
If this post was helpful to you, please help us to reach others by sharing with the buttons below!