You are welcome again to your favorite educational website, suresuccess.ng. In this comprehensive guide, we'd be focusing our our attention on WAEC Result Checker. We are doing this for the over one million WAEC candidates asking, "How to check my results online?" You will learn the importance of checking your WAEC result online and also be guided on the steps to easily check your result.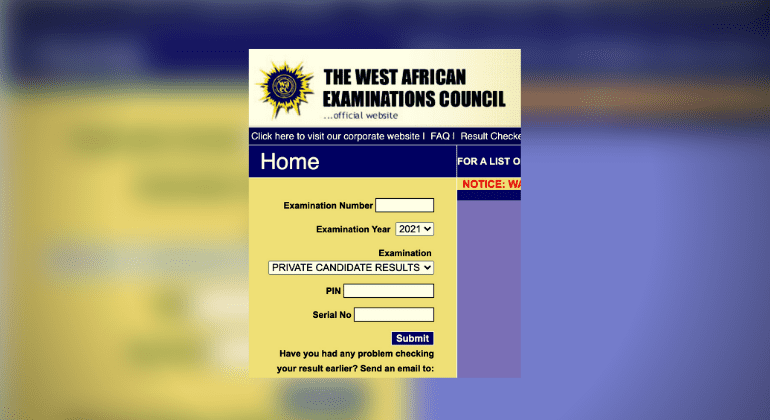 Introduction
The West African Examinations Council (WAEC) is a well-known examination body in West Africa that is in charge of administering standard internal and external exams. WAEC administers Senior School Certificate Exams (SSCE) to students in a number of West African countries, including Nigeria, Ghana, Sierra Leone, Liberia and The Gambia. SSCE is an important exam that indicates that a student has successfully satisfied the requirements for secondary education and is qualified for tertiary education.
Now that WAEC has released the results, it's our intention in this post to show you how to check your results online. But before we get into the result-checking procedure, it is important that you grasp the importance of checking WAEC results online.
Read Also: How to Check WAEC Result Using Phone
The Importance of Checking WAEC Results Online
There are many advantages of checking WAEC results online. Here are some of them:
1. Immediate Access
Checking WAEC results online allows candidates to see their results as soon as they are released. This eliminates the need for physical result sheets, and saves time and effort in obtaining this vital information.
2. Ease of Use
Candidates can check their WAEC results from the comfort of their own homes using a computer or mobile device thanks to the online result-checking system.
3. Increased Privacy
Online result checking provides a level of secrecy that paper result sheets do not. Candidates can access their results privately, without requiring others to witness the event. This is especially crucial because examination outcomes can be quite personal for many people.
WAEC Result Checker
The WAEC Result Checker is a platform provided by the West African Examinations Council to enable candidates who have taken SSCE to access and view their results online. The platform is designed to make it easier for candidates to access their examination results promptly and securely.
How to Check My Results Online
Now that we've established the significance of online result checking and given insight into the WAEC result checker, let's go over the steps to ensure you can easily obtain your WAEC results:
1. Ensure that you have all the required information
Before attempting to check your WAEC result online, ensure that you have the following information handy:
Examination Number
Examination Year
Card Serial Number (you can find this on the back of your scratch card)
Personal Identification Number (PIN): The Personal Identification Number (PIN) is also on the scratch card and is necessary to access your results.
2. Get yourself a WAEC Result Checker Scratch Card (e-PIN Voucher)
You can get the WAEC result checker scratch card from WAEC offices nationwide or from authorized dealers.
3. Visit the WAEC Result Checker Website
Once you have a valid scratch card and all the relevant information, visit the official WAEC result checker portal. Like we already told you, WAEC administers SSCE in a number of West African countries. Therefore, the web address for the result-checking site may differ based on your location; so be sure to enter the exact URL.
4. Enter the Necessary Data
At this point, you need to enter the required data carefully ensuring that there are no typos that will cause errors in getting your results. Here's how to go about it:
Enter your 10-digit Examination Number. This is your 7-digit centre number followed by your 3-digit candidate number e.g. 1234567012.
Enter your Examination Year e.g 2024
Select the Examination Type e.g. May/June
Enter the e-PIN Voucher Number
Enter the Personal Identification Number (PIN) on your e-PIN
5. Obtain Your WAEC Results
After entering the data above, click the "Submit/Check Result" button. If all of the data is valid, your WAEC results for the given examination year will appear on the screen.
6. Print or Save Your WAEC Results
You may want to print a hard copy of your WAEC results or save the PDF in your Gmail or your device after viewing. Either way, ensure that you have a physical copy or soft copy of your results to refer to in the future.
WAEC Result Checker:
How to Check My WAEC Results with SMS
You can also check your WAEC result via SMS. However, it is only MTN, Glo and Airtel subscribers can check their WAEC Results using the SMS method.
Here's how to go about it:
Using your mobile device, Type WAEC*ExamNo*PIN*ExamYear (e.g. WAEC*4250101001*123456789012*2024)
Send to 32327
Wait for your result to be delivered to your phone via SMS. (SMS service charge applies)
If you did not receive your WAEC result via SMS, kindly repeat the above steps.
Also note that before you can check your WAEC result via SMS, you must have purchased the WAECDirect Scratch card. The WAECDirect scratch card pin is what is needed in the PIN section of the SMS you will send to 32327.
WAEC Result Checker:
How to Check My WAEC Results Via Serial Number
First, ensure that your mobile phone or PC is internet-enabled
Then, visit www.waecdirect.org
Enter your 10-digit Examination number
Enter the Serial Number and Examination year
Click on Check my WAEC Result.
Troubleshooting: What to Do If You Have Problems
(Frequently Asked Questions)
WAEC intends that once results are released, the process of result-checking would be simple and free of glitches.
Here are some frequent issues that students may face, as well as solutions:
1. Illegal e-PIN Voucher or Scratch Card
If the WAEC result checker show that your e-PIN Voucher or Scratch Card information is invalid, you need to double-check the information you entered. Check that the examination number, serial number and PIN are correct. If the difficulty persists, please contact the official WAEC helpdesk.
2. No Result Available
In some situations, results may not be accessible immediately, or the online portal may be delayed in updating. If you see an error message claiming that your result is unavailable, please wait a few moments and try again later. If the problem persists, contact your school or the WAEC office for assistance.
3. Technical Issues
If you experience technical difficulties, such as the site not loading properly, consider using a different web browser. Clear your browser's cache and cookies, then recheck your results. If the difficulty persists, it is possible that there is a temporary issue with the WAEC website, so patience is encouraged.
4. Is it possible to check my WAEC results without a scratch card?
No, you must use a scratch card to view your WAEC results online. It serves as a security mechanism to ensure that only those who are allowed can read the findings.
5. Can I view previous years' WAEC results?
Yes, you can view results from prior examination years through the online result-checking service. Check that you have the correct exam number, exam year, scratch card serial number, and PIN for the requested year.
6. What Should I Do If I Forget My Exam ID?
If you have forgotten your exam number, please contact your school or examination center. They should be able to supply you with the information you need to continue with the result-checking process.
7. How safe is the Online Result Checker?
Yes, the WAEC online result-checking system is designed to be secure. Scratch cards and PINs give an extra degree of security to ensure that only authorized personnel can access the results.
Conclusion
Here's where we end this comprehensive guide on WAEC result checker. Now you know how to check your WAEC result online either via SMS or serial number.
But just in case there's still something you don't understand, you can use the comments section to ask questions. Or just share your thoughts with us.
Also help us to reach others with this post. Share with friends on Social Media. Just scroll down to see the Facebook and Twitter and other social media buttons. Thank you so much!
See you on the next article.
---
Still Got a Question? Drop Your Question Right HERE 👇👇 and click on Search.
Get an Immediate Response...
---
---
---
Get in touch with us
---
If this post was helpful to you, please help us to reach others by sharing with the buttons below!