The results of the ongoing 2023 JAMB examinations are coming out already. On this article, I will deal with JAMB result checker and you will learn how to access JAMB result checker portal login. Thereafter, I will show you how to check JAMB result 2023. You will also learn how to check JAMB result with registration number online. Then, how to check JAMB result with phone number through SMS. And finally, JAMB result printing.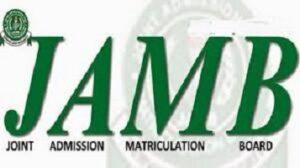 As is our tradition on the SureSuccess.Ng website, we shall be giving you the most comprehensive guide on how to check your JAMB result without hassle. Of course, it is no longer news that the results of the JAMB CBT examination for 2023 are ready and would be available on the JAMB result checker portal as soon as the board is through with routine maintenance.
The maintenance does not take much time, and candidates would be able to access their JAMB result notification.
What is JAMB Result Checker Portal?
JAMB result checker is an online portal on JAMB website where UTME candidates can check and print out their result slips.
Once you have a device and good Internet connectivity, you can access the JAMB result checker portal at https://jamb.gov.ng.
When you access your result on the JAMB result checker portal, it will contain the following:
Name of the candidate.
JAMB registration number.
Candidate's Date of Birth.
State of Origin.
Exam Number and
Examination Center name.
List of candidate's subjects and score in each.
How to Check JAMB Result 2023

The entire procedure for checking JAMB result online is now very simple and easy for candidates. This is because the candidates now already have all the parameters they need to check their result by virtue of their registration (i.e. before the examinations). They include:
JAMB Registration number.
Candidate's email (used for the JAMB registration).
Candidate's phone Number (used for the registration).
With any of the parameters above, candidates would be able to check their JAMB scores even from the comfort of their homes.
So, whenever you are ready, follow the steps below to check and print your JAMB Result Slip.
JAMB Result Checker: How to Use Phone Number (i.e. SMS) to Check JAMB Result 2023
As is the tradition of JAMB over the years, the phone number or SMS method is the only process for checking 2023 UTME results for now.
So you can now check your JAMB result with your phone number. However, the phone number must be the one you used to register JAMB.
Of course, you can do this offline. You do not need an Android phone or Internet connectivity. So this method is suitable for candidates who live in remote areas with poor Internet services and those without "good phones".
Bear in mind, however, that candidates must pay a service charge to their network operator in order to use the SMS option.
How to Check JAMB Result Through SMS 2023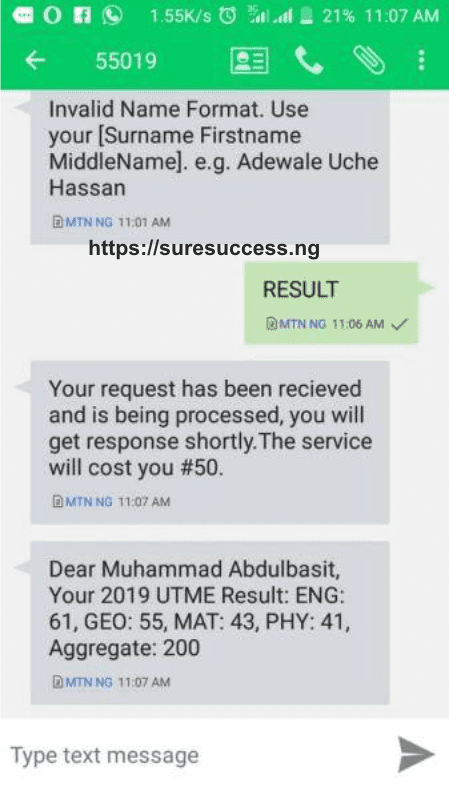 Here are the simple steps.
Check your credit balance to ensure that it is at least N50.
Open your phone's messaging (SMS) App.

Type UTMERESULT

(no spaces) and send to 55019 or 66019.
Your network provider will deduct N50 from your credit. Shortly afterwards, the outcome would be sent to you as an SMS.
The following are the responses you may expect from JAMB…
If a candidate uses a phone number that was not used to register JAMB, a message will be sent to them thus: 'This phone number was not used for registration."
A candidate with a result will receive the message: "Dear Mr/Miss X, your result is as follows… (and the details will show up).
A "Result Withheld" message will be sent to the candidate if a result is withheld.
If a candidate belongs to the category JAMB is willing to give the benefit of doubt, they will receive a message like: "Result withheld pending the upload of clarifications/document required from you."
Candidates who were absent would get "CANDIDATE ABSENT" as feedback.
If the candidate was ABSENT WITH REGISTRATION NUMBER also CANCELLED, JAMB will so inform them.
JAMB will send "Invalid Entrance into the Exam Hall" to a candidate who gained access to the examination hall without proper authorization.
Read Also: Federal Universities that Accept Low JAMB Score [Full List]
JAMB Result Checker: How to Use Registration Number to Check JAMB Result 2023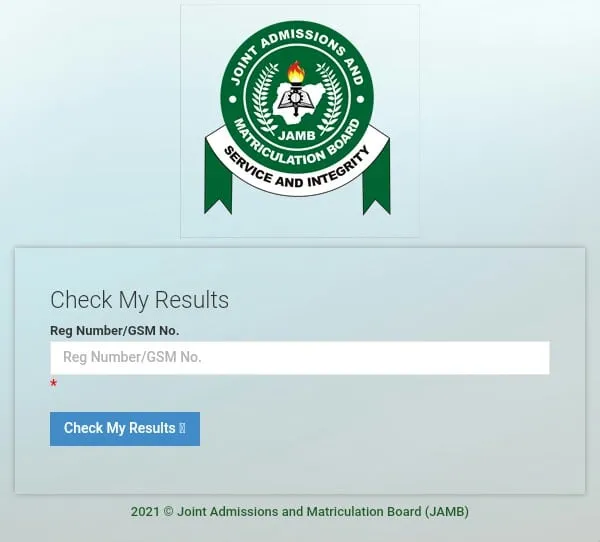 As I said earlier, you can already check your JAMB result using the SMS method on your phone. And that is the only option available for candidates to check their UTME result for now.
In the next couple of days, JAMB will get their online result checker portal ready for candidates to access and print out their results.
When the JAMB Result Checker Portal is ready, this is the procedure for checking JAMB result 2023.
Visit JAMB home page and click on Check UTME Results.
Or visit the result checking link straight via https://www.jamb.gov.ng/CheckUTMEResults.
Enter any of your JAMB registration number, phone number or email address.
Click on check result.
A popup window will open and display the result.
Preview the result and print.
Follow the above procedure to check your result on the JAMB portal as soon as the board uploads it.
You must note, however, that JAMB is yet to upload the results for candidates to access online. The reason for this delay is to forestall any form of abuse.
Read Also: How to Gain Admission With Low JAMB Score 2023
Why You Need to Print Your Result from JAMB Result Checker Immediately
If you are conversant with JAMB exams, you would recall that in the past there have been a series of reports with respect to candidates' scores being altered (some increase while others reduce) after they had already checked and seen their results online. While most of these claims are spurious, there have been several confirmations of such cases.
But in many instances, the candidates affected do not always have any proof or evidence to validate their claims simply because they checked their results on their phones or some other mobile devices but did not print them out.
In that case, JAMB may deny such claims even although they may be genuine and you wouldn't blame them.
Inasmuch as no one prays to be a victim or to experience such, you must be vigilant. Visit the JAMB Result Checker Portal on a PC and check your result as soon as possible. Print it out and keep for record purposes.
Read Also: Share Your 2023 JAMB Score and Course, Let me Guide You
Original JAMB Results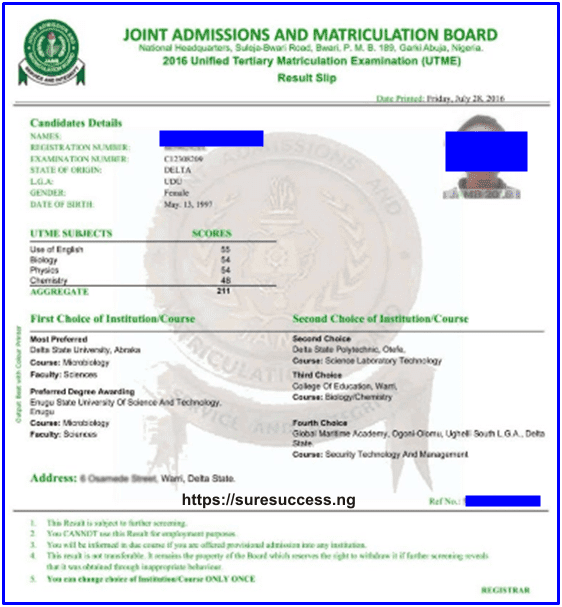 So far, this post has been about JAMB result notification slip. However, candidates are to note that they are not the same as Original JAMB Result. No, they are different.
The Original JAMB result, in addition to looking more authentic (colored), will display more information than notification of result. It will further show:
Passport photo.
Schools of choice and courses chosen.
This implies that obtaining your original JAMB result slip is very important. It is so because that is the official document you will present whenever there is need for a proof of your JAMB result. It is, therefore, important for NYSC, scholarship applications and so on.
Read Also: MEDICINE & SURGERY ASPIRANTS: Change to Any of These Courses if You Have a Low JAMB Score
How to Print Original JAMB Result Slip for all Years
Printing Original JAMB result slip will cost around N1,700 unlike the normal JAMB result which you may print out for just about N200 in the local cafes. This price change is because original result involves paying N1,000 (excluding online/Remita charges) to JAMB and the fact that it has to be printed in colour which will increase a café's service charge.
Note that printing Original JAMB result doesn't have to be done immediately the result is released online. You may mostly need it when your post UTME registration and school's admission exercise begin or when your name appears on the admission list i.e. during clearance and registration.
Remember that you can print your original JAMB result slip on the JAMB Result Checker Portal.
Conclusion
Be optimistic. Stay hopeful. You can get admission this year regardless of your JAMB score. Yes, it's true. All it takes is knowing and doing the right things at the right time. If you have checked your JAMB result and your score is low, see how to get admission with low JAMB score. Read that and apply the principles therein. Don't fall for online fraudsters who promise to upgrade JAMB scores for a token. Don't lose your money because there is no such thing as JAMB score upgrade. In fact, it is practically impossible to upgrade your JAMB score.
If you got a very high JAMB score, congratulations already. However, you must start preparing for your Post-UTME Screening now. Yes, start now. Give it your best. So that you can complete the good job you have started. See How to Get SureSuccess Post-UTME Past Questions and Answers in your Locality.
Finally, kindly help us to reach others with this post. Share with friends on Social Media. Just scroll down to see the Facebook and Twitter and WhatsApp buttons. Thank you so much!
See you again in the next post.
---
Still Got a Question? Drop Your Question Right HERE 👇👇 and click on Search.
Get an Immediate Response...
---
---
---
Get in touch with us
---
If this post was helpful to you, please help us to reach others by sharing with the buttons below!