On this article, I will answer the question, "When is JAMB reprinting starting for 2023?" In answering that question, I will tell you the date for reprinting 2023. You will also learn how to reprint JAMB Slip without email. Thereafter, I will tell you why JAMB candidates should reprint JAMB slip. When will JAMB slip reprinting start on JAMB portal.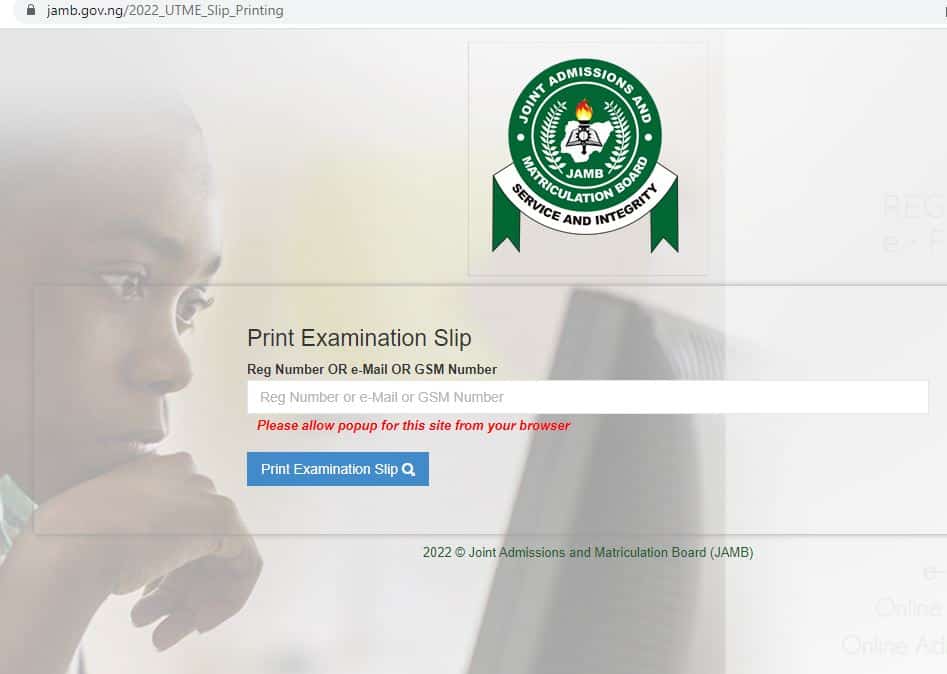 JAMB Reprint 2023: How to Reprint JAMB Slip 2023
The Joint Admissions and Matriculation Board, JAMB earlier fixed the 26th of April 2023 for the reprinting of e-slips for the forthcoming 2023 UTME Examination.
However, following the recent rescheduling of the UTME, the initial date has also been shifted and JAMB has announced a new date for reprinting of slips ahead of the examination. Continue reading to find out the new date.
JAMB REPRINT: Why you Should Reprint JAMB Slip?
Many candidates ask why they need to reprint their JAMB slip. They want to know if it's compulsory to do JAMB slip reprinting. I'm going to still come back to this and give a more detailed answer. But for now, you must note that JAMB Slip contains the schedules for the examination (including date, center, venue, batch, and time) for the UTME Examination.
Before you proceed in this informative article, do accept my best wishes and prayers for excellent success in the forthcoming examination. You shall pass well!
How To Reprint JAMB Slip 2023
Below is the simple procedure to reprint your 2023 UTME Exam Slip:
How To Reprint JAMB Slip Without Email
You can reprint your JAMB e-slip without making use of e-mail address. In case you are having issues with your email or lost it, and wish to reprint your JAMB slip without email, here's how.
How To Reprint JAMB Slip Using Registration Number Or GSM
The procedure is pretty much the same with what I have shown you so far. Basically, you can reprint your JAMB slip using any of your registration number, email or GSM number.
Below are steps on how to reprint JAMB slip using Registration Number Or GSM Number
When is JAMB Reprinting Starting 2023?
Many, if not all, JAMB candidates for 2023 are asking and searching for the date for JAMB reprinting 2023. They ask, "When is JAMB reprinting starting for 2023." Or "When is JAMB Print out starting 2023."
Talking from experience, the most important date to note is the kick off date for 2023 UTME. Once you know the date, then bear in mind that JAMB reprint slip 2023 date will start a week or few days before the kick-off of the 2023 UTME.
In case you need to know, 2023 JAMB UTME is set to commence on Tuesday, April 25 and end on Tuesday, May 2, 2023. See Free JAMB Questions and Answers 2023 for all Subjects.
Reprinting of JAMB Slip for 2023 UTME will start on the 22nd of April, 2023 for all candidates.
Can I Reprint My JAMB Slip with Choice of Institution
The JAMB Slip we are discussing here is the one that shows only the candidates' personal details plus examination details. The examination details shown on a reprinted JAMB slip include center number, exam town, exam center name, examination date, UTME subject combination and so on.
What Does a Reprinted JAMB Slip 2023 Look Like? 
When candidates reprint their JAMB slip from JAMB reprint portal 2023, it looks exactly like what you have in the picture below.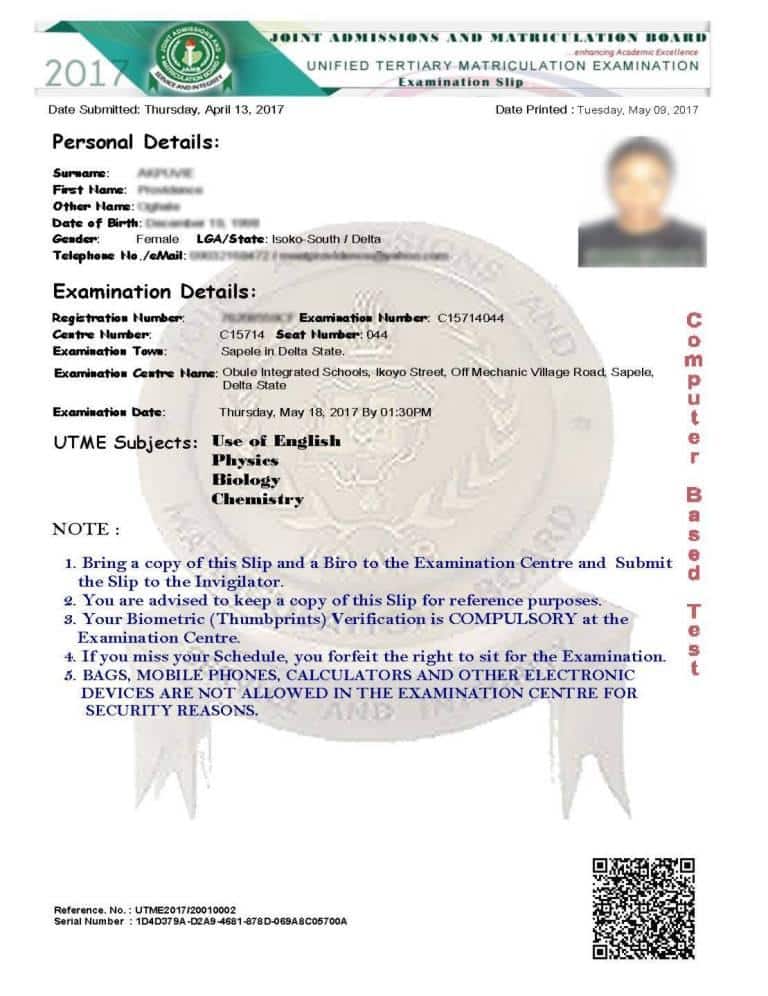 Why JAMB Candidates Should Reprint JAMB Slip 2023
Okay.
We are back to this question as I promised. It is very advisable for all JAMB candidates for the 2023 UTME to formally reprint their JAMB slip. The reprinted slip will help them to know where their JAMB center falls. In addition to that, it will show them the time they will be writing their exam.
The reason for reprinting JAMB Slip few days before the exam is not far-fetched. You would have noticed that after registering for you 2023 JAMB, some vital information were missing. The missing information include the
date/day of exam
time/batch of exam
name of exam centre/venue
and exam town.
It's only when you reprint your JAMB Exam Slip that you will be able to see all the information mentioned above.
How to Reprint JAMB Slip for 2023 UTME in Three Simple Methods
I will show you how to reprint JAMB Slip for 2023 UTME in three simple methods.
First Method
Second Method

Third Method
What is JAMB Saying About JAMB Reprint 2023?
JAMB, as a well organised examination body, has promised to send all reprinting details to all 2023 UTME candidates. via email. So you can check your mail if you are a candidate. When you do, you will discover that there is an option to print out the slip.
The only challenge here is that for one reason or the other, majority of candidates will not get this mail from JAMB. So logging into JAMB Portal to reprint your slip remains the best and most-reliable option.
How to Reprint your UTME Exam Slip via JAMB Portal
You may have noticed that what we have been doing in this article is more of repetition with little additions here and there. The reason is to ensure that you get the information well and do the right things. Before you print your UTME exam slip via JAMB portal, you need to ensure that you make use of Google Chrome or Firefox browser. Those two browsers are highly recommended though you can use any other high-end browser that is up to date.
When you are ready,
Read Also: How to Allow Popup for JAMB Site in 2023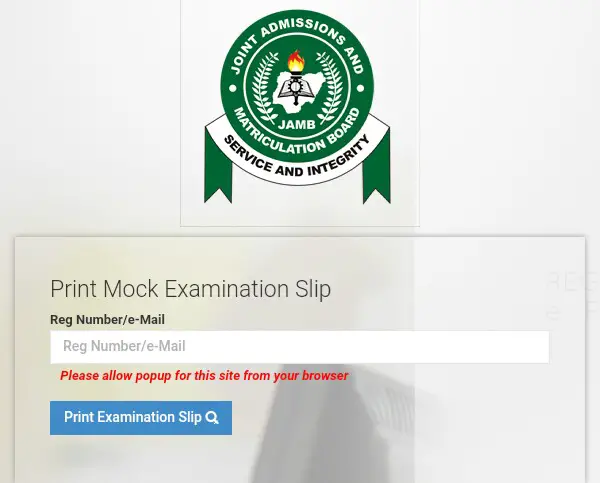 Can I Reprint my JAMB Slip at a Cyber Cafe?
Yes, you can reprint your JAMB Slip at any cyber cafe or business center.
You must not go to a JAMB CBT Accredited Center to reprint your UTME Slip. You can always do your reprinting  at any good cyber cafe or business center and at your convenience.
How Much Will it Cost me to Reprint my JAMB Slip at a Cyber Cafe?
Depending on your town or locality, reprinting should not cost you more than 200 Naira. The truth is that most business centers will charge you 100 Naira or slightly above that.
All you have to do is to locate the nearest business center or you can go straight to the JAMB Accredited Center where you did your registration.
Can I Do My JAMB Reprinting 2023 MYSELF?
Of course, all JAMB candidates for JAMB 2023 can reprint their JAMB Slip by themselves. This is especially possible if they have a personal computer and a printer. However, make sure that you have a very good printer that can print a clear picture of you.
In view of the above, you do not have to visit a CBT center before you can print out your slip. This means that you can do so with your personal computer.
However, It is advisable to print out at least two copies so as to file one in your files.
Why JAMB Reprinting 2023? Why JAMB Candidates Must Reprint JAMB Slip
The reprinted JAMB slip is indispensable because without it you won't have access to vital information about the exam you are preparing for.
The JAMB 2023 slip has all the details that have to do with the address of your center, time, and date of the exam.
That is why you must and need to print it out. So, go ahead and reprint yours.
2023 JAMB Slip Retrieval
There are some JAMB candidates who carelessly misplaced their slip, so if you fall in this category, jamb has successfully enabled their portal to help you get another slip. Or check: HERE.
Kindly Share this information on WhatsApp, Facebook, and Twitter to save someone today.
---
Still Got a Question? Drop Your Question Right HERE 👇👇 and click on Search.
Get an Immediate Response...
---
---
---
Get in touch with us
---
If this post was helpful to you, please help us to reach others by sharing with the buttons below!