This post is for candidates who got very low scores in their JAMB exams. Many of such candidates are currently surfing the Internet looking for how to upgrade JAMB score. So I'm going to devote this post to answering questions surrounding JAMB score upgrading. Because many would like to know if JAMB score upgrading is real in the first place. Others want to know how to upgrade their JAMB score by themselves without having to pay anyone for assistance. I will answer all these questions and more.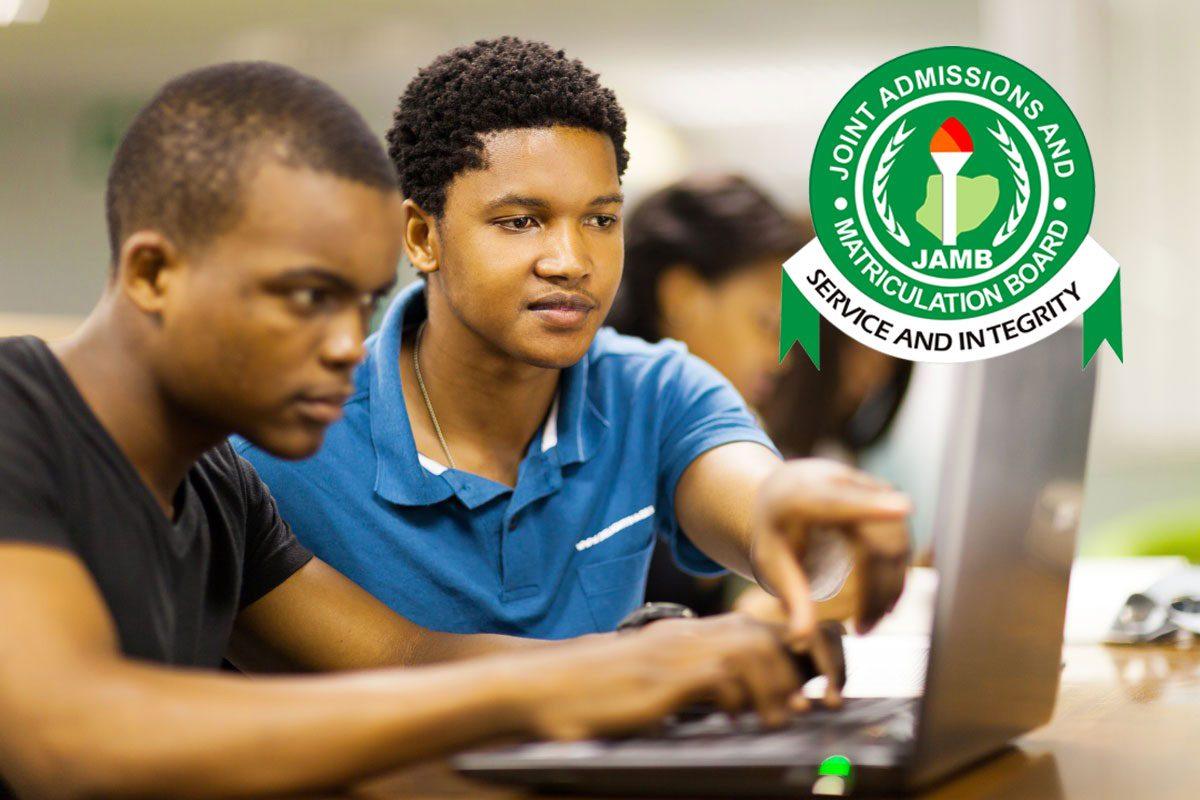 What is JAMB Score Upgrading?
JAMB score upgrading is the act of editing and increasing the low scores of UTME candidates to higher scores so that they can meet the cut off marks of their prospective courses in their dream institutions.
Admission search in Nigeria is truly a difficult task. This is because there are more candidates chasing the few admission spaces in Nigerian tertiary institutions.
In view of the above, getting a low JAMB score of below 180 does not help any candidate. A low JAMB score drastically reduces a candidate's admission chances.
Sadly, hundreds of thousands of JAMB candidates score below 180 every year.
In most cases, such candidates are left with very few options:
1. Look for how to edit and upgrade their JAMB scores.
2. Wait till next year and try JAMB again.
3. Go and register in a private institution.
Almost 100 per cent of the times, candidates do not want to entertain the thought of waiting till next year to try JAMB again. Not even for one second. After all, what's the guarantee that next year will be any different?
Others cannot afford the high cost of attending a private university owing to their average family background.
So the only option they are left with is searching for how to upgrade JAMB score. This is one question on the lips of many candidates shortly after the release of JAMB result.
But the big question is, "Is JAMB score upgrading Possible?" Is it real?
Read Also: How to Gain Admission With Low JAMB Score 2023
Is JAMB score upgrading Possible?
This is the begging question. Is JAMB score upgrading real?
Because of the pervasive curiosity of many candidates, some people have come in to tell them that they can assist with JAMB score upgrading.
These people claim they are JAMB officials working in the Board's ICT unit. Or that they are partnering with staff of JAMB or tertiary institutions. They go with bogus titles like Dr. KYC, Prof. XYZ and so on.
They know that the Social media platforms are where to find the candidates. So they take their adverts and testimonies to Facebook and WhatsApp. Others go as far as creating and running websites.
They share various convincing testimonies with photo-evidence of the candidates they have helped to upgrade their JAMB scores in the past.
Sometimes, it's even the acclaimed candidates that post the testimonies and then direct interested candidates to the Oga in charge of upgrading.
Read Also: Federal Universities that Accept Low JAMB Score [Full List]
Sample Message and Photos from JAMB Score Upgraders
Here is a sample message from a "happy candidate" who claims that her JAMB score was upgraded successfully:
I just checked my jamb result it was 160. So I was hopeless but thank God I got Dr Frank's number online. I called Dr Frank and explained my situation to him. He helped me to upgrade my score to 250 just for little token. Now I am happy. If you want to upgrade your score too, call Dr Frank on ***********. He is going to help you the way he helped me. God bless Dr Frank.
But beyond these testimonial messages, they also back up their claims by showing images of the result slips of  candidates they helped with their JAMB Score upgrade.
Below is the image testimony of a candidate by name Adewale Adesola Esther. Her original JAMB score was 161. But after the upgrading, her score became 264.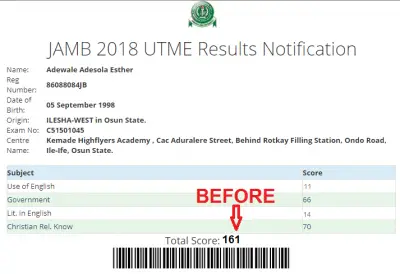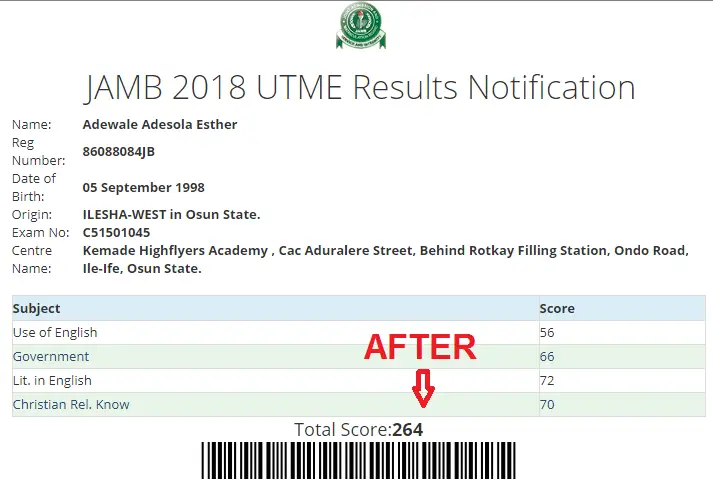 Read Also: JAMB Cut Off Marks For Universities, Polytechnics, Colleges of Education & 2023
How to Upgrade JAMB Score
So these guys claim that they can upgrade candidates' JAMB scores. They claim that it is possible although it's not easy.
The argument is that since JAMB can re-mark a candidate's script and give them a new score, it is possible to edit candidates' scores and re-submit within an hour.
They give candidates 100% assurance that they will edit their JAMB scores and re-submit a higher one within 24 hours.
They also tell candidates that they are free to choose any score they wish to get after the upgrading. And that they will send their JAMB result slip to their partners in JAMB ICT unit for the upgrading.
But how do they upgrade the JAMB scores?
They make use of a photo editing software. They simply scan the candidate's original result into the software and edit the scores to what the candidate wishes to get.
So at the end of the day, they send the candidate a photo-shopped image of their original result and not an actual upgraded result from JAMB portal.
At the end of the day, it's all a scam. When you eventually revisit the JAMB Result Checker Portal, you will notice that you still have your old original result there. And your old score is still intact.
Don't be a victim of scam!
Below is another format that the online scammers use.
How to Upgrade JAMB Score by Yourself
You can upgrade your JAMB score following the five simple steps below:
Visit the JAMB website.
Download and print the JAMB Score Upgrade Form.
Fill out the form completely and accurately ensuring to include your full name, JAMB registration number and the new score you wish to get.
Attach a photocopy of your original JAMB result slip to the form and send to the address on JAMB website.
Pay the upgrade fee and receive your upgraded result.
My dear JAMB candidates, they five steps above are just a scam format. There is no such thing as JAMB Score Upgrade Form on JAMB's website.
The scammers know this but they just want to give their business a semblance of genuineness by first sending you to the official JAMB website.
After visiting JAMB website and making no meaningful headway, they hope you would return to them for help. Then they will offer to assist you for a token.
When you pay them, they will still use a photo editing software to effect changes on your original JAMB result slip and send back to you.
Read Also: Post-UTME 2023: List Of Schools That Have Released Their Screening Forms
How to Upgrade JAMB Score the Right Way
Friends, you can actually upgrade your JAMB score but there is a right way to do that and it CANNOT be done after your JAMB examination.
So immediately after sitting for your UTME exam, it becomes too late to upgrade your score. Any result that JAMB eventually uploads for you on their portal shall be permanent.
Here's How to Truly Upgrade JAMB Score by Yourself
You are the only one who has the capacity to upgrade your JAMB score. You can do that during the time of preparation for JAMB exam.
Of course, you must make use of JAMB Past Questions and Answers for your preparations. If you time yourself, solve the past questions and get low scores, you can upgrade those scores.
How can you upgrade your JAMB score by yourself?
By putting in more efforts in your studies. Spend more hours reading your JAMB recommended textbooks and practicing your Past Questions. Attend JAMB tutorials if you need to.
Upgrade the scores you get while solving your past questions in preparation for JAMB exam. If you do, you won't have need of patronizing online fraudsters who claim they can upgrade your JAMB score but are only after your pocket.
Conclusion of the Article, "How to Upgrade JAMB Score 2023"
So here's where we end this very informative article trusting that it is helpful. The summary of everything is that no one can upgrade your JAMB score for you after it appears on the result checking portal. However, you can upgrade the score you will get now by working harder as the date of JAMB exam approaches.
If there's a question you need to ask, feel free to drop it in the comments section. Otherwise, just share your thoughts with me. I'd be glad to hear from you.
Before you go, kindly help me to reach others with this post by sharing with friends on Social Media. Just scroll down to see the Facebook and Twitter and WhatsApp buttons. Thank you so much!
See you on the next article.
---
Still Got a Question? Drop Your Question Right HERE 👇👇 and click on Search.
Get an Immediate Response...
---
---
---
Get in touch with us
---
If this post was helpful to you, please help us to reach others by sharing with the buttons below!