This post is about JAMB Mock examination. So I'm going to tell you what is JAMB mock and every other thing you need to know about it. Of course, that will include information on registration, JAMB mock slip reprint and exactly when is JAMB mock 2023.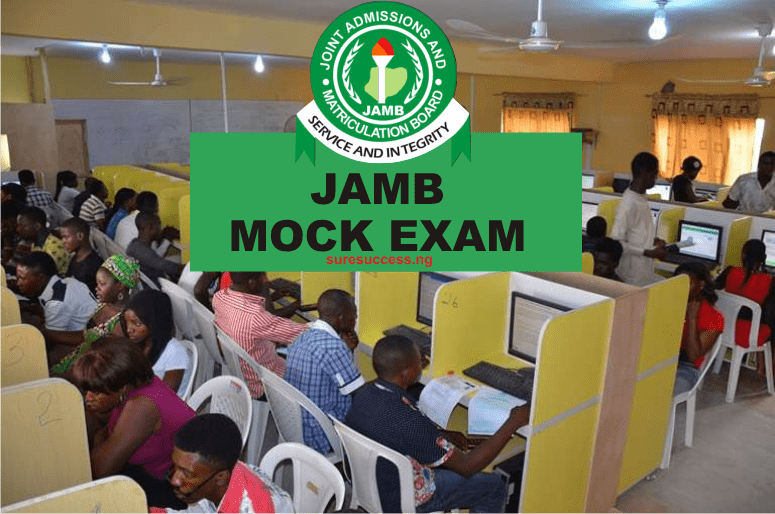 1. What is JAMB Mock Exam?
JAMB mock exam is an examination organized by JAMB for her UTME candidates who desire to test their level of preparedness several weeks before the main exam.
So JAMB designs the mock exam in such a way that it mimics the main exam in every ramification. The aim is to expose the candidates, especially those attempting JAMB for the first time, to the CBT mode of examination.
But beyond exposing the candidates to the mode of examination, JAMB mock serves to expose the candidates to the nature of questions. Therefore, candidates who sit for JAMB mock learn the level of difficulty and technicality of JAMB questions.
Candidates who participate in JAMB mock exam will still write the main UTME examination like others. However, they should never expect to see the same questions they answered in the mock exam. The mock was simply part of preparation.
2. Importance of JAMB Mock Exam
What is the real importance of JAMB mock exam? Why is JAMB mock necessary for every serious candidate who is intentional about getting a very high score in UTME?
Here are some of the reasons:
i. CBT environments differ with exam bodies. Participating in JAMB mock will expose candidates to JAMB's CBT interface. So by writing their four subjects, they get familiar with the navigation buttons and nature of timing.
ii. More so, by sitting for JAMB mock, candidates are exposed to the nature of questions set by JAMB examiners. Many fresh secondary school graduates will get to see how JAMB questions differ from those of WAEC and NECO.
iii. Most importantly, JAMB mock helps the candidates to gauge their level of preparation several weeks before the main exam. That way, they will know their areas of weakness and work harder to level up.
Read Also: How to Score Above 300 in JAMB 2023
3. What's the Nature of JAMB Mock Questions?
From our discussion on the importance of JAMB mock, you can already get an idea of the nature of the questions.
In order for the mock exam to serve its real objective, the mock questions are not different from those set in the main JAMB exam.
The nature of the two exams are the same – the same CBT environment, timing and level of difficulty. Actually, it is not an overstatement to say that JAMB sets both the mock and main exam from the same database.
But this does not mean you should expect to see your mock questions in your main exam, although it is not impossible.
4. Is JAMB Mock Compulsory for all Candidates?
No, JAMB mock exam is not compulsory. It is optional.
This means that JAMB mock is a matter of choice and not for every candidate. Those who choose not to write the mock exam do not risk losing anything or having any issues in the future.
So just feel free and follow the leading of your heart. But if this coming JAMB is your first attempt and you can afford the extra N1,000, I advise you to register and write the JAMB mock exam.
It's going to help you in more ways than one.
Read Also: 8 Mistakes You can Correct After JAMB Registration
5. Does JAMB Add The Mock Score To The UTME Score?
If JAMB mock exam is not compulsory, the implication is that JAMB does not add the score to candidates' UTME score. Otherwise, they will cheat those who do not take part in the mock exam.
So bear this in mind if you are planning to participate in the forthcoming JAMB mock. Your score in the mock will not be used to improve your score in the main UTME exam.
Therefore, you don't have to rest on your oars if you get a very high score in JAMB mock. Keep studying. Continue to to revise and cover the syllabuses of all your subjects. You never can tell the set of questions the JAMB database will present to you on the main exam day.
6. How Do I Register for JAMB Mock?
Registration for JAMB mock is an integral part of the normal JAMB registration. JAMB advises candidates who desire to participate in the mock examination to indicate interest during registration.
According to JAMB, candidates who indicate interest in writing the mock exam will be required to make an extra payment of N1,000. This is in addition to the normal JAMB registration fee for this year.
So the additional payment is the only basis on which you will be allowed to take part in the JAMB mock exam.
7. When is JAMB Mock 2023?
JAMB has already set in motion plans to conduct a smooth mock exam for interested candidates who are aspiring for admission into the nation's universities, polytechnics and colleges of education. 
The board has set March 30, 2023 as the date for the JAMB mock exam. While the main UTME exam will hold from Saturday, 29th April 2023 to Monday, 12th May 2023.
From all indications, these dates are already close by. I advise every candidate to start preparing earnestly for JAMB so that they won't have reasons for regrets.
Read Also: JAMB Form 2023: Mistakes that will Make you Lose Admission this Year
8. JAMB Mock Slip Reprint 2023
JAMB mock slip reprinting is strictly for candidates who indicated interest in participating in the mock exam during their JAMB registration.
They are to reprint their JAMB mock slip a day or two to the exam day. When they do, they will find information about their exam schedule. That is, mock exam date, time and CBT center.
9. Other Vital Things you Need to Know About JAMB Mock

There are other important things you need to know about this year's JAMB mock. I will quickly drop them for you as I conclude.

10. Candidates who wish to take part in the mock exam are advised to register on time. More so, they are to indicate their choices of institutions, courses and examination towns in the process.
11. If during your registration you indicate interest to write the mock exam but change your mind later, JAMB will not hold it against you. You will still write the main UTME exam like every other candidate.
12. The JAMB mock exam would start at 7:00 am at the different CBT centers. However, there may be different sessions in some centers depending on the number of candidates writing there.
13. Candidates should visit their profiles and do their JAMB mock slip reprinting. The JAMB mock slip would contain information concerning their venue and time of the exam.
14. To print your slip, log on to http://www.jamb.org.ng/efacility using your email address and password. On the page that loads, click on the TAB "Print Mock Examination Slip". Then go ahead and view/print your JAMB mock slip.
15. Candidates are strongly advised not to pay for the mock UTME examination until they are assigned a CBT center by JAMB. This is very important.
16. The payment for Mock UTME examination shall not be made to JAMB but to the CBT center to which the candidate is assigned and that must be after the candidate has received notification of assigned center for the mock examination.
17. The CBT Centers are permitted by JAMB to collect through their (CBT Centers) bank accounts, a separate ₦700 only, for the examination only after notification of center has been received by the candidate.
18. There shall be no make-up test for those who will miss the JAMB Mock.
The JAMB Mock Slip
Candidates must come to the exam venue with a copy of their JAMB mock slip or printout. Also do your best to eat very well and to arrive your exam venue on time.  Remember to put some extra cash in your pocket, just in case.
I trust that this post is very helpful. If it is, kindly help me to reach others with it. Share with friends on Social Media. Just scroll down to see the Facebook and Twitter and WhatsApp buttons. Thank you so much!
See you in the next post.
---
Still Got a Question? Drop Your Question Right HERE 👇👇 and click on Search.
Get an Immediate Response...
---
---
---
Get in touch with us
---
If this post was helpful to you, please help us to reach others by sharing with the buttons below!