Welcome to UNEC; the first daughter of a mothering Nsukka campus, birthed in 1961 in a serene corner of the very heart of Enugu city; a professional training hub for bright intellectual minds on an unwaivering quest for academic conquest.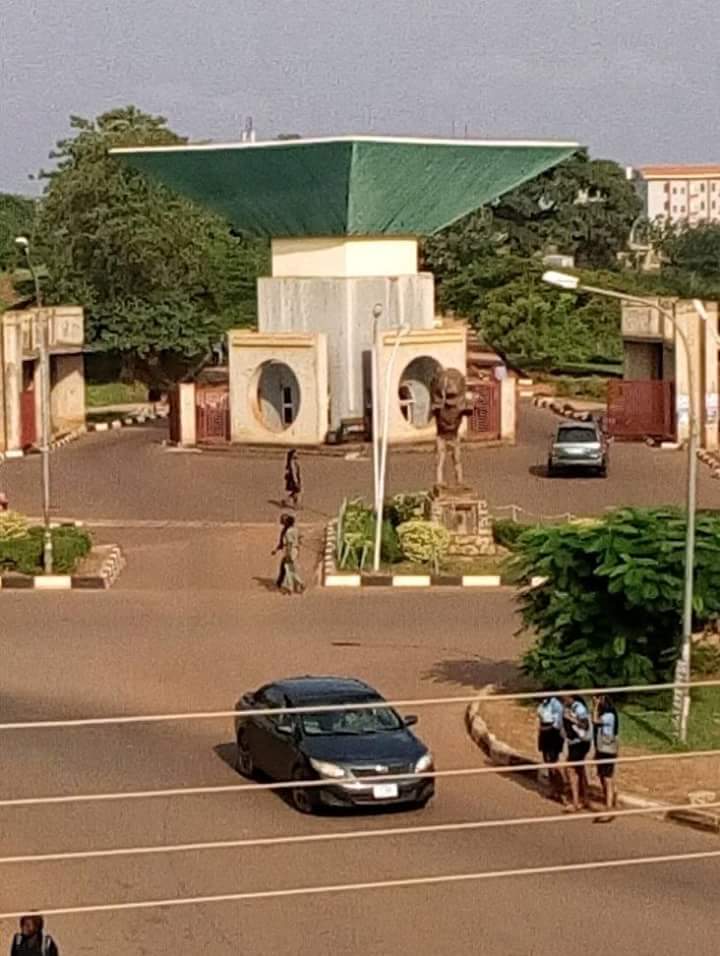 Interestingly whenever a story of UNEC is told, a metaphoric allusion is tendered unto her as "the real den for real lions", for it takes a lot of bravery and fortitude for one to venture into her historic four walls seeking to drink from any of the five chalices she offers — the faculties of Business, Environmental, Law, Medical and health sciences. Not in any way a home for the chickenhearted, UNEC is a frosty enclave for the élan hearts, the strong-willed.
As if to say "beware of lions", a majestic sculpture of the king of the jungle stands in full glare of roving eyes at the fore front of her beautiful entrance. There is a security post situated behind, manned by heads and bodies fitted into the varsity's security uniform — security personnel whose gallantry saunters at par with the nonchalance of Nigerian police force; a perfect reflection of willful underperformance. The air around them seem to suggest that a single gunshot would be more than enough to have them scampering into nearby bushes.
A corner by the right side of the gate hosts a park, serving as a quick reminder of a dump site for old rickety cars baptized in the name of campus shuttles.
Disgusting!
On a typical weekday inside her jungle of academics, UNEC wakes like a happy Sun in her full glory and fury, with an oozing stench of studious seriousness saturating her entire atmosphere — young men and women about their academic activities, trying to make utmost justice to the fees paid by their expectant parents.
Known for their smart sense of corporate fashion albeit pompous carriage that exudes arrogant pride; the law students of the black and white community can be seen tearing out from different angles toward the popular Coscharis building which houses their lecture rooms. But despite their obnoxious tendencies towards unending bouts of arguments and debates, their eloquence and outspokenness are absolutely traits to be so much admired.
The business students of the black and blue community are not left out in the culture of corporate dressing too. They can also be seen dashing towards their various classes in a bid to grasp the intricacies of money, finance and thriving economies.
While the average preclinical student, just like an environmental student, has no form of identity coated in fashion, lab coats usually sell out the medicos on their way to the inhaling of formalene solutions.
Her landmass isn't as great as the mother campus'. She manages a 200 hectares, with mostly antiquated structures standing in reminiscent glory of past yesteryears. Beautiful flowers adorn the corners of her roads — roads that reek of potholes and the wrinkling cracks of old age.
There are two buildings housing the boys — the Kenneth Dike and Maazi Mbonu Ojike hostels.
The twin buildings, conjoined by a small lawn overgrown with giant and imposing grass, stand in utter disgust of eyes and senses running into them. What is left of the colonial edifices is nothing but rottenness, like remnants of an old and frail prison waiting to collapse.
While Dike, nicknamed "IJ", initially hosted the law, environmental and business boys, where they retire for the day to argue about girls, football and politics; a recent turn of events has seen to the usurping of Ojike's (GH) notable serenity, owing to mixing up of the original medical inhabitants with a polluting air of intruding noise makers.
There is the Ojukwu's, and there is the Manuwa's. There is the Adelabu's, and there is also the Mariere's — They all house the females, each trying to rub shoulders, but only in futility, with the almighty Lady Ibiam hostel standing at their envy with the sole title of the biggest female hostel.
There is also the presidential's; an abode for the "ajebos".
A typical night in UNEC can be fun, a typical night in UNEC can also be dull. It all depends on choice.
Despite the thick air of studiousness that hovers the atmosphere of her environs during the bright light of the day, the dying Sun of each day ushers in evening which eventually crawls into night that suggests dwindled pulse of social activities. But like a popular Nigerian cliche goes:
"If you know, you know!"
While some boys are queueing up to get a plate of food at Chinasa's place, some gentlemen are somewhere at Adamu's kiosk waiting for their noodles to be done.
At the same time, classrooms meant to be dead with darkness of the night come alive with lights shining from the lamps of nightcrawlers who have gone to feast on the pages of their books in the sacred name of night class.
But while some have come for serious business of reading, majority are looking for breasts to press, and lips to kiss.
The girls' hostels seem to be the heart of the night's activities. There are boys perching and hanging at every corner of them, like vultures patiently waiting for the feast of a dying carcass.
While the other hostels see a few of the august night visitors coming to them; Lady Ibiam boasts of seemingly monopolizing the patronage of "konjified" boys, plus a teeming influx of working-class gentlemen arriving in their exotic cars to engage the campus boys in an oppressive competition for their hard-earned girlfriends.
Wickedness!
Be it as it may, the adventurous couples struck by the potent arrow of Cupid are found at the love garden; a dark confine situated at the environmental faculty, adorned with flowers but grossly scarce of bright lights despite being in the bare open.
While their mates who are religious enthusiasts stomp the floor of the Varsity's lawn tennis court, aka "Victory ground" crying unto their God for divine mercy; these ones at the love garden come to offer gratifying sacrifices to the gods of their sensual proclivities.
And while it is easy to hear the loud shouts of those at the Victory ground which sometimes make one wonder if they called unto a deaf deity, it would take an intentional twisting of the neck and painstaking straining of the ears — like a hunting dog listening to the sound of its prey, before an observant passerby would hear the muffled moans of ecstasy, and smooching sounds of interlocked lips of those at the love garden.
Tactful!
There is St. Mulumba for the Catholics, and there is chapel of redemption for the pentecostals. There are also empty class halls for the gathering of like minded brethren to examine the printed letters of the living word of the Lord on Sundays.
The Muslims manage a makeshift space at IJ's reading room, where they seek unruffled reverence to holy name of Allah.
Over the decades, UNEC has seen to the inflow and outflow of many souls. Even the future promises more. All along, she has busied herself with the business of training daring bright minds who come under her strenuous tutelage.
She has mellowed the proud, while leaving unforgettable imprints of humility in their chastened souls.
She instills discipline to all who passes through her, and those who proved stubborn had learned it the hard way.
More so, She, by virtue of motherhood has continued to birth individuals – who have stood tall and large in their chosen fields – by virtue of the copious relationship between she, character and learning.
UNEC restores the dignity of man!
I'm proud to be here.
Welcome to UNEC!
©Agubama Francis Fimbar
Fimbaralis Longus
One Dog, One Bone.
---
Still Got a Question? Drop Your Question Right HERE 👇👇 and click on Search.
Get an Immediate Response...
---
---
---
Get in touch with us
---
If this post was helpful to you, please help us to reach others by sharing with the buttons below!