You are welcome to another educative page of the SureSuccess.Ng website. Today, we are going to learn about Apology Letter to School Principal. We shall examine what it is, the need for it, how to write it, who can write it and how to send or deliver the letter.
Generally speaking, an apology letter is a physical document or email that acknowledges a mistake or occurrence, expresses regret and asks for the letter recipient's forgiveness. [An apology letter may be written to your Teacher, Headmaster/Headmistress, Head of Department (HOD), Dean, Boss, Employer, a Superior in the office, girlfriend or boyfriend.] An Apology Letter to school principal may be written by a student or parent or teacher to the principal to express their regret towards a past mistake or occurrence.
The idea of an apology letter is to thoughtfully put down in words how you are feeling about a mistake or negative action and a medium of trying to make a positive change from the negative action.
Most of the times, when a student or teacher commits an offense or breaks a certain rule and needs to write an apology letter; they have a hard time figuring out how best to put their thoughts and feelings down on paper in a way that would be acceptable and not cause further damage.
This is exactly the reason why we are writing this tutorial. As you read further, you will be guided on how best to word and format your apology letter in order to elicit the much needed understanding and forgiveness from your school principal.
Who can Write an Apology Letter to Principal?
Depending on the offense committed and the circumstances surrounding it, an apology letter to principal can  be written by:
a student or group of students
a teacher
a parent (on behalf of a student)
What offenses may require Apology Letter to Principal?
There are many mistakes or offenses that a student or teacher may commit that would warrant the need to write an apology letter to the principal. Such offenses include: cheating in an examination, breaking school rules and regulations, breaking or damaging school property, beating or bullying a fellow student, drinking alcohol, low class attendance, absenteeism, smuggling of phones or pornographic materials into the school/dormitory, skipping classes, not returning a book borrowed from the school library, missing an examination, poor result/performance, not attending PTA meeting (parent), etc
Read Also: How to Write Letter of Undertaking
Sample Titles for Different mistakes/Offenses Requiring an Apology Letter to School Principal.
Apology Letter to Principal for Cheating in an Examination
Apology Letter to Principal for Breaking School Rules and Regulations
Ap.ology Letter to Principal for Damaging School Property
Apology Letter to Principal for Bullying a fellow student
Apology Letter to Principal for Drinking alcohol
Apo.logy Letter to Principal for Low Class Attendance
Apology Letter to Principal for Absenteeism
Apology Letter to Principal for Smuggling of Phones into the school
Apol.ogy Letter to Principal for Smuggling of Pornographic Materials into the dormitory
Apology Letter to Principal for Skipping Classes
Apology Letter to Principal for not Returning a Book Borrowed from the School Library
Apolo.gy Letter to Principal for Missing an Examination
Apology Letter to Principal for Poor Result/Performance
Apology Letter to Principal for not Attending PTA Meeting (for a parent)
How to Write an Apology Letter to Principal
The first thing to bear in mind is that an apology letter to principal or any other letter intended for the principal of a school is a formal letter. So you must address and structure it like a formal letter. After writing the addresses and greeting, write the title of the letter. Then,
1. Take some time to think and make a list of the mistake(s) you want to apologize for.
If you think well and articulate what you did wrong, you will be in a better position to appreciate the gravity of your offence and figure out the best way to express your regret towards it. If you write as one who does not understand the depth of the mistake you made and how your principal might be feeling about it, you may end up using expressions or saying things that would elicit an undesired response from your principal. This is very important and requires due attention.
2. Make a draft of the letter.
This is very advisable as far as formal letter writing is concerned. If you have satisfactorily observed step 1 above, you are now ready to express your regret over the mistake you made and ask for forgiveness. So just go ahead and make a draft of the letter before proceeding to make a final copy. In writing your letter, make sure to include, in very clear and simple terms, all that are necessary for your apology. This should include mentioning the mistake and saying you are sorry, explaining the cause of the mistake (not in a way that makes you appear defensive) and explaining how you intend to avoid the mistake in future.
Take some time read your draft over and over, edit your grammar and punctuation, and remove or modify expressions you think do not sound right. If possible, have a friend or family member read your draft and point out the areas that do not sound right. Once that is done, you are ready to write the final draft.
3. Write the final copy of the letter.
Writing the final copy entails moving the draft into the document you intend to deliver to the principal. As I have already pointed out before, this final copy should be written in a formal letter format. This implies that you must take into account all the corrections on the draft paper including those made to your spelling mistakes, punctuation mistakes and grammar. The final copy should also include your full names and signature at the end.
Read also: 36 Useful Advice to the Newly Admitted Students on Campus
4 Important Things to Keep in Mind When Apologizing to the Principal
Acknowledge your Mistake: an apology letter is not your avenue for trading blames or giving excuses or trying to justify yourself. If you cannot acknowledge your mistakes, then there is no need for an apology letter. You must admit that you are wrong.
Take Responsibility for your Mistake.
Where applicable, state the measures you have put in place to correct the mistake or to ensure it does not repeat again.
Promise to be better in future: let the principle know that you have learnt from your mistake and you have resolved never to repeat the same mistake.
How to Deliver your Apology Letter to Principal
Even though technology has made sending emails one of the easiest, quickest and most convenient form of passing an apology, you must note that the best form of sending a letter of apology is handwriting it and delivering it to the recipient by yourself.
Below are a few points which you need to consider in order to successfully deliver your Apology Letter to Principal.
1. Seal the letter in a good-sized envelope
Write the name of the principal (recipient) on the envelope.
2. Deliver the letter by yourself
While it may be convenient to want to deliver your apology letter via a friend or a teacher for fear of shame and embarrassment, delivering your apology letter by yourself is the best way to sincerely express your regret. If you could be confident enough to deliver your letter, not just by yourself, but with a sincere smile, you will easily attract the forgiveness you seek. Remember. If the principal is not on seat at the time you are delivering the apology letter, the best thing to do is to wait for the time he will be in and give it to him.
3. Do not demand a response there and then
You must bear in mind that the principal may receive the letter of apology and not give any response at that moment. Do not stand there to demand a response, whether verbally or otherwise. You can go your way and wait for the response to be communicated to you. Sometimes, the response may never really come. If that becomes the case, be rest assured that you have done your part by tendering an apology. All you need to do is to continue striving to live up to your promise of ensuring that you do not repeat the same mistake.
See a Sample Formats of Letter of Apology to Principal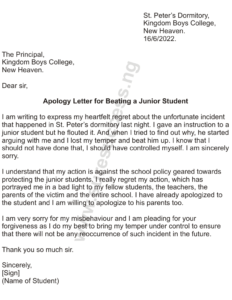 Read Also: 3 Simple Steps to write an Essay on "Why I deserve a Scholarship"
---
Still Got a Question? Drop Your Question Right HERE 👇👇 and click on Search.
Get an Immediate Response...
---
---
---
Get in touch with us
Join our 2023 JAMB Tutorial Classes on WhatsApp or Telegram or Facebook
Like and Follow us on Facebook @SURE SUCCESS NG
Join our Aspirants Facebook Group @JAMB Tutorials & Updates
UNN Aspirants and Students, Join MY UNN DREAMS (MUD)
---
If this post was helpful to you, please help us to reach others by sharing with the buttons below!