On this page, we shall examine 7 proven ways to easily immigrate to Canada in 2023. By the time we are done, you will be able to choose the easiest way to immigrate to Canada.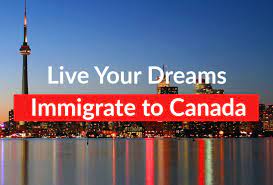 There are many tier one countries which people wish to migrate to in search for greener pastures and better life. Among these countries, Canada stands out for many reasons which I would be showing you in this article. Because of the rapid and all-round economic growth and development, and impeccable security offered by Canada to its citizens and immigrants, we can describe it today as a country flowing with milk and honey.
In more ways than one, the Canadian government has done its best in creating programs, policies and platforms that guarantee unparalleled opportunities in the country. In fact, there are so many reasons to desire to migrate to Canada today. I'm going to outline the top 10 reasons for you before we proceed to the main issues in our discussion.
Read Also: 6 Common Mistakes International Students Make While Applying to Study Abroad
Top 10 Reasons to Immigrate to Canada
The following are 10 important reasons to immigrate to Canada…
1. Canada is a Multicultural Country
Canada is a multicultural country which is the reason why it has one of the highest immigration rates per capita when compared to other developed nations of the world. There are over 30 ethnic communities with different cultural heritage and religious inclinations in Canada, and all these peoples live in harmony without any form of discrimination or bigotry.
2. Canada is Widely Renown for its Diversity and Inclusivity
Like we have mentioned before, Canada is a multi-cultural country. But there is something more about her in this regard, and that is its inclusive disposition. Canada is widely renown for its diversity and inclusivity. The LGBTQ community enjoys massive support in Canada which prides itself as the 4th country in the world to legalize same-sex marriage. More so, Canadian government and her people have created a country in which women have a strong voice and basic women's rights such as access to birth control and abortion are well-established and vigorously protected.
3. Canada has one of the Largest and Most Robust Economies in the World
This is a very good reason to desire to immigrate to Canada. Although the country has an incredible wealth of natural resources, the economy is largely service-oriented. There is also a thriving goods-producing sector. So there is a place for you in the economic activities in Canada if you decide to migrate to the country.
4. Canada's Education System is Very Robust and World Class
For those interested in immigrating to Canada for the purpose of furthering their academic career, Canada's education system is very robust and world class. The country spends more on education than any other developed country in the world which is the reason why it has developed to be the most educated country in the world. Canada is the host country of the world's topmost universities. Some universities in Canada (e.g McGill University, the University of Toronto, McMaster University, and the University of British Columbia) rank among the top 100 universities in the world.
5. Unlimited Access to Universal Healthcare
Another powerful reason to want to immigrate to Canada is the fact that residents in the country enjoy unlimited access to universal healthcare.
6. Canada has an Old, Strong, Stable and Democratic Political System.
This has remained true despite the fact that governments shift between various liberal and conservative parties. No matter the party in government in Canada, every administration sustains maintains a moderate political view and policy on burning issues such as the right of women, LGBTQ rights and immigration, whereas these are the very same issues that bring about dissenting opinions and divisions in many other democratic countries.
7. Canada is a Very Safe Country to Live in.
Actually, the country has never failed to rank among the top 10 safest countries in the world in various polls. There is strong gun-control and very low crime rate in Canada.
8. Nature and Tourism
For those who are interested in nature and tourism, Canada is a highly recommended country to migrate to. The country has numerous beautiful lakes and natural landscapes, rocky mountains and untouched forests.
9. Science, Technology, Engineering and Math
Canada is a world leader in the field of science, technology, engineering and math. The country is leagues ahead of others because Canada puts in serious backing into STEM (science, technology, engineering and math).
10. Space
Canada has a lot of space. It is a very huge country with a relatively small number of people.
How to Immigrate To Canada Easily
From the reasons given above, we see that Canada is a beautiful country with great opportunities. Because of these awesome opportunities, many think that immigration to Canada would be the most difficult one.
The reason why we wrote this article is to tell you that immigrating to Canada today is not as difficult as you think and to show you how to migrate to Canada easily.
Since you can migrate to Canada very easily, if you are really interest in Immigrating, we will advise you to keep reading this article till the end to find the easiest ways to immigrate to Canada.
1. Study Permit
Like we have already discussed above, Canada is the home of some of the best colleges and universities in the world. Because of that, millions of people travel to Canada in search for quality education. You, too, can take advantage of this option to migrate to Canada. In so doing, you will be issued a visa to come to Canada to study.
If during your study or shortly after, you get a long-term permanent job, you will need to apply for permanent residency (PR).
2. Sponsorship
Sponsorship is another easy and legal way to travel to Canada without stress. Someone who is eligible can sponsor you if you are their spouse. In the same way, an eligible person can sponsor you to become a permanent resident of Canada if you are their dependent child.
So you can easily migrate to Canada by getting married to someone with Canadian citizenship. Thousands of people are taking advantage of this option to migrate to Canada. Some falsify records, others try to fake stuffs. Those are not advisable because there are very harsh punishments awaiting you if you get caught.
The normal rule is that the Canadian Immigration will observe you and your spouse for 2 years before signing your marriage certificate.
Note that it is also possible to get married to your spouse in your home country or in any other country other than Canada and thereafter request to obtain an overseas sponsorship. Another option is to travel to Canada with a visitor's visa, get wedded there and request to be given inland sponsorship.
3. Transfers and Trade Agreements
This option is available for those who work with companies that have their branches in Canada. Also, those working with companies that have a contract with a Canadian company can take advantage of this. In any of these cases, they can simply request a transfer to the branch in Canada. It's as simple and easy as that.
More so, trade agreements between Canada and some other countries give room for intra-company transfers. However, these intra-company transfers are only available to citizens of certain countries like Jordan, Colombia, Switzerland, Mexico, USA, Norway, etc. People from other countries apart from the ones listed may not be able to take advantage of this option.
If you fit into the category described above and you desire a greener pasture, you can give immigration to Canada your best shot. If you succeed and work in Canada for about 12 months, you can apply for permanent residence permit.
4. Secure a Job in a Canadian Company
This is another very simple and easy way to migrate to Canada. If you do not qualify for an intra-company transfer as explained above or your country is not supported by the trade-agreement option, you can still migrate to Canada by applying for and securing a job in a company of Canadian origin using a work permit.
The only challenge with this option is that you will need to go through a Labour Market Impact Assessment (LIMA). If the LMIA states that no qualified Canadian is available to take the role you want to fill for, then you are good to go.
Read Also: Top 10 Factors to consider Before choosing the Right University.
5. International Experience Canada (IEC)
International Experience Canada (IEC) is a platform which provides the youths (between the ages of 18 – 35 years) with the opportunity to travel and work in Canada with open work permit during breaks and holiday vacations. This category is strictly for those who do not have a job offer yet and who would like to work for more than one employer in more than one location.
The participating countries include (but are not limited to): Denmark, Norway, Austria, South Korea, Ukraine, France, Slovakia, UK, Chile, Lithuania, Costa Rica, Mexico, Croatia, Netherlands, Czech Republic, New Zealand, and Switzerland. For some of these countries, eligibility expires well below age 35.
The advantage of this is that you can use the work experience gathered during IEC to apply for permanent residence. You can do this via
the CEC,
a federal skilled worker of trades program.
6. Visitor Visa
Another viable way to migrate to Canada is by the use of a Visa Visitor. But you cannot get a career or job with this type of visa. However, you can network with people in your area of business. So when you get to the immigration office with Visa Visitor, you cannot claim that you are migrating to Canada to get a job or look for a career. You are simply going there to just visit and spend your holiday.
7. Business
If you are rich and have enough money to pioneer a business in Canada, it could be a very viable way to travel to Canada. Canada as a country is a very robust business-friendly environment. It is ever germane to set up a business in Canada and the country is recruiting entrepreneurs to pioneer businesses and create jobs for Canadians citizens.
Conclusion
What we have given you in this article is a detailed and comprehensive roadmap for easy migration to Canada. If you read, understand and follow the information well, you will succeed in your ambition to immigrate to Canada.
Read more about Overseas travel and study abroad at SureSuccessNG
---
Still Got a Question? Drop Your Question Right HERE 👇👇 and click on Search.
Get an Immediate Response...
---
---
---
Get in touch with us
---
If this post was helpful to you, please help us to reach others by sharing with the buttons below!