This post, "Best Guide to WhatsApp Business Web" is written to help anyone seeking information about how to fully take advantage of the possibilities that WhatsApp Business offers. This is especially for those who are running small and medium scale businesses seeking to do effective marketing in order to optimize product sales. As you will soon find out, Whatsapp Business is one of the greatest tools you can use to promote your business and generate ever-increasing leads. So, if you have been asking questions like, "How to Use WhatsApp Business to Generate more Sales?" or "Can I use WhatsApp Business on Multiple Devices for my Business?" You will get all the answers you seek and much more on this post.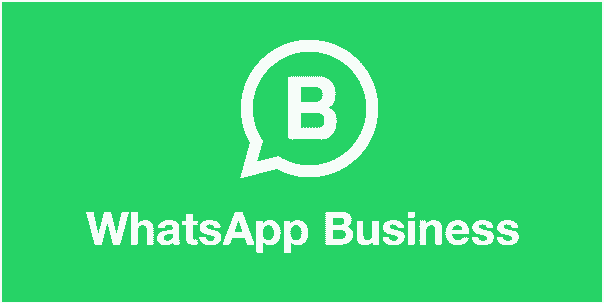 What is WhatsApp Business?

WhatsApp Business is an instant messaging app. It is an application dedicated to sharing instant messages among users. This means that it was built with small business owners and small enterprises in mind. Anyone can find you on the platform through your phone number. Thus, the mobile number of a customer is enough to add him or her to build your contact lists.
WhatsApp Business makes your interactions with customers easy by providing tools to sort, automate and quickly respond to their messages. It's important to note that it is also intended to feel and work the same way as WhatsApp Messenger. You can use it to do virtually everything that you are used to doing with WhatsApp Messenger including sending text messages, photos, videos and audio files.
WhatsApp Business is available in different mobile Operating Systems (OS) that are currently in existence. Presently, it is supported and recommended for use in the following devices: Android running OS 4.1 and newer, iPhone running iOS 12 and newer, KaiOS 2.5.0 and newer, including JioPhone and JioPhone 2.
The mobile instant messaging app was launched in 2018 to help Micro and Small Businesses to interact with their customers or associates. Today, it is a useful tool for helping businesses with marketing to increase their sales. 
However, it is important to consider adding a WhatsApp Business account to your business brand's social strategy if you have not. 
First, let me show you how to download WhatsApp Business to your mobile device. 
How to Download WhatsApp Business App

You can download and install the WhatsApp Business App for free either from Google Play Store or Apple Store. All you need to download and install the app is a good Internet connection and enough data.
The first step in downloading the application on your mobile phone is to open the Play Store application on your smartphone.
On the search bar, type "WhatsApp Business" and select it. 
Click on the "Install" button to commence download. Click on the "Agree and Continue". If you are interested in reading the "Terms of Service", you can. Then, go back and click on "Agree and Continue" button to continue the download. 
The next step involves verification of your mobile phone number. WhatsApp will need to verify your mobile phone number.
To continue, choose your country. Enter your phone number and then click the "Next" button to continue. 

At this point, a 6-digit code will be sent to the mobile number you entered for verification. You can change or edit your mobile number if that is not correct. 

Continue by Selecting Allow WhatsApp Business to access your contact, photos, media, and files on your device.
Create your business profile. This helps customers to get to know about your business. Enter your business Profile Picture, Name, and Services. Click on the "Next" button to bring you to the Main Menu Screen.
The Main Screen is as the "Home Page". It displays the Main Menu, CHATS, STATUS, and CALLS. You can access the WhatsApp Business features from Main Menu.
WhatsApp Business Features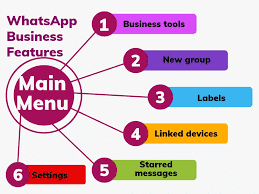 WhatsApp Business features are tools that will help you to create your business information and provide space to interact with your customers. Our focus in this section shall be on the features of the Main Menu Screen.
Now, let's discuss some of these main features.
WhatsApp Business Main Menu
Click on the three vertical dots at the top right of your Main Screen to display the features on the Main Menu. You will find the following:
Business tools
New group
New broadcast
Labels
Linked devices
Starred messages
Settings
i. Business tools
Under the business tools, you can set up the following:
Business profile
Catalog
Greeting message
Away mesage
Quick replies
Labels
Advertise on Facebook
Let's discuss them briefly…
a. Business profile
Here is where you set up your business information. You can enter and update your business name, category of business, business description, business address, business hours, email address and website address here. You can also manage your products or services and mobile number on the Business Profile.
b. Catalog

Here, you can display your products and services. Beyond just displaying, the catalog feature also allows you to send your products or services to your customers. It can also help you to save space on your mobile device.
You can add new product items by tapping on "Add new" item to open where you can add an item image, name, price, description, a link and an item code.
c. Greeting message

Activation of this feature enables you to automatically send greetings to your customers when they message you for the first time or after fourteen days of no activity. You can customize your greeting message to welcome the customers who visit your store. 
d. Away message

You can use this feature to send reply messages to your customers when you are unavailable. You can set up an Away reply message to respond to any message you receive outside your business hours.
e. Quick replies

This feature helps you set up replies to work just the same way as FAQs. You can customize words that will quickly retrieve your reply message. 
To do this, type in the space provided a keyword such as "account." When a customer tries to get your bank account details, a quick reply of your business account details will be forwarded to him instantly. You don't have to be there to always respond with your business accounts to every customer. 
You can also suggest in sales content that any customer that needs your business account details should simply type Account details. A quick reply of your business account details will be forwarded. This is because the Quick replies detect the keyword, account.
f. Labels

This feature can be properly set up to organize your chats and customers. It allows you to segment and immediately identify your customers' messages. You can rename, edit, choose a new color, delete or send messages to customers with the label.
g. Advertise on Facebook

This feature can be used to create Facebook ads that allow people to start WhatsApp chats with you on a budget that you control. You can choose who sees your ads and how long the ads will run.
This is important for your business as billions of people use Facebook and Instagram every month. 
ii. New group

This feature helps you to create a group and select individuals from your mobile contact list to add to the group. With this, you can segment or categorize your customers in other ways that suit your business objectives.

iii. New broadcast

With the New Broadcast feature, you can create a broadcast message and send to number of individuals you choose from your mobile contact list. In other words, you can send broadcast messages to only the people that have your phone contact on their own phone. This feature helps you focus on reaching out to your customers only.
iv. Labels

You can set up this feature to help you to properly organize your chats and customers. Labels enable you to segment and identify your customers' messages. You can rename, edit, choose a new color, delete or send messages to customers with the label.
v. Linked devices

You can use this feature to link other devices to your mobile phone and to use WhatsApp on the web. Interestingly, you can link as many as four devices to one phone all at once. 
So multiple individuals can manage the same WhatsApp account from different positions. It is helpful for small businesses to use this feature as a Customer Support Resource.
vi. Starred messages

This feature helps you to star messages you would easily like to find over time. To do that, just tap and hold any of your choice chats for three seconds to highlight. Then, tap on the three dots on the Main Screen display. Select star to have that selected chats starred.
You can retrieve the starred messages by clicking on the three dots on the Main Screen. Select starred messages. All the starred messages will display on the screen then source out the starred chats in question.
vii. Settings

This WhatsApp Business features allow you to set up your Business tools, Account, Chats, Notifications, Storage and data, sort for Help and Invite a contact to WhatsApp. 
WhatsApp Business Web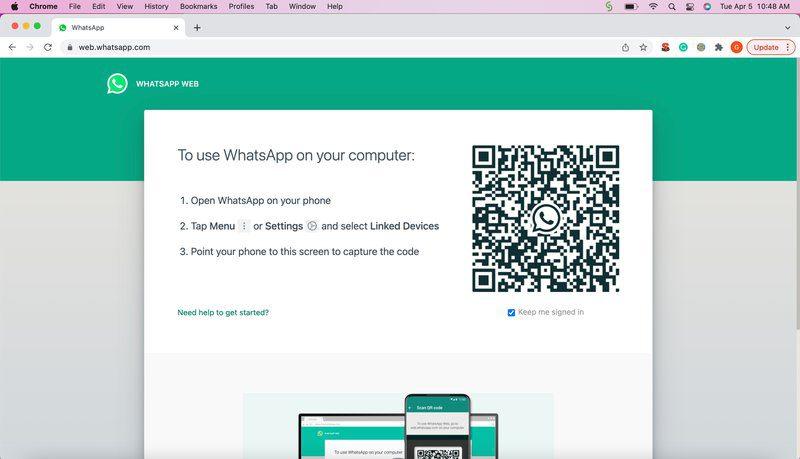 WhatsApp Business Web is a computer-based extension of the WhatsApp Business account on your smartphone. It establishes a connection with your phone and synchronizes your messages so that you can view them on both your smartphone and your computer.
There are two ways for using WhatsApp Business app on your PC:
(i) a browser-based application
(ii) a desktop application.
How to use WhatsApp Business Web on a Browser
You can use the WhatsApp Business app on a PC browser just the same way as the WhatsApp Messenger app. This is particularly convenient for communicating with your customers while doing some other work on your desktop at the same time.
It is easy to connect your WhatsApp Business account on any browser to WhatsApp Business Web. Here are the simple steps to start using WhatsApp Business on your PC.
Open the browser (Google Chrome or Firefox) on your computer.
Visit https://web.whatsapp.com/ from your browser. A WhatsApp Business Web QR code will be displayed on the screen at the top right.
Open the WhatsApp Business Application on your phone and click on the Main Menu. Then go to Linked Devices and tap on Link a Device. Unlock your phone if it has biometric authentication or enter your security pin if you're using a pin to unlock.
Point your smartphone at the screen of your computer to scan the QR code. Once your account is connected, the WhatsApp Business chat interface will be displayed on your desktop and you can start using WhatsApp Business on the desktop.
A Guide on How to Use WhatsApp Business with Multiple Users
WhatsApp Business has a lot of features and capabilities to help small and medium businesses optimize sales of their products.
If you own such a business or have the need, you can use WhatsApp Business App on as many as 5 devices. The five devices would include 1 phone and 4 additional devices for a particular phone number.
It should be sufficient for sole proprietors and micro-businesses to have 5 devices linking to one number. However, this may not work for larger-scale businesses. So as your business grows, you would have need for a more sophisticated platform to handle more Agents, Contacts and Messages, i.e. using WhatsApp Business API.
Read Also: South Africa WhatsApp Group Link
How to Set-up and Use WhatsApp Business with Multiple Users
You now know that the WhatsApp Business App is convenient to use with multiple devices when you are running a small business. But you also need to bear in mind that it works well for your business at the early stage of operation. As your business grows, you may need to move it forward by using WhatsApp Business software and tool.
Below is a step-by-step guide to setup and use WhatsApp Business App with multiple devices or users on Android devices.
Go to your WhatsApp Business App.
Tap on the 3 vertical dots on the Main Screen.
Select Linked Devices.
Press Multi-Device Beta.
Press Join Beta.
For iPhone users,
Go to Setting.
Select Linked Devices.
Press Multi-Device Beta.
Press Join Beta.
Note that before you start, you must ensure that you have the latest version of WhatsApp Business installed on your phone.
Once you finish linking the devices, your team can then access WhatsApp Business without keeping your phone connected.
Read Also: Top 5 Ways to Make Serious Money from your Blog
Basic Strategies of Using WhatsApp Business to Increase Sales

Since the WhatsApp Business App can be used to send messages, images, audio files and video clips, small businesses can take advantage of it to connect with their customers. 
For you to get the desired feedback from your customers, appropriate methods should be put in place for creative ways to promote your business. Thus, anyone who wants to optimize product sales and profits from a business using WhatsApp Business must learn how to set up and use their features to strategically optimize sales.
Some of the basic WhatsApp Business strategies are discussed below:
1. Setting–Up Messaging tool

The messaging tools in WhatsApp Business allow you to promote your business using video clips, texts in different formats, visuals, and voice note records. You can introduce new products and offers directly to relevant customers using the messaging tools. These tools include Greeting message, Away messages, Quick replies, and Labels. 
The Quick replies can be setup as a tool for Customer Support Service to answer Frequently Asked Questions.
2. Using Profile Picture

WhatsApp Business Profile Picture is another strategic tool to promote your offers, latest products, and brands to your customers. Make sure the business profile picture you upload draws attention and attract more customers to engage in your product brand
3. Group Targeting
Creating different groups for your customers according to their interests helps you to start a discussion with them. Here, you can give the samples of your new product to use and ask them to send their feedback on the product.
One strategy is to create a group for customers with the same interest. You can engage your customers with your business campaign in different text or file formats – videos, images, audio, and texts.
4. Status Marketing
This is another WhatsApp Business strategy that can helps you promote your sales. You have to display your product or service images and video clips, Explainer videos, and texts on your status. This is at no cost.
Customers can view your status and contact you if they are interested in your products to buy. You can also display testimonials of customers who have used your products. This can also help you get more leads of customers interested in particular products or services and add them to a particular group.
5. Product Campaign
This is one of the most viable strategies to increase sales on WhatsApp Business. You can ask your customers to send pictures of them using your products in exchange for a discount. This helps a business to grow.
On your WhatsApp Business group, however, you can build leads of potential buyers and introduce your products or services to them.

Read Also: Passive Income Ideas; How to Make Passive Income Online
Conclusion
So here's where we end this very informative article for today trusting that it is helpful. Really thanking you for visiting this website. We want to encourage you to bookmark this site on your browser and also subscribe for notifications from us. By so doing, you will always be the first to read new information about WhatsApp Business Web and other similar updates. If you stay in touch with this website, you won't miss anything.
Also remember that you can use the comments section to ask questions in case there's something you don't understand. Otherwise, just share your thoughts with us; we'd love to hear from you.
Furthermore, kindly help us to reach others with this post. Share with friends on Social Media. Just scroll down to see the Facebook and Twitter and WhatsApp buttons. Thank you so much!
See you on the next article.
---
Still Got a Question? Drop Your Question Right HERE 👇👇 and click on Search.
Get an Immediate Response...
---
---
---
Get in touch with us
---
If this post was helpful to you, please help us to reach others by sharing with the buttons below!