This post is all about MSME Survival Fund. Therefore, we will be telling you what MSME Survival Fund is all about, how to register and so on. We will also share information about the survival fund portal and payment date.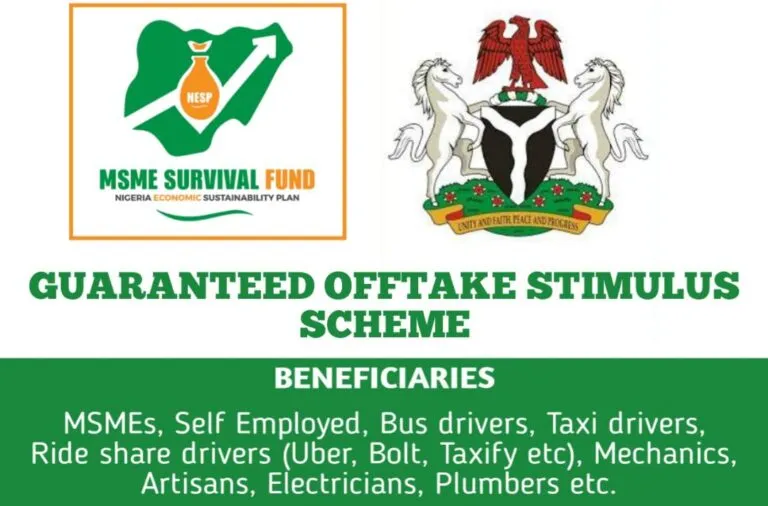 So do join me as we delve into the issue for today's discussion.
What is MSME Survival Fund in Nigeria?
The MSME Survival Fund is a Federal Government of Nigeria conditional grant. The government gives this grant to support the most vulnerable micro, small and medium enterprises in meeting their payroll obligations. By so doing, the government is hoping to safeguard jobs in the MSME sector. Actually, the government is optimistic that the scheme will save more than 1.3 Million jobs across the country and also impact on over 35,000 individuals per state.
How Many Months will They Pay the MSME Survival Fund?
The government intends to implement the scheme over an initial period of three months in order to provide immediate relief from the economic impact of COVID-19 pandemic.
So for a period of 3 months, the scheme will support the payroll obligations of MSMEs. Each MSME will also have to submit their bank statements showing payroll receipts to their employees for the last 3 months.
Who are the Target Beneficiaries of MSME Survival Fund?
The scheme targets two categories of beneficiaries namely;
Employees in the MSME sector
Self-employed individuals.
For the two categories of target beneficiaries, there is provision for a 45% female business participation and special needs participation of 5%.
Therefore, this is for artisans, taxi drivers, mechanics, plumbers, electricians, brick layers and so on. And it doesn't matter if they are male, female or with special need.
Read Also: Theobarth Grant Disbursement Update Today
Is MSME Survival fund Application Still Ongoing?
Yes, the MSME Survival Fund application is still ongoing. However, you need to be very care because there are all kinds of online scams going on around the scheme.
So you must tread cautiously in order not to fall victim of online wolves in sheep clothing.
What are the Requirements for Survival Fund Registration?
There are basic requirements which you must meet before you are eligible to fill the Survival Fund Application Form. The following are the requirements:
You must
be a Nigerian citizen.
have a verified Bank Verification Number (BVN).
be registered with CAC (Cooperate Affairs Commission).
have an indigenous business.
have at least 10 active staff on your payroll and 3 GOs.
Now specifically for self-employed individuals, who wish to register for the Survival Fund. You must be working in one of the following industries: Plumbers, Electricians, Mechanics, Ride and share drivers (Bolt, Uber etc.), Taxi Drivers Bus drivers, Artisans and so on.
Read Also: Top 5 Ways to Make Serious Money from your Blog
The Survival Fund Registration Types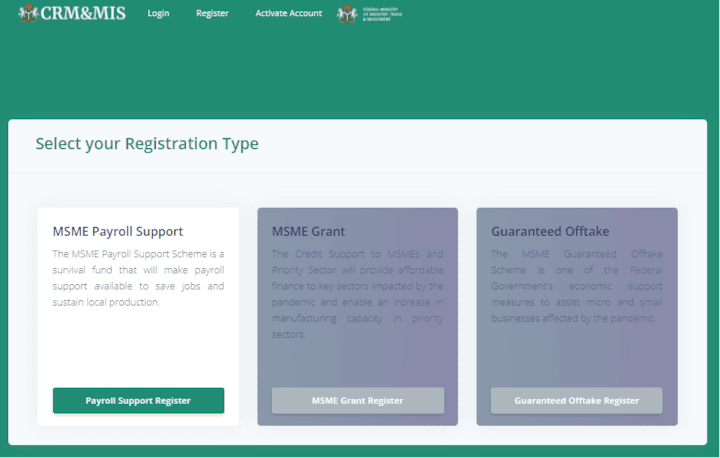 There are three categories open for application in the ongoing Survival Fund registration. They include:
MSME Payroll Support: The MSME Payroll Support Scheme is the Federal Government Survival Fund that will make payroll support available to small businesses in order to save jobs and sustain local production.
MSME Grant: The credit support for MSMEs and priority sectors will provide affordable finance to vital sectors impacted by the pandemic. This will also enable priority sectors to expand their manufacturing capacity.
Guaranteed Offtake: This is one of the Federal Government's economic support packages for micro and small companies affected by the epidemic.
How do I Apply for the MSME Survival Fund?
If you fall within any of the two categories of target beneficiaries of the survival fund, you need to apply to get the funds. The fund is necessary to boost your business or craft and to ensure that it survives through this trying times.
We are, therefore, will to take you by the hand and lead you through the process of registration of MSME Survival Fund.
How to Do Your MSME Survival Fund Registration
To successfully register for the MSME Survival Fund, just follow the instructions below.
Visit the MSME Survival Fund portal at www.survivalfund.gov.ng to begin your registration.
Sign up with your personal and business information.
Select the Category you wish to apply for.
Upload the necessary documents on the portal.
Click on Submit.
The above steps are all it takes to complete your MSME Survival Fund Registration.
Please note that you are not supposed to apply for the MSME Survival Fund Scheme twice. Doing so would lead to disqualification. Note also that the Survival Fund Application Form is completely free of charge.
Read Also: How to Submit Banking Details to SASSA
How to Register for the MSME Payroll Support
In this section, we shall explain how you can register for the MSME Payroll Support as an employer. We are going to do that in four simple steps.
Step 1: Personal Registration
To begin your payroll support application, the first thing to do is personal registration. So you must enter your personal information in the necessary fields on the form. Some of the data you will have to enter include: your name, email, phone number, gender and so on.
Thereafter, you must accept the Terms and Conditions in order to create an account. There are instructions at the top of the form to guide you through the essential fields to complete the initial registration. So you must do well to read through them.
Step 2: Activate your Account
After completing step 1, you will receive an activation code on both the phone number and email you used for registration.
You will need the code to activate your account. This means that without the code, you cannot activate your account.
Therefore, you must ensure that you use valid phone number and email address in step 1.
After officially activating your account, the portal will load your profile page.
Step 3: Organization Registration and Bank Details
This step comes after the successful activation of your account. So you will need to log in and register your company.
You will also need your CAC Number, SMEDAN Number and Tax ID to complete this level. Fill in the blanks with your bank account details and Bank Verification Number (BVN).
Thereafter, complete the remaining sections of the form. Double-check all your entries for accuracy before submitting.
Step 4: Completing the Payroll Support Application
After completing step 3, you will get an email with a list of the prerequisites. You will need those prerequisites to finally finish the application.
These prerequisites include information about the beneficiary's employees, proof of previous salary payments to the beneficiary. The beneficiary may also upload other supporting documents such as company registration details, annual turnover and employee account details.
After the verification of your application, you will be entitled to receive payment under the category of the scheme.
How to Check Your Survival Fund Account?
After registering for the MSME Survival Fund, wisdom demands that you be checking your application status from time to time.
By so doing, you will know when your status will change and what you need to do next.
Below is how to log in and check your application status on the MSME Survival Funds portal:
Visit: https://www.survivalfund.gov.ng and click login.
Use the phone number you used to register and password to sign in.
When you successfully login to your dashboard, your application status will either show verified or captured.
Verified means that your application has been processed and you now have the approval to receive payment. However, you don't need to worry if your status as the Employer is verified but your employee status shows captured. It will eventually turn to verified.
I'm sure you also want to know what the status, Captured means. It means that your details have been registered and are still undergoing verification.
Federal Government Survival Fund Payment
The Federal Government Survival Fund runs with the aim of enhancing the economic stability of Nigeria. The initial vision was to cushion the negative impact of the Covid-19 pandemic by supporting businesses and artisans.
All businesses are eligible to apply for the Survival Fund scheme whether they are registered with the CAC or not.
All Nigerian Small and Medium Scale Enterprises are also eligible to register for the programme. If you need money to upscale your business, you need to act fast by applying for this Survival fund grants.
However, do bear in mind that the survival fund has commenced. And the schedule for payment for those currently applying will be announced to the general public soon.
As soon as information about the disbursement of funds is made public, we will make sure that you are the first to know on this website.
---
Still Got a Question? Drop Your Question Right HERE 👇👇 and click on Search.
Get an Immediate Response...
---
---
---
Get in touch with us
Join our 2023 JAMB Tutorial Classes on WhatsApp or Telegram or Facebook
Like and Follow us on Facebook @SURE SUCCESS NG
Join our Aspirants Facebook Group @JAMB Tutorials & Updates
UNN Aspirants and Students, Join MY UNN DREAMS (MUD)
---
If this post was helpful to you, please help us to reach others by sharing with the buttons below!