On this post, I would be helping you to get familiar with UNN Portal. Learn how to access the UNN Portal Login through www unn edu ng. See all the features and how to use them.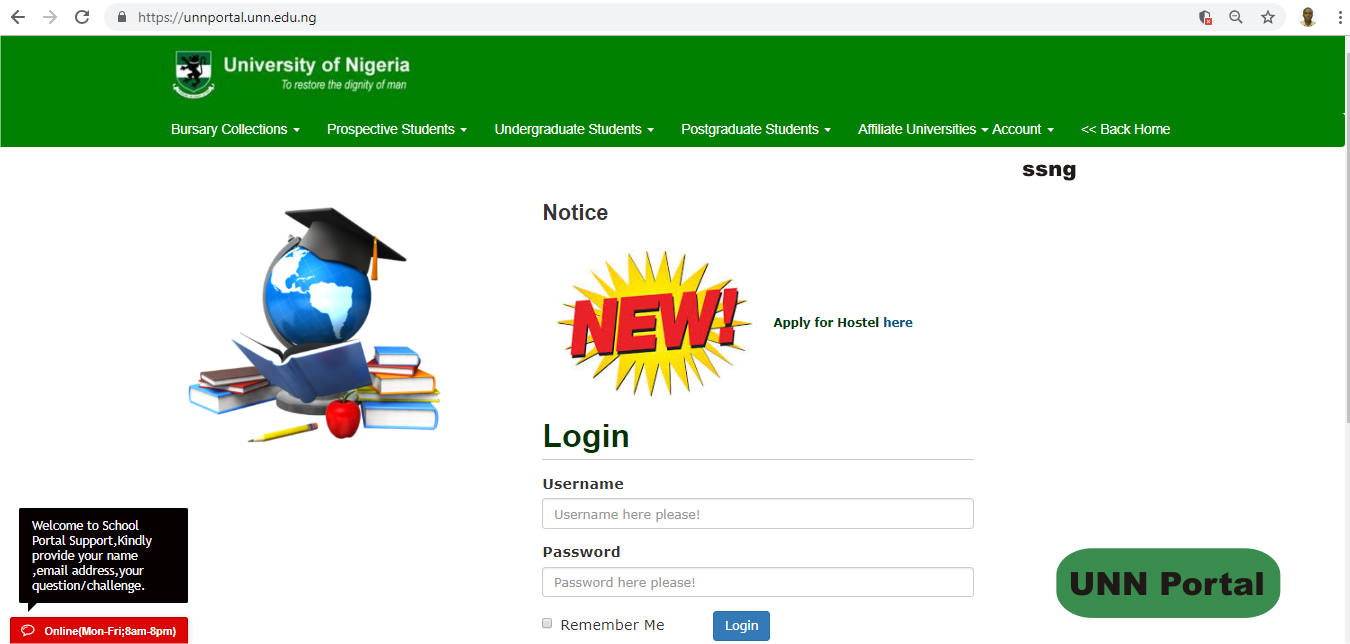 UNN Portal Meaning
UNN Portal is the web page under the UNN official website that provides access and links to other pages. The access and links provided on UNN Portal are for prospective and returning students of the University to create an account or log in to perform certain academic actions at ease. So the UNN Portal provides access for students to do course registration, fees payment, check results, view admission list or status, print transcript, and so on.
UNN Portal Login
UNN Portal login is the first step to accessing the many features of the school portal. However, aspiring and returning students are expected to first create an account with UNN by signing up at the online portal. Here, they can sign up for new accounts or opt to recover their account login details in case of forgetting. The students are, therefore, advised to save their login details in their Gmail account so as not to ever lose them.
UNN Portal Features and How to Use it
On this guide, I will be highlighting the different features of University of Nigeria's web portal popularly known as UNN portal. I find it needful to teach you how to navigate through this portal. The reason is simple. If you master it, it will save you a lot of stress. More so, you would enjoy a level of independence both as a prospective student and returning student. 
Many UNN students do not know how to use the UNN Portal. Consequently, they have never logged into their profiles themselves. Some have never updated their accounts or done any form of semester course registration.
Such people depend on business centers and cyber cafe attendants to do every single thing on the UNN Portal. Such should not be your experience. At least, not after religiously going through this tutorials.
Features of UNN Portal
It is now very easy for every student of UNN to have a personal account with the school. This is made possible possible through UNN Postal. So both the newly admitted and older students own accounts on the portal.
However, you will need a device with Internet access (data) to access the UNN Portal.
The very first step is to accessing the UNN Portal is to enter this link on your browser:  www.unnportal.unn.edu.ng
On the home page that loads, you will see the following bold tabs:
Bursary Collections 
Prospective Students 
Undergraduate Students 
Postgraduate Students 
Affiliate Universities 
Account 
Back Home
I will take a little time to discuss the features of these tabs and what they are used for.
So just tag along with me.
Read also: How to Retrieve/Reset Forgotten Email or Password on UNN Portal
1. Bursary Collections
The Bursary Collections tab enables you to make many official payments. However, the payments you can make depend on your category and need for such payments. Under the Bursary Collections, the categories of payments that can be made include.
student related payment
staff related payment
UNN Ventures payment
Stakeholders payment
Other payments
Under each of the categories outlined above, you have other sub categories. Some of these other sub categories include
Examination fee.
Attestation fee.
Certificate collection.
NYSC exemption fee.
House Rent for UNN Quaters.
Staff Housing Loan, etc.
So you are required to select the one that suits your category and the payments you want to make. And of course, that should depend on whether you are a student, staff or stakeholder.
2. Prospective Students (UNN Portal Post UTME)
This is divided into three parts
Online Application Forms
Check Post UTME Results
Check Direct Entry Screening Results
a. The online Application Forms
This contains the links to all the available online application forms as would be needed by prospective students of the university.
For the Undergraduate, it has the following links are available:
ADMISSION APPLICATIONS

INTER-UNIVERSITY TRANSFER FORMS

CHANGE OF DEGREE FORM

SANDWICH APPLICATION FORM

SANDWICH DIPLOMA FORM

DIPLOMA FORMS

JOINT UNIVERSITIES PRELIMINARY EXAMINATION BOARD PROGRAMME

UNN EXECUTIVE DIPLOMA PROGRAMME
It is now left for the prospective students to click and download the necessary forms for the applications they intend to make. 
For the PostGraduate:
Next is the PG application forms. This is reserved only for those who have obtained their first degree and intend to do their PGD, Masters or PHd in UNN. 
b. Check Post UTME result
This page is dedicated to students who want to view their Post UTME results. Here, you are required to enter your Jamb Registration number and follow the screen prompt to procure the token for result checking. This will cost you a little fee. 
c. Check direct Entry Screening Result:
Just like (b) above, this page is for the UNN Direct Entry candidates to check their aptitude test results online. 
3. Undergraduate Students
This third tab is for both new and returning undergraduate students who want to create their portal accounts.  When you click the Undergraduate Students tab (i.e. unn portal>>Undergraduate Students), you will see two options, 
1. For New Students
2. For Returning Students
Select the one applicable to you and enter your registration number. Then submit.
4. Postgraduate Students
This drop down menu will give you the following options:
Generate PG Application Invoice

Fill PG Application Form

ACE-SPED APPLICATION FORM

Check POSTGRADUATE Screening Results

Generate Invoice For PGC 601 and 701

POST GRADUATE PORTAL
5. Affiliate Universities
Here, you are given access to all the tertiary institutions affiliated with the University of Nigeria, Nsukka (UNN).
6. Account
This is where you can either sign up for a new account or recover your account login details if you have forgotten them. Remember to save your login details in your email account so as not to ever lose them.
7. Back Home (UNN Portal)
The Back Home button redirects you to the school's official website from the UNN portal page.
So far, we have discussed all there is to UNN Portal menu. 
The next thing which is the Login Page.
Quick Uses of UNN Portal
Every student who has successfully created their portal account and has their login details can access this page to do the following:
Change Password
Student Profile Details
Confirm Admission Status
Get Acceptance Invoice
Pay Acceptance Fee
Reprint Acceptance Letter
Get School Fees Invoice
Pay School Fees
Reprint School Fees
Previous School Fees
Apply for Bed Space
Hostel Biodata Form
Register Courses
Previous Courses Registered
Register Professional Exams
View Notes
Generate Handbook
Pay Convocation Levy
Online Entrepreneurship Program
Direct Entry Verification
View Results
Check Professional Results
Apply for Laptop Acquisition
Pay for Laptop Acquisition
Reparation Fee
Your Hotspot Login Details
View Clearance
SIGN OUT
Read Also: UNN Portal: How to Register Courses And Pay School Fees Online
---
Still Got a Question? Drop Your Question Right HERE 👇👇 and click on Search.
Get an Immediate Response...
---
---
---
Get in touch with us
Join our 2023 JAMB Tutorial Classes on WhatsApp or Telegram or Facebook
Like and Follow us on Facebook @SURE SUCCESS NG
Join our Aspirants Facebook Group @JAMB Tutorials & Updates
UNN Aspirants and Students, Join MY UNN DREAMS (MUD)
---
If this post was helpful to you, please help us to reach others by sharing with the buttons below!