CHYMALL.net E-Commerce | Register, Login and Make Money Every 10 – 12 Days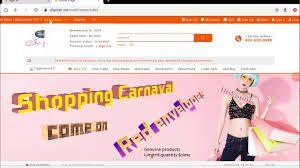 You are welcome once again to my website suresuccess.ng. Today, I would be introducing you to an amazing platform that has been making me money from the very comfort of my home. I would want you to also earn from the same platform. The name of this platform is CHYMALL.
I wouldn't be surprised if some of you have heard the name. Some of you may have been introduced to the platform before now but you are yet to start earning from the platform maybe because you do not fully understand or are not fully persuaded. If you are the one I just described, please don't wait any longer because CHYMALL.NET is actually a trusted e-commerce business that is duly registered in Nigeria with Corporate Affairs Commision (CAC) and is protected under the EFCC Money Laundering Act. More so, the company is present in 17 countries around world with its Corporate Office for African Region located in Accra Ghana.
CHYMALL.NET is an online shopping mall like the eBay, Amazon, Aliexpress, Konga, Jumia etc. But the major difference between CHY Mall and other online shopping malls is that CHY Mall is designed to allow their subscribers to earn money from the platform as they buy and sell, while the other online shopping malls do not pay their subscribers a dime.
There are numerous colorful and exciting benefits available to all partners of CHY Mall. Subscribing to CHY Mall offers you the rare opportunity to:
Earn 5% profit every 10days for years without any referral.

Earn residual income between $20 – $600 everyday if you choose to invite others to the business.

Be part of a global business as CHY Mall is currently present in 17 countries of the world.

Own a home-based, online-based and/or part-time business for life with one-time subscription.

Win international trips, cars, laptops, etc.

Receive CHY Mall's therapeutic Quantum energy products upon activating your registration.

Enjoy easy withdrawals of profits and trading capital at any point in time via Peer-to-peer, Bank transfer or Bitcoin.

Enjoy all inclusive compensation plan available to everyone – investors, networkers, customers, merchants, etc.
HOW CHY MALL WORKS
CHY Mall e-commerce allows members of its community (VIP subscribers) to buy products from its New Retail platform. By virtue of this purchase, they qualify to buy two more of the same product at a wholesale price of 60% less the retail price from the wholesale shop of the e-commerce. In other words, they are given 60% discount on the two additional products.
The two additional products bought at wholesale price are then featured on the e-commerce at 100% retail price and would be sold for you by the company within 10 ten days. Nonetheless, the company also gives you another option of shipping the products to you if choose not to sell the products on the CHY Mall platform.
In a situation whereby the products are sold for you by the company, your profit after tax deductions plus your trading capital will be automatically credited to your account. The profit after tax of each trade cycle (10 days) is 5% of your of your total investment (VIP Package plus trading capital).
Hence, to trade on CHY Mall would require two things; your VIP package registration and your trading capital as analyzed on the subsequent page below.
REGISTRATION PACKAGES & TRADING PROFITS
CHY Mall features 6 packages known as VIP levels as every member of the CHY Mall community is a VIP. There is one-time registration fee plus free product attached to each VIP package thus:
VIP1 – Free Anti-radiation phone sticker
VIP2 – Free Quantum beauty spray
VIP3 – Free Quantum energy eyeglasses
VIP4 – Free Quantum men's pant
VIP5 – Free Quantum facial mask
VIP6 – Free Water Purification System
Note: VIP 1 registration fee is $25 (N9500). Trading is not feasible on this level. Partners here can only earn via referral bonuses.
VIP 2
Registration – $50 (N19,000)
Trading capital – $90 (N34,200)
Total= $140 (N53,200)
Take Home Profit:
Every 10 days – $7 (N2,660)
Every month – $21 (N7,980)
Products – Slimming Patch, Quantum ring
VIP 3
Registration – $100 (N38,000)
Trading capital – $180 (N68,400)
Total= $280 (N106,400)
Take Home Profit:
Every 10 days – $14 (N5,320)
Every month – $42 (N15,960)
Products – Fuel Saver, Beauty Tools
VIP 4
Registration – $300 (N144,000)
Trading capital – $540 (N205,200)
Total= $840 (N319,200)
Take Home Profit:
Every 10 days – $42 (N15,960)
Every month – $126 (N47,880)
Products – Quantum Pendant
VIP 5
Registration – $600 (N228,000)
Trading capital – $1,080 (N410,400)
Total= $1,680 (N638,400)
Take Home Profit:
Every 10 days – $84 (N31,920)
Every month – $252 (N95,760)
Products – Foot Massager
VIP 6
Registration – $1200 (N456,000)
Trading capital – $2,160 (N820,800)
Total= $3,360 (N1,270,800)
Take Home Profit:
Every 10 days – $168 (N63,840)
Every month – $504 (N191,520)
Products – Water Purification System
HOW TO BECOME A REGISTERED VIP MEMBER OF CHYMALL
To subscribe to CHY Mall, you need to register as a VIP MEMBER. But before then, you need to make up your mind on which of the above VIP packages to choose from depending on your financial capacity. To register, join our Whatsapp group via the link below. Please note that our Whatsapp group was created exclusively for CHYMALL members in our team and for non-members who intend to join our team. Here's the WhatsApp group link ==>> https://chat.whatsapp.com/EmIVbYho9zi5z5LrGI9ORF
Please DON'T JOIN the group if you don't belong to our team or have plans/intentions of joining our team. If you are already a VIP member of CHY MALL, please locate your team on whatever platform they are and join them. This will allow for greater effectiveness both for our team and your team. Thanks for understanding.
If you want to interact with us, just call the number 08060848179.
CHY MALL VIP PRODUCTS
Quantum Heart Pendant $100
HOW TO LOGIN TO CHYMALL.net BACK OFFICE
After you have registered on the platform by contacting us on Whatsapp via this link ==>> https://chat.whatsapp.com/EmIVbYho9zi5z5LrGI9ORF or via call 08060848179 and we have activated your account, the next thing to do is to LOGIN to your back office. You can do that by doing the following:
DOWNLOAD THE CHYMALL APP
To download the CHYMALL app, use the following options:
Download via Google Playstore, click ===>>> HERE
Alternatively, click this link ===>>> http://app.chymall.net/
Or scan the below QR Code
After downloading the app, run it by clicking on it from your Andriod Mobile for to load. Type your Username and Password, then click enter to go to your back office. Ensure to click on the "MINE" tab
Alternatively, you can login by using the web interface. Go to the URL ===>>> https://www.chymall.net then type your username and password to have access to your back office. Ensure to click on the "PERSONAL CENTER" tab.
BONUS INFORMATION
6 OTHER AMAZING WAYS TO EARN ON CHY MALL
Store Profit
Unlimited earning of 5% profit every 10 days plus free products from each trade cycle which equals 23.33% profit monthly .
Direct Sharing Profit 
You will earn instant 20% bonus from your direct downline registration plus 6% bonus from the 2nd generation.
Chain Store Profit 
You will earn 3% and 2% of your direct and indirect downlines' trading capital respectively in every round of trade.
Service Profit
You will earn 12% matching bonus daily on the weaker or small legs of your downlines (binary).
Chain Service Profit
You will earn 50% and 20% of your 1st and 2nd generations' service profit respectively, plus the subsequent CPS earnings.
Traditional e-commerce Profit
Refer qualified manufacturers to sell on CHY Mall and earn 1% of their total turnover monthly.
People looking for the following information also found this article useful: How to register on CHYMALL, Is Chymall registered in Nigeria, Chymall review, www.chymall.net login, Is Chymall Legit, CHY Mall nigeria, How to trade on CHYMALL, CHY Mall investment, Who owns CHYMALL, chymall.net review, Is Chymall legit in Ghana, Is CHYMALL legal, CHYMALL Nairaland, CHYMALL login..
style="display:block"
data-ad-format="autorelaxed"
data-ad-client="ca-pub-8162889650155958"
data-ad-slot="6557604686">