This post is about JAMB Admission Letter PDF. I will show you how to print JAMB admission letter and the cost of JAMB admission letter printing.

You are likely on this page because you want to print your JAMB Admission Letter. So I will explain how to print JAMB Admission Letter and every other thing about JAMB Admission Letter printing.
What is JAMB Admission Letter?
JAMB Admission letter is a letter written by Joint Admission and Matriculation Board to candidates informing them of an offer of provisional admission into tertiary institutions. The letter carries the candidates' passport photo as well as information about the school, course and degree in view. JAMB Admission Letter also shows the duration of the course the candidate is about to get into.
Sample of JAMB Admission Letter
Many candidates are asking to know what JAMB Admission Letter looks like. Some ask if it is a full color document. Others want to know if it should bear their passport photograph. Therefore, I will show you a sample of JAMB Admission Letter so that you will know what to expect when you go for printing.
See the picture below.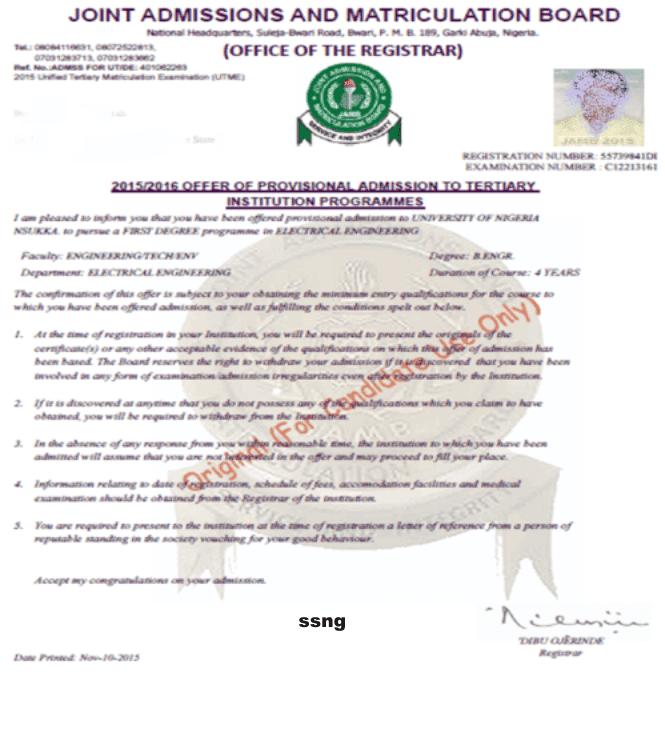 Is JAMB Admission Letter Out for 2021/2022?
Yes, JAMB Admission Letter is out for 2021/2022. More so, JAMB Admission Letter for other previous years are also available online. This means that if you have been in school for some time now but have not yet printed your JAMB Admission Letter, you can do so now. The JAMB Portal is open for both UTME and Direct Entry Candidates to access and print their admission letters online.
How Much is JAMB Admission Letter?
JAMB's service charge for printing Admission Letter is N1,000. You must make the payment before you can access and print your JAMB Admission letter online. However, if you want to use the services of a Cyber Cafe, you must budget at least N1,500.
Instructions for JAMB Admission Letter Printing
If you are a new user, you will need to create a profile via the Sign Up (New User) Page. In case you don't know how to go about creating your profile, read how to create JAMB Profile here. Note, however, that you need to provide your valid email address, surname, first name, Mobile No, State and LGA of Origin and password in order to create a profile. So you must get them ready before you proceed.
For existing users, simply type in your login details to get started.
However, do remember to check your admission status first before you proceed to print your admission letter. See How to Check Your JAMB CAPS Admission Status Here.
How to Print JAMB Admission Letter Online
Follow the simple steps below to print your JAMB Admission Letter.
1. Go to JAMB portal at http://www.jamb.gov.ng/efacility/.
2. Sign in with your 'Email Address' and 'Password'.
3. On the landing page, you will see all available services.
4. Select "Print Admission Letter". This is available on the side bar or on the Home page.
5. Once you select this service, the portal will generate a Transaction ID for it. You will see it on the confirmation page screen.
6. Review the details showing on the Confirmation Page. Also, note the Transaction ID in a bold red font. This Transaction ID will be useful for all future references concerning the Transaction. A copy of the transaction ID will also be sent to your registered email address.
7. Remember that you are to pay the sum of N1,000. Click on the Continue button if you wish to pay with your card immediately. However, you may wish to use other payment channels like ATM, Cash at the Bank or Quickteller. In that case, you have to note the transaction ID as will need it later.
8. On the Interswitch Payment page, enter your card details and click on the Pay button.
9. You will see the status of your payment on the "My Payment Section". Also, you will receive an SMS and email containing your unique Transaction Identification and payment status after payment. Click on the Continue button.
10. Once payment is completed, you will be asked to provide the following:
a. Year of Exam and
b. JAMB Registration Number.
After entering the above information correctly, you can now print a copy of the Admission letter as shown on your screen. Save another copy in your email so that you can easily reprint it any time anywhere.
---
Still Got a Question? Drop Your Question Right HERE 👇👇 and click on Search.
Get an Immediate Response...
---
---
---
Get in touch with us
---
If this post was helpful to you, please help us to reach others by sharing with the buttons below!