Five Books To Read Before Starting Medical School. These are not necessarily the books to read if you want to write JAMB for medicine and surgery. They are definitely helpful books that will prepare you for College of Medicine.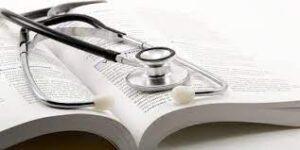 I will be starting medical school in September. With a few weeks of holiday ahead, I am cramming in some reading before I start the course.
But I'm not just reading textbooks. I think there are certain types of books that help strengthen motivation and crucially, develop a better understanding of the people we'll be caring for. Yes, doctors deal with people, not just anatomy.
I have put together a list of five books that I am finding helpful in preparing myself for medical school.
Read Also: 6 Categories of Students you will See in a Medical School
1. The Other Side by Kate Granger.
Granger is a doctor specializing in geriatric medicine, but she is also a terminally ill cancer patient. This book describes her journey "as a patient through a doctor's eyes", and is therefore invaluable to any health professional, particularly medical students and young doctors. This book helped me to appreciate just how important the little things are – sitting down at the same level as a patient. holding someone's hand and introducing yourself.
2. "The Man Who Mistook His Wife for a Hat by Oliver Sacks.
This book is a compilation of rich human clinical tales.
Muddy Bhatt, a medical student specializing in neurology at University College London, said that reading this particular book inspired him to apply to medical school. "What I read not only impelled me to study medicine, but fostered a passion for neuroscience that I have pursued to this day."
"This book is a great example of the Holmesian nature of medicine. It would inspire and enlighten any scientifically curious mind as to the idiosyncratic nature of neuropathology and its many manifestations".
3. The Checklist Manifesto by Atul Gawande.
The Checklist looks at how medical professionals deal with the increasing complexity of their responsibilities, and examines human failure.
Comparing the practice of medicine with aviation mechanics and construction of skyscrapers, this book made me think about failure in a completely different way – even in a complex situation, the reasons for failure can be extraordinarily simple.
4. The Optimism Bias by Tali Sharot.
Optimism is essential for us to survive and thrive, but there is a dark side to the optimism bias: it also means we're more resistant to warnings (we don't think that cigarette will kill us until it does). This book helped me to better understand why people may not easily heed health advice (something we'll be giving out a lot as doctors).
5. The Family That Couldn't Sleep by D. T. Max.
This Venetian medical mystery tells the fascinating story of the discovery of prions, infectious misfolded proteins that affect the brain. It also delves into the nature of sleep, following a family with an inherited form of fatal insomnia.
Jing Ouyang, a medical student at Imperial College London, counts this book as one of his favourites. He says: "This book highlights how even the most obscure topics in medicine have a profound human cost to those affected. It also shows the wider reach of disease in terms of academics and politics."
Read Also: Admission into Universities in the UK, USA and Canada
Some students may still wish to pre-learn textbook facts, but these books will give you a deeper understanding of the patient's perspective.
If we can carry this throughout our career, I think it will help to make us better doctors who can connect with patients and see them as more than just their disease.
by Nada El Garhy.
---
Still Got a Question? Drop Your Question Right HERE 👇👇 and click on Search.
Get an Immediate Response...
---
---
---
Get in touch with us
---
If this post was helpful to you, please help us to reach others by sharing with the buttons below!