HELLO FRESHERS!
(If you miss this, you miss something)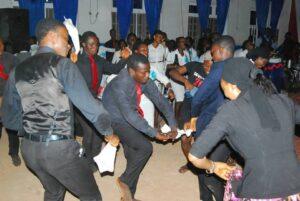 First of all, I congratulate you all to the den. You are highly welcome
Now, you are going to hear alot of things in this den of lions and lionesses
Some of your departmental seniors will begin to analyze those courses that are very difficult to you
Some will begin to tell you lecturers that are wicked and fail students
Some will begin to tell you how UNN is a scam
Some will even take you to boys hostel toilet so that you can decide if you will stay in the hostel or not
You will hear many things…
But the question is this👇
What will you do with the information you are to receive from your seniors?
I know some of you are still teenagers, I know some of you can still be easily deceived
What should you do to avoid all these? How can you escape from being a prey to some hungry lions and lionesses?
Below are some necessary steps to note down👇
👉 Discard any information that will bring fear to you. If someone is telling you how MTH 121 is so so difficult, that thousands fail it every year, tell him or her okay, and discard that information. Why discarding it, install the reading culture. But don't let anyone make you panic or afraid over a course. Most times, people get carry-overs before writing a course. Why? 👉 Fear! So, discard every information that will bring fear to you. Okay?
👉 In these days of hypocrites, where we even have people carrying Bible to enhance their chiking/toasting strategies and techniques, be careful who you follow. Some guys will do everything just to help you in your registration, but their main target is that thing in between your legs. In terms of registration, we have fellowships who are out to help you. Always do well to relate with them in this period
Note: Even in fellowships, there are still some bad eggs. So, mind who you are dealing with. Be discerning!
👉 Do well to attend your departmental and faculty orientations
👉 Don't start jumping from church to church, fellowship to fellowship, sampling which is the best to attend. Be led! It may not be necessary to attend your local church fellowship. God can lead you to another fellowship where you can be molded and sharpened for your destiny. Don't let religion blind you. We are the body of Christ
👉 It is so funny that every senior lion or lionesses have their course adviser, but few make use of them. There is something called "course adviser". This is the person that is assigned to you in your department that you can relate all your academic challenges to. Make good use of them. Some can mentor you to first class!
👉 Before you buy any material, confirm if it will be needed. Many people will come selling their products. Don't hurry to buy. Ask your senior friends how far before buying
👉 Don't joke with your C.A. If a lecturer says you should buy a textbook that has C.A, don't joke with it. If you don't have money, borrow
👉 Make friends who are like-minded with you. Have senior friends (especially in your department) who are sensible and know why they are in school
👉 Don't begin to do more than yourself because someone who's well to do is taking his or her breakfast, lunch and dinner in Chitis. Be humble. If you go to Chitis when you ought not to go, you will be cheated. Spend wisely
👉 Be a good roommate first. Most of you must definitely meet bad roommates. But when it happens, what should you do? Simply remain a good roommate. Don't let someone's bad character change your good character. Your good character can swallow the bad character and add value. It is not everyone that came to school that's refined. Some came as raw materials. So you that is already refined should turn those raw materials into a finished product so that when they are living the four walls of the university, they will know that they encountered someone who transformed their lives. Be a good roommate no matter what happens. Even though your roommate is the devil's first son or daughter, remain a good roommate
👉 If you are intelligent, help others who are not. If you are not that intelligent, humble yourself and learn from others. Don't compete with people who should be teaching you. Be humble. Remember, helping someone academically only exist outside of the examination hall
👉 No matter what, love people. Help people financially if you have. Be kind to everyone you come across. Don't let someone die of what you have that can save him
👉 By all means, avoid immorality. It will puncture your destiny, mesmerize your life. Everybody is doing it doesn't mean everybody is doing it. Since you have not started doing it, it already spoils the statement that "everybody is doing it"
It is you that gained admission, your private parts didn't gain admission into the school of immorality. Stay pure
👉 Don't joke with your relationship with God. If God is not with you, you are with the devil. There is no hanging on the fence. You can combine God and your academics, and still make a first class. Many have done it and excelled. You can't be different. If you sleep in church and your books are sleeping, you will fail. If you avoid fellowship and you read like a giant, you are a failure to God already irrespective of your results. You can combine both. It takes wisdom to do that
I see you excelling and glorifying God
With love, I write
©️ Kings Chidi
---
Still Got a Question? Drop Your Question Right HERE 👇👇 and click on Search.
Get an Immediate Response...
---
---
---
Get in touch with us
---
If this post was helpful to you, please help us to reach others by sharing with the buttons below!