This post is about how to upload result on JAMB Portal. So you will learn how to upload O'level result on JAMB CAPS Portal for UTME and Direct Entry admissions. I will also show you how to check and confirm if your O'level result has been successfully uploaded on JAMB Portal. In this same article, you will get clarity on whether uploading of O'level result on JAMB CAPS is for everyone. So you see that we have a lot to discuss here. Let's kick off…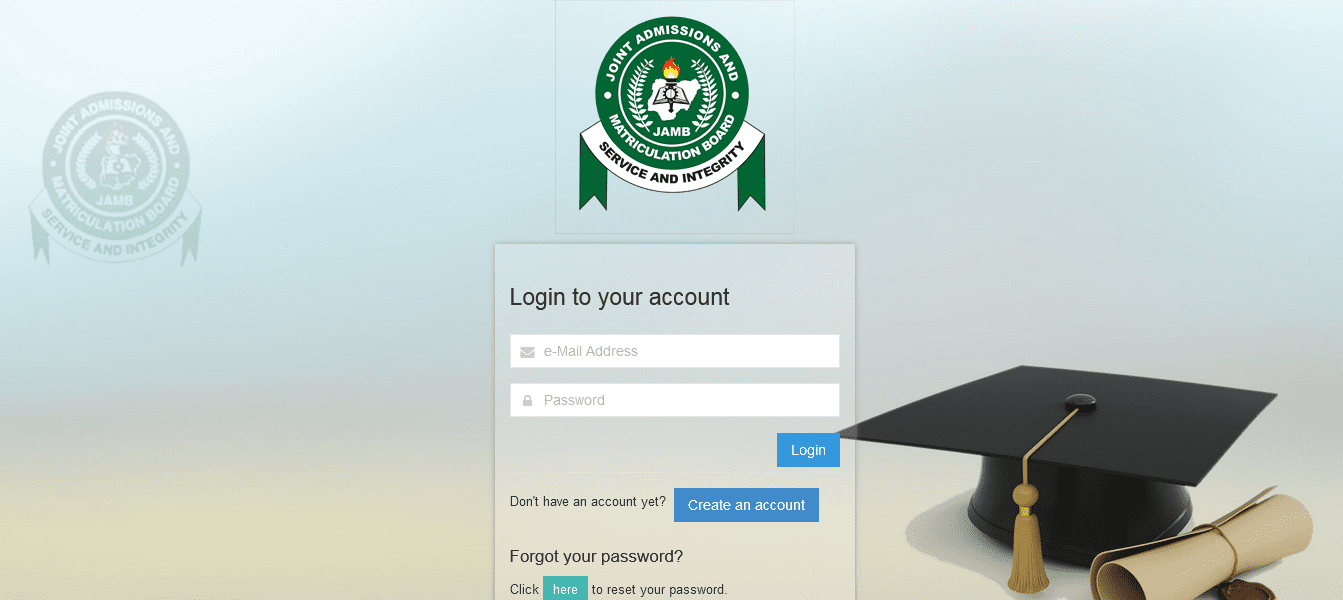 Is Re-Uploading of O'level Result on JAMB Portal Compulsory for Everyone?
It is not unusual to hear admission seekers asking series of questions in their perplexity. In recent times, the questions have revolved around the uploading of WAEC, NECO, NABTEB and GCE results to JAMB portal. Many are asking whether they have to re-upload their SSCE results even though they already did that during UTME registration. Even others who have once gone back to a JAMB CBT center to upload still want to know whether they still need to do that again.
One of the goals behind this post is to clear your confusion and help you to guard against a dangerous admission pitfall. So you must endeavor to read carefully to the end and be kind enough to pass it across to help someone. After reading, you can use the comment box to let me know if you have questions.
Now I must be honest enough to caution you on how you source your information on the internet. Many admission seekers call me (sometimes in tears) over one or two irreparable mistakes they made based on information from a random blog. I've read quite a lot of the misleading information bloggers share out there even on this matter. Some websites insist that you have to go for re-uploading of your SSCE results even if you did that during UTME registration. By that, they are asking all admission seekers (whether they used awaiting result during UTME registration or not) to return to JAMB CBT centers and re-upload their O'level results.
But that's not true. So in your admission search, you need to always ensure that you get your information from reliable sources.
Here's the truth.
There are two possible times you can upload your O'level result to JAMB portal:
During your JAMB registration
After your JAMB examination
All Candidates Who Used Awaiting SSCE Result During Registration Must Upload their Result to JAMB Portal 
Normally during JAMB registration, some candidates have their O'level result already. However, there are others who are still going to write WAEC and NECO in the same year. Those who have their results upload them to JAMB portal during registration. While those who are still taking their SSCE will fill Awaiting Results in the registration process.
Immediately after the release of WAEC and NECO results, both JAMB and schools urge candidates who registered with awaiting results to go quickly and upload their O'level results to the JAMB portal.
For example, UNN sent the following message:
All candidates that applied for admission into the University of Nigeria through JAMB are to, as a matter of urgency, upload their O'level SSCE results to JAMB. The new system introduced by JAMB DOESN'T allow Universities to admit students who failed to upload their results into the JAMB portal. The upload can be done at any JAMB CBT CENTRE. The system rejects any student without SSCE results as fake.
So we see that those who fail to upload or those without SSCE results imply aspirants who have not uploaded their result before i.e. awaiting results candidates. Hence, they are the only ones concerned.
The Ongoing SCAM About How to Upload Result on JAMB Portal
Many aspirants who already uploaded their WAEC or NECO results during JAMB registration, in their confusion, go back to CBT center to re-upload. Some CBT center operators exploit their ignorance. They collect N500 or so from them, do whatever and claim they have now uploaded the result. Meanwhile the result has been on the JAMB Portal all along.
Well, this is Nigeria. There is hunger in the land and that reality has turned more and more people into opportunists. But there are still people with integrity. If you find them, always go to them to seek clarification.
Now hear this before I leave this matter…
If you already "uploaded" your SSCE result during UTME registration, you still have need to confirm if your result is really in your JAMB profile. The reason is because some CBT centers failed to upload results for some candidates during UTME registration. They did that because of some technical issues they faced while the registration was going on. So please check and confirm your O'level result on JAMB portal. It's in your best interest.
How to Check and Confirm If Your O'level Result has been Uploaded on JAMB Portal
So in line with what we are discussing here, it is important that you check and confirm if your SSCE result is on your JAMB Profile. Please do that even you are not a fresh secondary school graduate.
If you are a fresh secondary school graduate and wrote your SSCE and UTME the same year, you will need to upload your O'level result to JAMB portal. If you fail to do so, your prospective institution will not admit you no matter your JAMB score or Post UTME score.
However, when the CBT agent tells you that they are through with uploading your result to JAMB Portal, you need to confirm. You need to ensure that your results are really in your JAMB profile.
Let me quickly show you how to confirm whether or not you have uploaded your result.
Steps to Check if Your O'level Result (WAEC or NECO) is on JAMB Portal
1. Visit JAMB Portal @www.jamb.gov.ng and access the Efacility.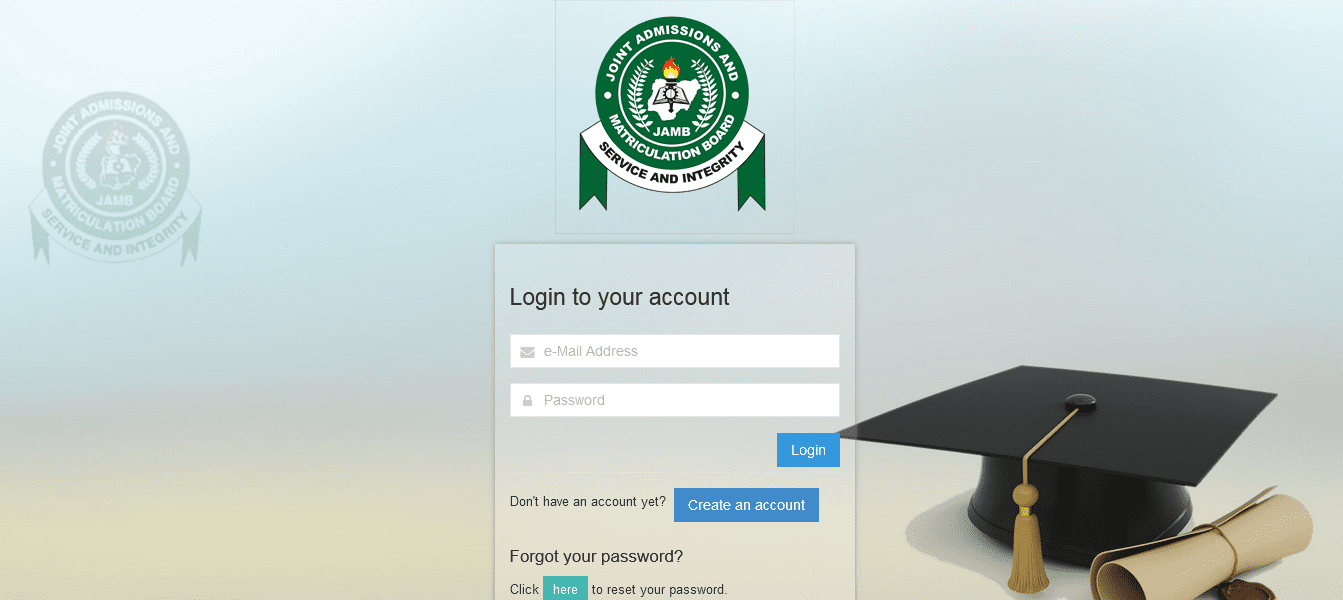 2. Log in with your JAMB email address and password.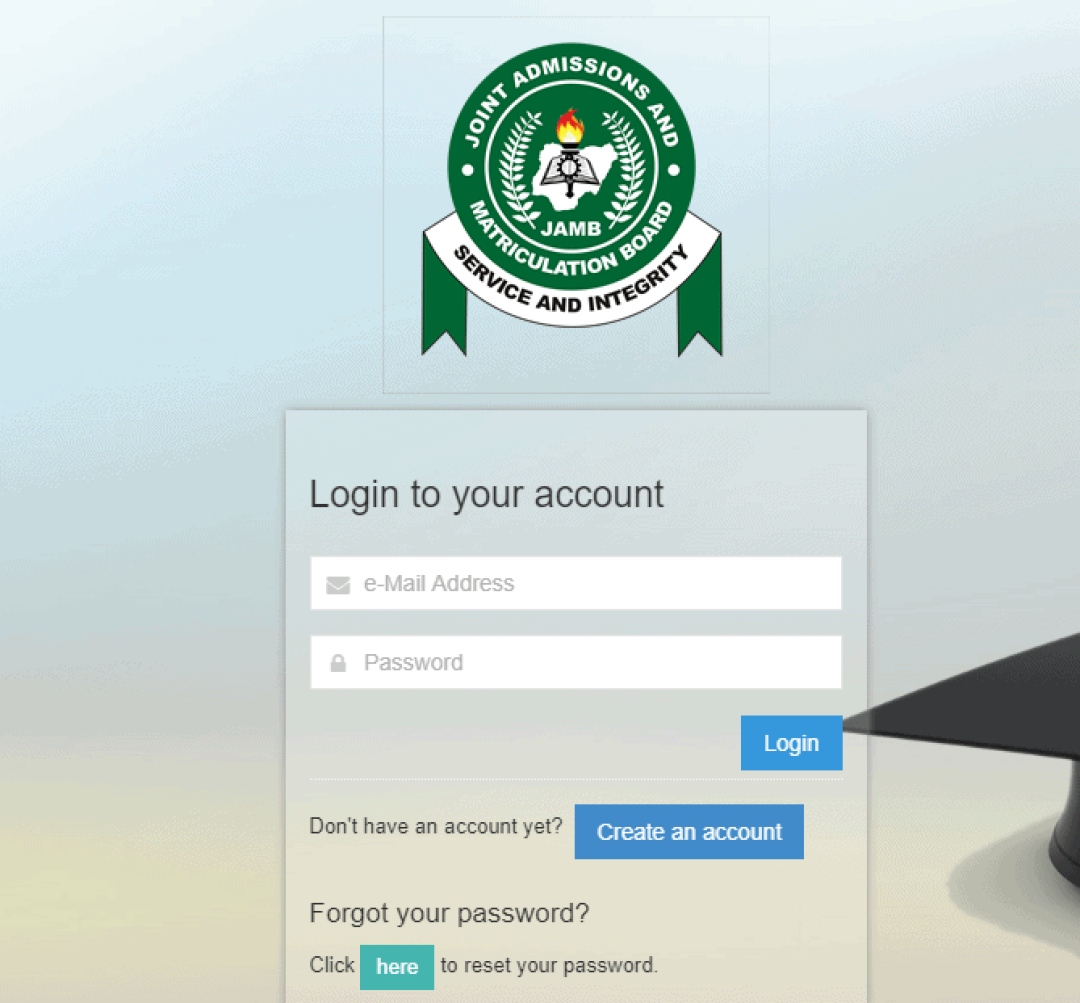 3. Click on the drop down menu to select your examination year.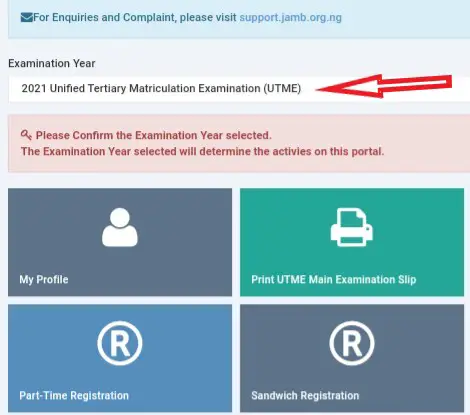 4. Scroll down and click on "CHECK ADMISSION STATUS".

5. On the page that loads, click on "ACCESS MY CAPS".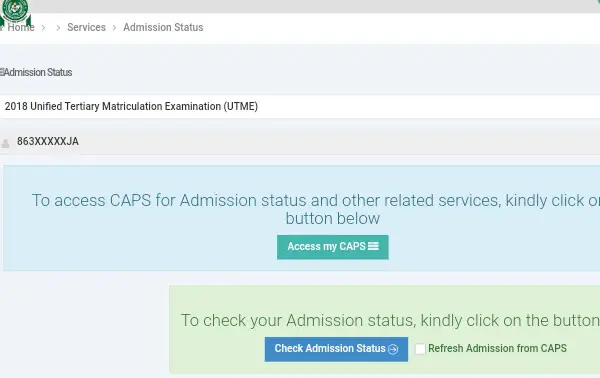 6. This will lead you to another page with a bold "WELCOME" written on it. If you look very carefully at the top right corner, you will see 3 dots in a vertical order, click on the dots.
7. For those browsing with mobile devices, after clicking on the dots (in step 6), scroll down again. When you do, you will see something like "DESKTOP SITE", click on it to load and use the desktop version.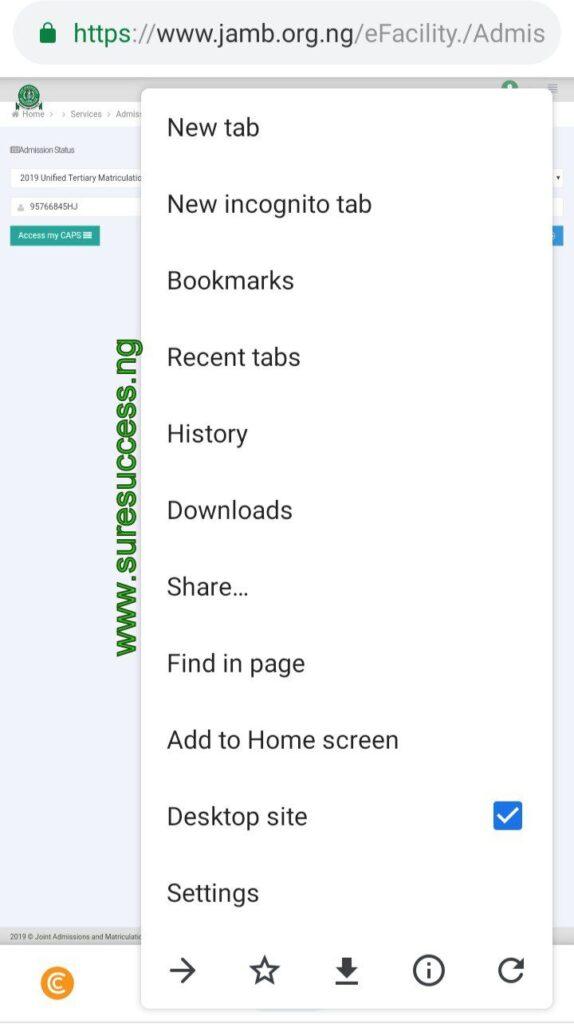 8. Finally, after you might have loaded the desktop version, a page divided into two black and white halves will appear. Look closely at the black side which is by the left and you will see "MY O'LEVEL", then click on it.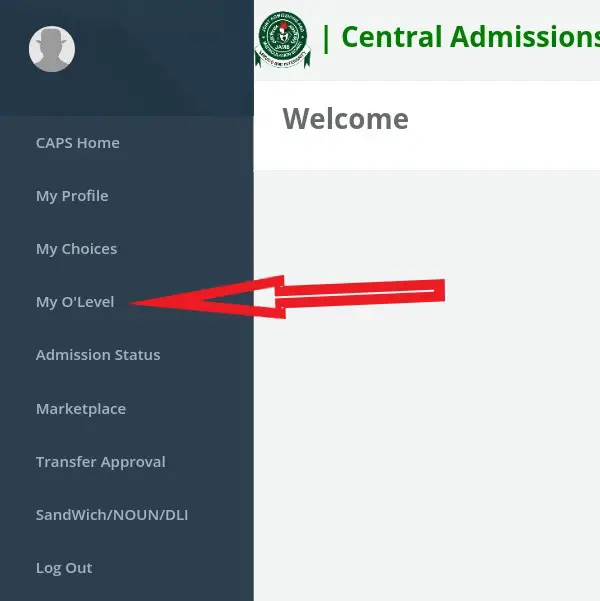 9. Your grades should be displayed in the format below.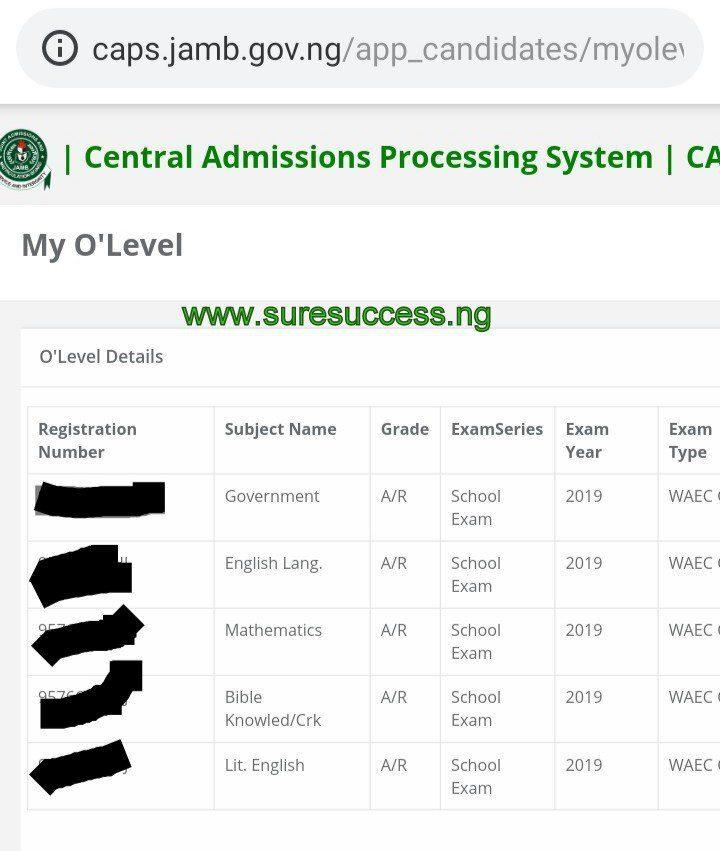 10. If you see A/R (Awaiting Results) all through your subjects, it means that your O'level result has not been uploaded and you need to upload as soon as possible.
Read Also: "Is Yours CAPS Saying NO ADMISSION YET? Here is the Reason and Solution". It might save you one year at home.
How to Upload Result on JAMB Portal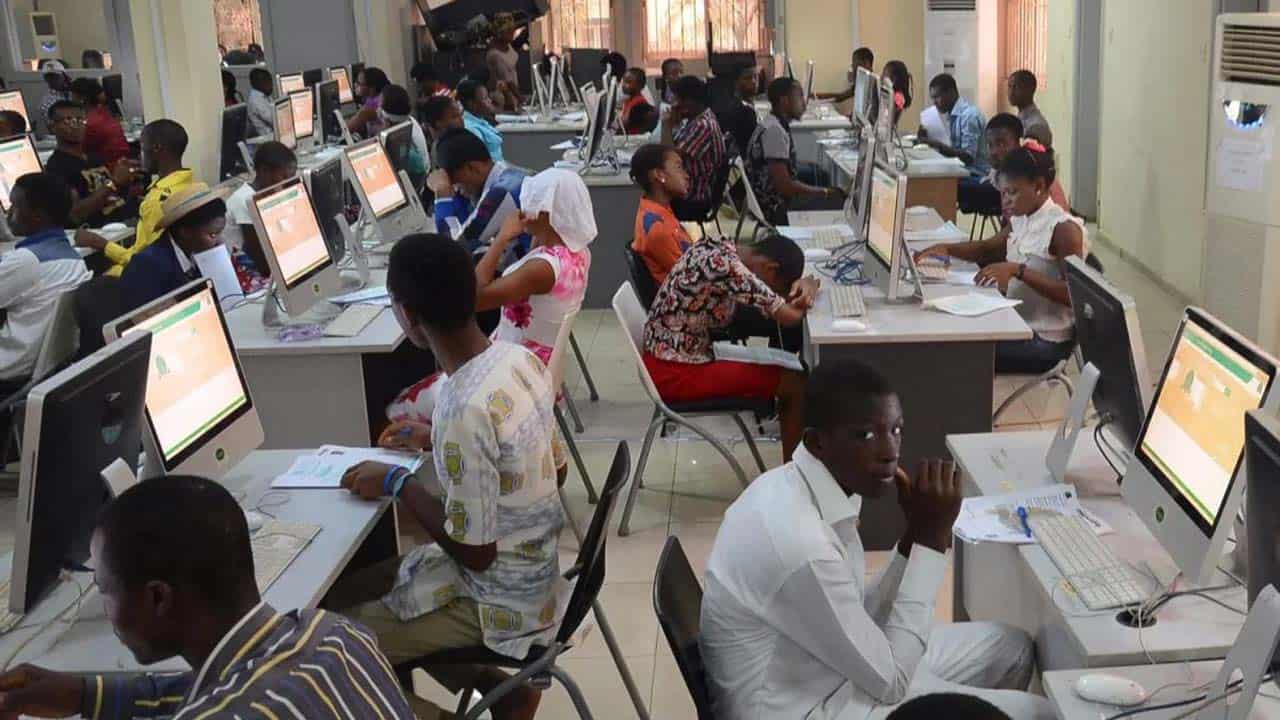 If your O'level result is already uploaded, the only reason you may want to replace it is if you had used a different result for your Post-UTME screening registration other than the one used for UTME registration. If it's the same, don't bother. However, if you still have awaiting results on your CAPS, you need to upload immediately.
Uploading of O'level result on CAPS is free as far as JAMB is concerned. However, you may have to pay a service charge of N500 to the CBT center. Don't try to use your phone to do it yourself because of this service charge. You cannot upload your SSCE result to JAMB portal with your phone.
Procedure on How to Upload Result on JAMB Portal
The following is the procedure to upload your WAEC or NECO result to JAMB portal:
Visit an accredited JAMB CBT center near you
Indicate that you want to upload your result to JAMB portal
Give them a printout of your WAEC or NECO result for uploading
Verify on the screen that the subjects and grades entered for you are correct
Follow the process above to confirm that your results are now in your JAMB CAPS
Conclusion
So that's all there is to it. If you still have questions, please feel free to use the comments box below. I'd be glad to help.
Don't also forget that sharing is caring. Help me to reach others with this information by sharing with your friends on Facebook and Twitter. It's easy. Just scroll down and use the social media share buttons below.
Best wishes
---
Still Got a Question? Drop Your Question Right HERE 👇👇 and click on Search.
Get an Immediate Response...
---
---
---
Get in touch with us
---
If this post was helpful to you, please help us to reach others by sharing with the buttons below!