On this post, I'm going to guide you on how to retrieve JAMB Profile Code. In case you lost the phone you used to register, I will you how to retrieve JAMB Profile Code without phone number.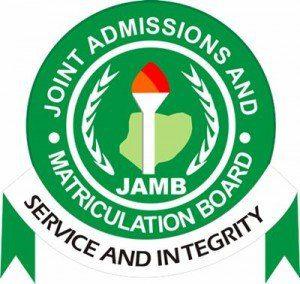 You would recall that, in my previous posts, I have explained…
Just in case you missed any of those very important articles, you can click the links above to quickly read through them before returning to this page. There, you will learn what JAMB Profile Code is all about and what it is actually used for. The same applies to JAMB epin.
So on this post, I want to get you to become conscious of the fact that it is possible to lose, misplace or forget any of your JAMB parameters. The JAMB parameters I'm referring to are the ones you used during your UTME or Direct Entry registration. I mean your JAMB Profile Code, JAMB registration number, JAMB pin, JAMB email address and so on.
Therefore, I advise you to keep your JAMB registration parameters safely.
However, if you happen to lose any of them, read the sections below to learn how to recover them without hassles.
Read Also: How to Retrieve Lost JAMB Registration Number.
How to Retrieve JAMB Profile Code
You use your JAMB Profile Code to purchase JAMB e-pin for UTME or Direct Entry registration. Thereafter, your profile code links you securely to your JAMB CAPS account.
In case you lost your JAMB profile code, there are three simple methods you can use to recover it. The methods include:
Email method of retrieving JAMB Profile Code.
SMS shortcode for retrieving JAMB Profile Code.
Accessing the code via JAMB profile (without phone number).
I shall explain each of the methods so that you will understand how to apply them to retrieve your missing JAMB Profile Code.
1. How to Retrieve JAMB Profile Code Through Email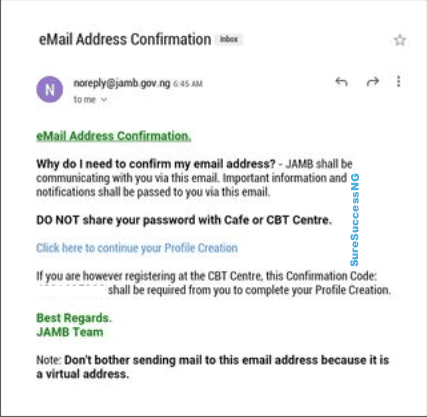 In recent years, JAMB has adopted the practice of sending candidates confirmation emails as a pre-condition to successful creation of profile. That is why JAMB candidates are strongly advised to make use of valid email addresses to apply for UTME. JAMB now communicates with candidates through their email.
So in view of the above, you can always go back to your inbox for the email address confirmation you received from JAMB. You will find your JAMB Profile Code in that mail.
In case you don't find it inbox, check your spam folder. You should be there. That's how to retrieve your JAMB Profile Code through email.
If your email address is very active and you have received tones of mails since you registered for JAMB, it might be a bit difficult to find the mail in question. In this case, follow the steps below…
Login to the email account you used to register JAMB. You can simply do this on your device browser or email app.
Type "eMail Address Confirmation" in the search box and send.
The email in question will appear as a search result.
Open the mail to retrieve/access your JAMB Profile code.
2. How to Retrieve JAMB Profile Code with Phone Number (via SMS Shortcode)
This second method requires that you must use the same SIM you used to register JAMB. More so, a service charge of N50 is required.
I, therefore, recommend this method to you if you have lost access to your email account. Apart from the charge, it's very simple.
To retrieve your lost JAMB Profile Code, text RESEND to 55019 as shown in the image below.
So that's how to retrieve JAMB Profile Code with phone number via SMS short code.
3. How to Retrieve JAMB Profile Code without Phone Number (via JAMB Profile)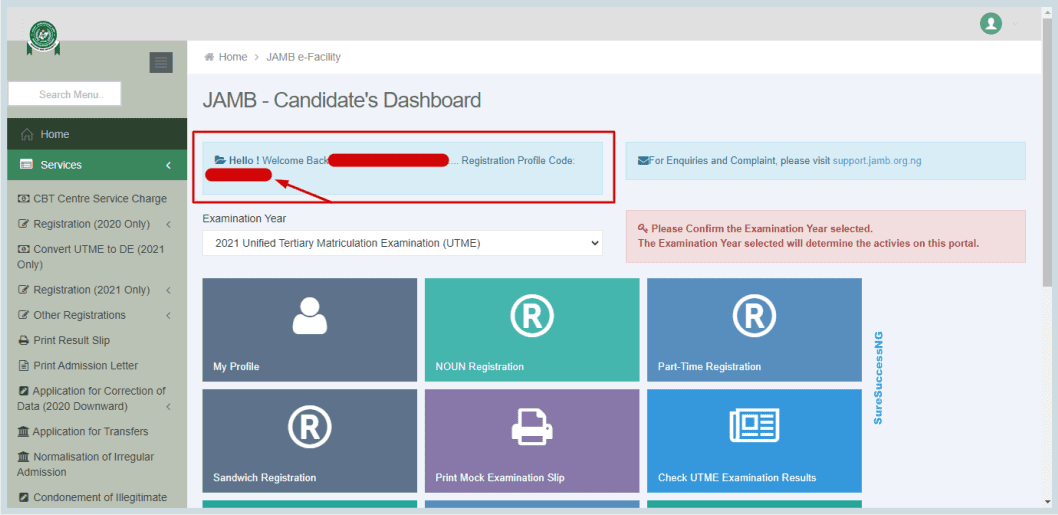 The first two methods show you how to recover a lost JAMB profile code either with your email or your phone. However, there are extreme cases where the candidate does not have access to the email address and the phone number they used to register for JAMB. In such case, the only option remaining for the candidate is to check the JAMB Profile Code on JAMB Portal.
This method requires an Internet-enabled phone or PC and an active data plan from your network provider. More so, you will need your JAMB email and Password.
Once everything is set, follow the simple guide below to recover your JAMB Profile Code on JAMB Portal.
Visit the JAMB e-facility students login portal @www.jamb.gov.ng/efacilitylogin.
Enter your correct JAMB Profile email and password.
You will be taken to your JAMB Profile Dashboard. At the top of your dashboard, you will see a welcome note: "HELLO! Welcome back Henry Divine…. Registration Profile Code: 1234567890."
That's all there is to it. Choose whichever method that is most convenient for you and recover your JAMB Profile Code if you need to.
Read Also: 8 Mistakes You can Correct After JAMB Registration
---
Still Got a Question? Drop Your Question Right HERE 👇👇 and click on Search.
Get an Immediate Response...
---
---
---
Get in touch with us
---
If this post was helpful to you, please help us to reach others by sharing with the buttons below!