You are welcome to another very informative page on your favorite educational website, suresuccess.ng. On this post, I shall help you to understand how to create JAMB profile. The reason I'm doing this is because creating a JAMB profile is the very first step on your journey towards accessing tertiary education in Nigeria. So it is essential that you understand how to create a JAMB profile whether you are a university aspirant or a parent helping your child through the process. I encourage you to read through this piece as I provide you with necessary information about JAMB profile and a step-by-step guide to help you navigate through the process of creating it.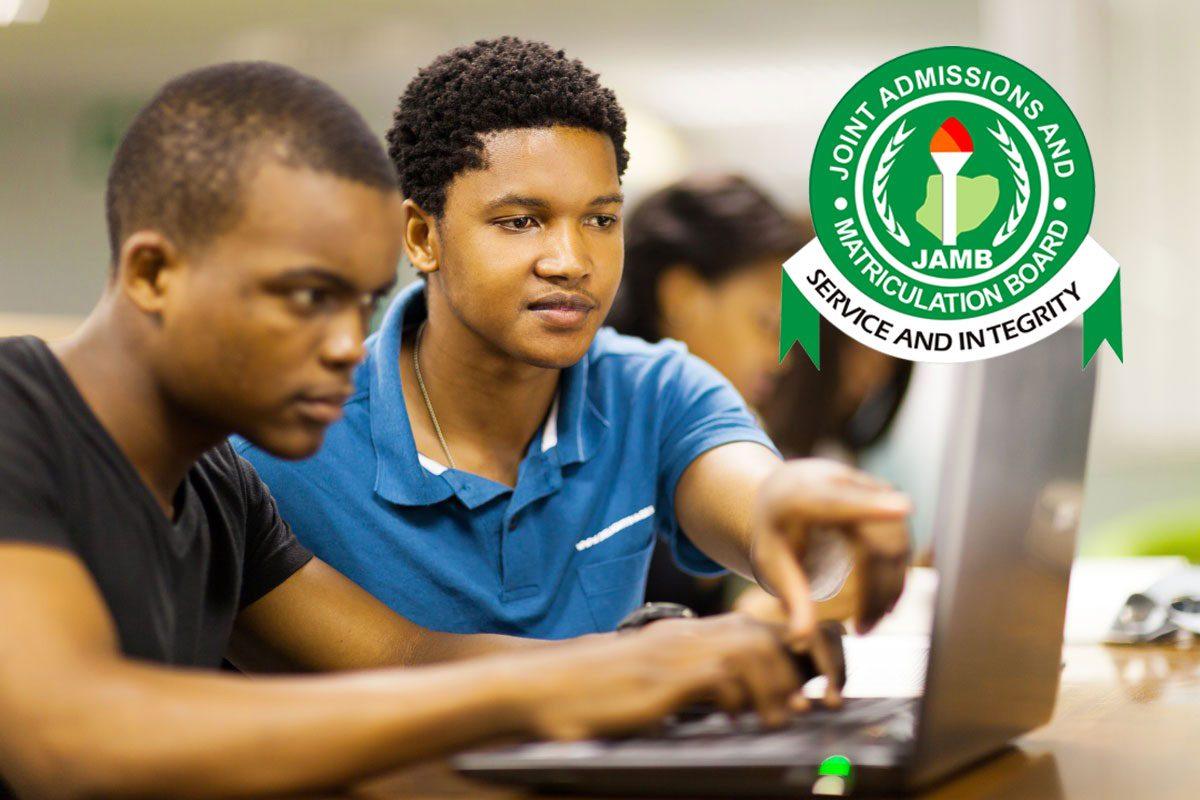 What is JAMB profile?
A JAMB profile is a personal account created on JAMB website by prospective university students who wish to apply for admission into a Nigerian tertiary institution.
Importance of Creating a JAMB Profile
I believe you already know one or two things about JAMB. But I don't mind taking a little space to refresh your mind.
JAMB stands for Joint Admissions and Matriculation Board. It is the governmental body that is responsible for organizing matriculation or entrance exams for tertiary institutions in Nigeria.
So to apply for tertiary education, every candidate must create a JAMB profile. It is an essential preliminary step towards towards applying for JAMB and eventually gaining admission.
Here are the reasons why it is mandatory to create a JAMB profile as a candidate:
1. UTME Registration
Candidates need a JAMB profile in order to successfully register for UTME. They also need their profile to participate in the UTME proper.
2. Direct Entry (DE) Application
In addition to the UTME, candidates also need JAMB profile to process their Direct Entry applications. Direct Entry candidates are those who have advanced educational qualifications beyond the normal SSCE. They apply to gain direct admission into 200 level of their course of choice.
3. Change of Course or Institution
Most of the times, after JAMB registration, some candidates have second thoughts about their choice of institution or course. So they wish to change or modify them. Such changes are only possible through the candidates' JAMB profile. See how to do JAMB change of course or institution here.
4. Checking of UTME Results
It is through candidates' JAMB profile that they can check their UTME results, as well as print out their JAMB result slip.
5. Access to JAMB CAPS
CAPS stands for Central Admission Processing System. It is an integral part of JAMB profile where candidates can monitor the status of their admission, as well as accept or reject admission offers.
6. Printing of JAMB Admission Letter
After a candidate has been offered admission to a tertiary institution, they can print their official JAMB admission letter through their JAMB profile.. This letter serves as proof of admission by JAMB and is often required during the school's registration and clearance process.
Alright.
What you have above are some of the functions and uses of a JAMB profile, as well as the reasons why it is important for every prospective student to have one.
In the next section, I will guide through the process of creating a JAMB profile.
How to Create JAMB Profile and Register for UTME/DE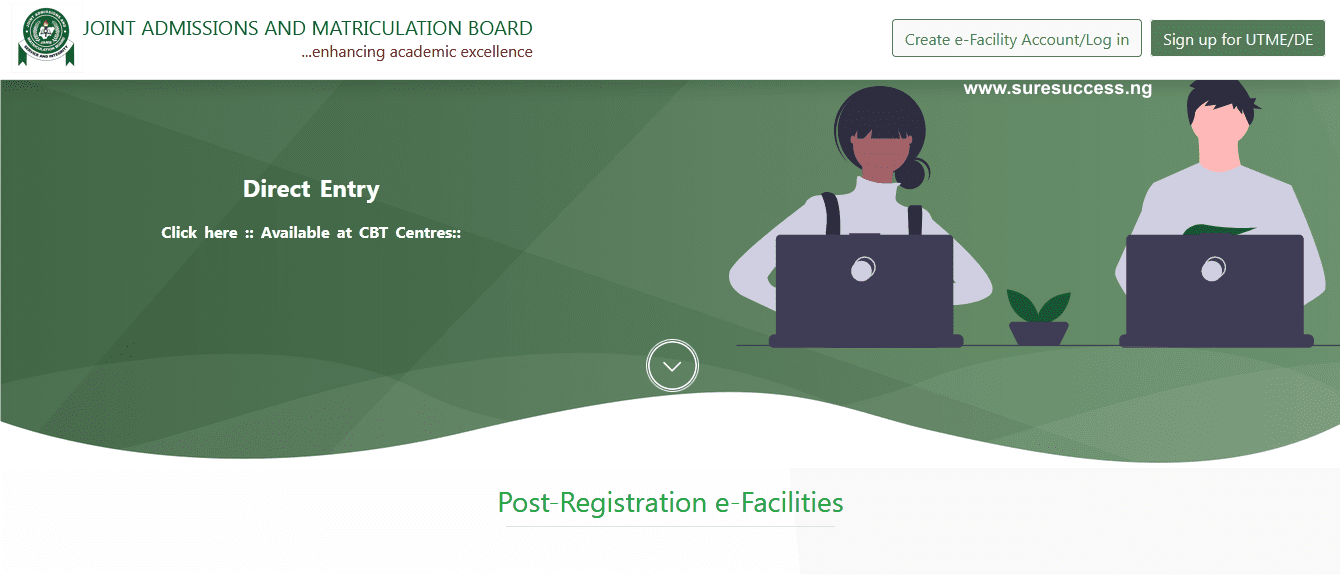 There are a few simple steps to creating a JAMB profile. The steps would involve both using the SMS function of your phone and your email address on JAMB website.
I will explain what to do in each step and then round off.
1. Register with a Valid Email Address
The first step to creating your JAMB profile is to register with a valid email address. Notice that there is an emphasis on the word, "valid". The reason is because whatever email address you supply at this point will serve as your primary means of communication with JAMB throughout the application process.
Here's how to register:
Open your Chrome, Firefox or any other web browser your prefer.
Visit the JAMB official website by copying and pasting this link your your address bar: www.jamb.gov.ng.
Click on the "Create e-Facility Account/Login" button.
Fill out the registration form with your accurate information, such as your full name, email address and other required details.
2. Verify Your Email Address
When you go through the first step successfully, JAMB will send you an email containing a verification link. This is because JAMB would want to be sure that the email address belongs to you and that you still have access to it. So you need to open your mail and click on the link to verify your email address. Note that this step is crucial for activating your JAMB profile.
3. Login to Your JAMB Profile
Once your email address is verified, you can proceed to login to your JAMB profile.
Here's how to log in:
Get back to the JAMB e-facility website.
Click on the "Login" button.
Enter your email address and the password you created during registration.
Click the "Login" button to access your JAMB profile.
4. Provide Personal Information
JAMB requires specific details to create your profile successfully. So now that you have logged in to your JAMB profile, you can start providing your personal information. You will need to enter your name, date of birth, phone number and so on.
As you enter your details, be sure that they are accurate and match your official documents. Any inconsistency in your data would lead to costly complications later on.
5. Create a JAMB Profile Code
Now is time to create your JAMB profile code. In case you don't know, JAMB profile code is a unique 10-character code generated for each candidate. The code is essential for various JAMB services, and you would need it for UTME registration.
Here's how to obtain your JAMB profile code:
Send your full name (surname first) to 55019 using your personal phone number.
The SMS should be in this format: Surname FirstName MiddleName.
For example, if your name Adekunle Ibrahim Obi, the SMS should read Adekunle Ibrahim Obi.
Note that an SMS charge of NGN50 would apply. So ensure that you have an airtime balance of at least 60 Naira.
You will receive your 10-character JAMB profile code shortly. Keep this code safe, as you will need it for UTME registration.
6. Purchase JAMB e-PIN
Now that you have created your JAMB profile and obtained your profile code, you may proceed to complete your JAMB application process. To do so, you will first need to purchase a JAMB e-PIN. You can obtain a JAMB e-PIN authorized banks and accredited JAMB centers.
Here are the simple steps to follow to purchase your e-PIN:
Visit any authorized bank or accredited JAMB center near you.
Pay the required fee to obtain the e-PIN. The fee varies from year to year. So ensure that you find out the current price of JAMB ePIN here.
After payment, you'll receive a printout or SMS containing your JAMB e-PIN.
7. JAMB Registration
Now that you have your JAMB profile code and e-PIN, you can proceed to complete your JAMB registration. Remember that you can only register for JAMB at an accredited CBT center.
When you get there, they will:
Open the JAMB official website and log in to your profile.
Click on "UTME Registration".
Enter your JAMB profile code and JAMB e-PIN.
Complete the registration form with your personal information, choice of course, examination town and more. They will also upload your clear passport photograph and take other biometric data as required.
8. Print Your JAMB Slip
After completing the registration process, you will need to print out your JAMB registration slip.
Here is how to do it:
Login to your JAMB profile.
Locate and click on the option to print your JAMB slip.
Follow the on-screen instructions to generate a printable copy of your slip.
As the date of the UTME exam draws near, you will need to re-print your JAMB slip to get the one that contains vital information such as your examination date, time and venue.
Read Also: How to Fix JAMB Examination Slip Printing Not Allowed
Conclusion
So here's where we end this very informative article. I trust that it is helpful. Really thanking you for visiting my website. I want to encourage you to bookmark this site on your browser. By so doing, you will be able to access other information without hassle. If you stay in touch with this website, you won't miss anything.
Also remember that you can use the comments section to ask questions in case there's something you don't understand. You may as well drop a comment if you encounter any challenge with creating your JAMB profile. Or just share your thoughts with us.
Furthermore, kindly help us to reach others with this post. Share with friends on Social Media. Just scroll down to see the Facebook and Twitter and other social media buttons. Thank you so much!
See you on the next article.
Recommended: Click this Link to Join our JAMB and Post UTME Interactive Whatsapp Group Chat.
---
Still Got a Question? Drop Your Question Right HERE 👇👇 and click on Search.
Get an Immediate Response...
---
---
---
Get in touch with us
---
If this post was helpful to you, please help us to reach others by sharing with the buttons below!