On this post, I will show you how to resolve issues on JAMB Support Ticket Portal. There is a wide range of issues you can resolve via JAMB Support Ticket. These include JAMB profile code issues and so on. Learn how to accurately lodge your JAMB complaint so as to get a quick solution.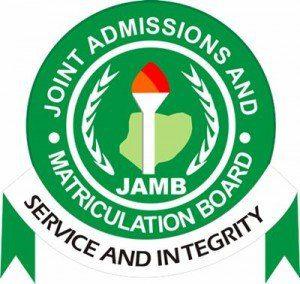 Perfection, they say, is not obtainable in this side of life. Human beings are prone to all manner of mistakes and errors. These mistakes and errors normally give rise to unpleasant issues that require solution. The issues might be as a result of omissions or direct commissions.
Since JAMB candidates are no exceptions, they are also prone to omissions and mistakes. These omissions and mistakes that JAMB candidates make often lead to issues that can potentially jeopardize their admission chances. However, some of the issues that JAMB candidates often complain about are issues that crop up not because they made mistakes.
So it is possible to have JAMB-related issues purely as a result of deficiency in the system. But whatever be the complaint, it can be sorted out via JAMB Support Ticket.
Read Also: 4 Things You Must Get Right When Applying for JAMB.
What is JAMB Support Ticket?
JAMB Support Ticket is a form of electronic complaint system designed by JAMB to receive and resolve challenges faced by individual candidates. The Support Ticket can be tracked in real time and is free for every candidate on JAMB portal.
Issues You Can Resolve on JAMB Support Ticket Portal (JAMB Complaints)
So these are the issues you can resolve on JAMB Support Ticket Portal. It covers virtually all the JAMB complaints you may ever have…
1. Matriculation List Issue.
2. UTME and Direct Entry Registration Issues.
3. Examination Issues.
4. NIN Related Issues.
5. Issues that have to do with Admission.
6. Biometric Capture and Verification Issues.
7. Booking of Appointment.
8. JAMB Profile Code Issues.
9. JAMB CAPS.
10. Change of Course/Institution.
11. Correction of Data e.g name, e-mail address, etc.
12. General complaint/Enquiry.
13. Late Application.
14. Problems with OTP Code.
15. All Payment Issues.
16. Unaccredited CBT Center.
Note, however, that you can get a quicker response by using another channel if your issue has to do with NIN. If you have an issue like, "Your passport obtained from NIMC is not valid…" or any other issue with generating JAMB profile code, just send an email to nimc-jamb2023@nimc.gov.ng.
More so, Development Partners and Professional Test and Registration Centers can as well lodge their complaints on the JAMB Support Ticket portal.
Read Also: 8 Mistakes You can Correct After JAMB Registration.
How to Create JAMB Support Ticket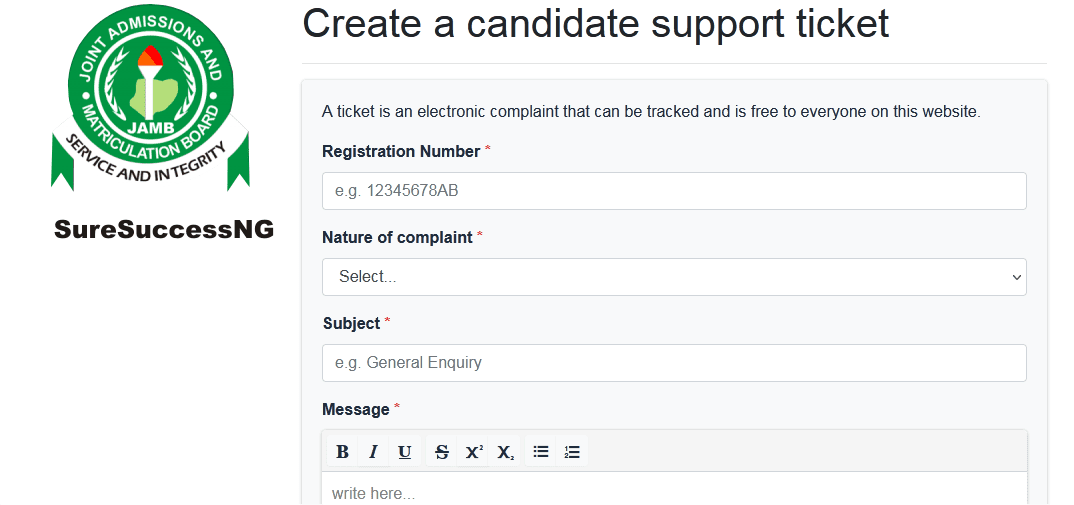 I hope you have looked through the list 16 of issues you can resolve via the JAMB Support Ticket Portal? I hope it covers the challenge you are currently facing? If it does, then what you need to do next is to create a support ticket.
Support tickets are given speedy attention by JAMB. Actually, they are attended to within 24 – 48 hours, except on weekends of course.
In this section, I will show you how to create a JAMB Support Ticket in very simple steps.
1. Log on to the JAMB Support Ticket Portal through this link www.jamb.gov.ng/candidate-support-ticket/.
2. Enter your JAMB email.
3. Enter your full names.
4. Enter your JAMB Phone number.
5. Select the nature of your complaint.
6. Enter the subject of your enquiry.
7. Then fill the message box. In the message box, you are expected to detail your complaint or enquiry. You can also attach a file or document to buttress your point if need be.
8. Click the Send button.
After sending your JAMB complaint or enquiry, remember to also write down your Ticket ID. And ensure that you fill a functional email in the complaint form. This is very important.
So JAMB will send you an email notification as soon as a response has been made on your ticket.
How to Track your Submitted JAMB Support Ticket
As I already pointed out, JAMB Support Tickets can be tracked in real time. You are, therefore, advised to start doing so shortly after submitting your ticket. All you need is to have your email address and Ticket ID handy.
Follow these steps to track your JAMB Support Ticket…
1. Log on to https://support.jamb.gov.ng/candidate-support/my-tickets.
2. Enter your JAMB e-facility profile email.
3. Enter your ticket ID.
4. Then click the Submit button.
That's all there is to this subject matter. So just go ahead and do the needful.
Conclusion
So we have come to the end of this article. I trust that you found what you were looking for. You can scroll down to use the comments section is you have further questions. Comment your questions or just share your thoughts with us. We will be glad to hear from you.
Finally, help us to reach others with this informative post. It's very simple. Just use the Social Media buttons below to share with your friends. See you in the next article!
---
Still Got a Question? Drop Your Question Right HERE 👇👇 and click on Search.
Get an Immediate Response...
---
---
---
Get in touch with us
---
If this post was helpful to you, please help us to reach others by sharing with the buttons below!