10 Feminist Books every Woman Should Read. There are books that only women can relate to. The issues peculiar to women include work ethics, emotional abuse, sexual abuse, physical abuse, Gender inequality and social prejudice amongst others.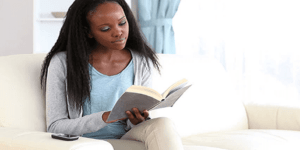 1. Americanah by Chimamanda Adichie
Tells the story of a young Nigerian woman who emigrates to the United States for a university education and stays for work. The book was selected as one of the 10 Best Books of 2013 by the editors of the New York Times Book Review. It won the 2013 National Book Critics Circle Award, Fiction category.
2. The Beauty Myth by Naomi Wolf
Explains how the present media messes with women's views of their bodies, it wasn't always. Wolf's book and its examinations of plastic surgery and eating disorders are as relevant today as they were in 1990.
3. A Room of One's Own by Virginia Woolf
Argues that a woman must have money and a room of her own if she is going to write fiction. She reflects on the importance of tradition to an aspiring writer wraps up with an exhortation to her audience of women to take up the tradition that has been so hardly willed to them, and to increase the endowment for their own daughters.
4. The Color Purple by Alice Walker
Talks about the horrific violence and oppression of several African-American women in the 1930s, won the Pulitzer Prize for fiction as well as the National Book Award, and has been adapted into a film and Broadway show.
5. Eat Pray Love by Elizabeth Gilbert
Is an intensely articulate and moving memoir of self-discovery, Eat, Pray, Love is about claiming responsibility for your own contentment and stop trying to live in imitation of society's ideals. It is certain to touch anyone who has ever woken up to the unrelenting need for change.
6. The Handmaid's Tale by Margaret Atwood
Is a novel that's often invoked in the conversation about women's health, she imagines a stifling dystopia where women are utilized only for their ability to breed.
7. The Joys of Motherhood by Buchi Emecheta
Is a novel that focuses on the experience of motherhood in patriarchal culture. The book takes us on a journey with Nnu Ego and her struggle between understanding and accepting the new ways of her people and clinging to her traditional values. This book provides excellent insight to the effects of colonialism on native Nigerians.
8. Virtuous woman by Zainab alkali
Is about a physically challenged woman's aspirations in a patriarchal society and how to find love.
9. Everything Good Will Come by Sefi Atta
Is a novel about a girl growing into a woman in postcolonial Nigeria and England. Enitan, is faced with various personal entanglements connected with family troubles, rape, and imprisonment.
10. The Memory of Love by Aminatta Forna
Is a breathtaking that seamlessly weaves together two generations of African life to create a story of loss, absolution, the indelible effects of the past and, the nature of love.
Read Also: 50 Classic Books You Should Have Read by Now!
Credit: Nkem Egenuka (zodml.org)
---
Still Got a Question? Drop Your Question Right HERE 👇👇 and click on Search.
Get an Immediate Response...
---
---
---
Get in touch with us
---
If this post was helpful to you, please help us to reach others by sharing with the buttons below!