Many Internet users are in constant search of ideas for making money online. This is owing the current harsh economic reality in many countries. In response to that, I have been doing series of articles on how to make active and passive income online. This post is a part of the series and is all about how to make money on Pinterest. So I'm going to take some time to give you background information on what Pinterest is all about. I will show you most of the features of the platform and how you can leverage on them to make money. Remember you use the comments section to ask questions if you encounter any difficulty.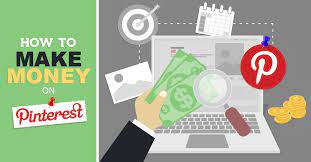 What is Pinterest All About?
Pinterest is a social media platform that allows users to share images and videos, and discover new ideas. In other words, it is a visual discovery engine that allows users to discover and save ideas for various interests and projects.
Pinterest was founded by Ben Silbermann, Paul Sciarra and Evan Sharp, and was launched in March 2010. Since then, Pinterest has had a gradual but steady growth and today, it is one of the most popular online platforms with millions of users worldwide.
Key Features and Aspects of Pinterest:
In this section, I will expose you to some of the key features and aspects of Pinterest. So that when we start discussing how to make money via any of the feature, you will not find it difficult to understand.
Here are some of the key features and aspects of Pinterest:
1. Pinboards
Pinboards are at the core of Pinterest. They are like virtual bulletin boards where users can organize and save content. Users of the platform can create multiple boards according to their areas of interest. For example, recipes, home decor, travel destinations, fashion, education and so on.
2. Pins
After creating their pinboards, users can add "pins" to their boards. If you are wondering what pins are, they are are images or videos that link back to a webpage or source, enabling users to discover and save content from across the web. You can also save pins from other users' boards.
3. Content Discovery
Pinterest keeps a record of the interests and past activities of all its users. On that basis, it uses a recommendation algorithm to suggest content to the users. But beyond that, Pinterest allows users to explore content by searching for keywords, browsing through categories or following other users with similar interests.
4. Shopping
This is one of the features of Pinterest you should be interested in if your desire to to start making money off the platform. Pinterest has robust shopping features that allow users to discover and purchase products directly through the platform. Businesses and retailers can also create shoppable pins to showcase their products.
5. Ideas and Inspiration
Right from its launching day till now, Pinterest has been a veritable source of creative inspiration to many. So when people are faced with projects and certain activities, they resort to Pinterest for ideas. People planning for weddings or home redecoration, people finding a new recipe to try or looking for gift ideas have all found creative solutions on Pinterest.
6. Community and Sharing
This is the social aspect of Pinterest that seeks to connect individuals of like minds and similar interests. They can follow one another and interact with their content by liking, commenting on, or sharing pins. By so doing, they may discover new ideas or be inspired to dream big.
7. Business and Advertising
The developers of the Pinterest social media platform also integrated into the it tools for business promotion and advertisement. So right there on Pinterest, businesses can promote their products and services to a wide audience across the globe. The platform has a global user base and is available in multiple languages, making it accessible to users from different parts of the world.
Pinterest also has several advertising options like promoted pins and analytics to track campaign performance.
8. Privacy and Security
Pinterest has a standard privacy policy which ensures that users can control the visibility of their boards and pins. This makes it possible for users to keep their boards private or share them with specific individuals. Pinterest also has policies in place to address issues like copyright infringement and harmful content.
9. Mobile Apps
The last important feature of Pinterest is that it is available as a mobile app for both iOS and Android devices. This makes it convenient for users to access and engage with the platform on the go.
Can You Really Make Money on Pinterest?
This is the question that many people are asking.
To answer that, I'm going to let you in on some interesting facts…
Pinterest has over 435 million users across the globe. These users consume over 1 billion videos and other content on a daily basis.
So eCommerce businesses, bloggers and influencers have a huge revenue opportunity in Pinterest.
Many people regard Pinterest as the perfect platform to visit when they want to start a new project. It is therefore a perfect place to market your businesses, services, ideas and inspirations.
More so, if you have an eCommerce or product-based business, Pinterest is a great place to catch the eye of potential customers who are probably researching about your product.
If you are a blogger or an influencer, then Pinterest can drive massive traffic to your blog if you know how to go about it. As a blogger, it would make a huge difference if you rather think of Pinterest as another search engine rather than a traditional social media platform. That way, you can use SEO strategies and captivating pins to help users find your content and link back to your blog.
In the next few sections, I will show you how to make money on Pinterest in more details.
How to Make Money on Pinterest — What you can do

One way to make money on Pinterest is by creating and sharing high-quality, engaging content that is relevant to your audience. This can include pins, boards and other forms of visual content.
To make money on Pinterest, you will need to have a Pinterest account and create a business profile. This will give you access to Pinterest's advertising and marketing tools. With these tools, you can reach a wider audience and generate more traffic to your content.
Once you have a business profile, you can start creating pins and boards that showcase your products or services. Again, these can include images, videos and other forms of visual content that are relevant to your business. You can also use keywords and hashtags to make your content more discoverable on Pinterest.
You can also use Pinterest's advertising tools to promote your content to a wider audience. This can include
sponsored pins and
promoted boards
Sponsored pins are paid advertisements that appear in users' feeds while promoted boards are collections of pins that are promoted to a targeted audience.
In addition to advertising, you can also make money on Pinterest through affiliate marketing. This involves promoting products or services from other companies and earning a commission when someone makes a purchase through your affiliate link. To do this, you will need to join an affiliate program and obtain a unique affiliate link for the products or services you want to promote.
In the next section, I will show you how to make money on Pinterest in more details.
Read Also: How to Make Money Online as a Freelance Graphic Designer
Specific Details on How to Make Money on Pinterest
There are several ways to make money on Pinterest. To make money on Pinterest, you can:
develop and monetize the Pinterest skill for voice assistant
become an affiliate marketer
sell your own products or services
promote your own blog or website
help other Pinterest users shop your look
join the Pinterest Creator Fund
participate in the Pinterest Creator Rewards program
partner with brands
I will now discuss each of the above in details…
1. Develop and Monetize the Pinterest Skill for Voice Assistant

It is possible to develop a Pinterest skill and monetize it. For example, you can develop the skill for a voice assistant. But to do so, you will need to create a new skill using the Alexa Skills Kit. This kit allows you to build custom skills for Amazon's Alexa-enabled devices, such as the Echo.
Once you have created your skill, you can monetize it by enabling in-skill purchasing. This allows you to offer premium content or features within your skill that users can purchase with their Amazon account.
Additionally, you can enable Amazon Pay within your skill to allow users to make purchases using their Amazon account. This can be a convenient option for users and it can also help to increase conversions and revenue for your skill.
It's important to note that in order to monetize your skill, you will need to have it approved by Amazon. The Amazon approval process involves
submitting your skill for review.
meeting certain requirements, such as having clear and accurate descriptions.
ensuring that your skill provides value to users.
So if you are looking to earn money from Pinterest, you can develop and monetize the Pinterest skill for a voice assistant. In so doing, you offer great value to users and generate revenue for your business.
Read Also: Passive Income Ideas; How to Make Passive Income Online
2. Become an Affiliate Marketer
As an affiliate marketer, you can earn money by promoting other people's products on your Pinterest boards. That way, you can earn a commission on any sales that result from clicks on your affiliate links.
To get started with affiliate marketing on Pinterest, you will need to sign up for an affiliate program with a company that offers products that align with your brand and target audience. Upon approval for the affiliate program, you will receive an affiliate link that you can use to promote the company's products on your Pinterest account.
When you share a product on your Pinterest account, always include your affiliate link in the description or in the pin itself. Users can click on your affiliate link and be redirected to the company's website, where they can make a purchase.
When a user makes a purchase through your affiliate link, you will earn a commission on the sale. However, the commission rate and terms will vary depending on the affiliate program you are participating in.
Tips to Becoming a Successful Affiliate on Pinterest
Success in any venture is never an accident and becoming a successful affiliate on Pinterest is not an exception. So you need to learn how to use a combination of strategies to drive traffic, engage users and promote products effectively.
Here are some tips to help you succeed as an affiliate marketer on Pinterest:
Select a niche or topic that you are passionate about and has a market for affiliate products. Let your passion come through in your pins and descriptions to make your content really engaging.
Since Pinterest is a visual platform, create eye-catching and high-quality pins.
Use relevant keywords in your pin descriptions and board titles to improve discoverability. The easiest way to go about this is to use Pinterest's keyword tool to find popular and relevant keywords.
Write very informative and engaging pin descriptions that include keywords. Explain the value of the product you're promoting and why users should click through.
Pin regularly to keep your content fresh and engaging. You can use scheduling tools to maintain a consistent posting schedule.
Promote a variety of products within your niche. Don't rely on a single affiliate program or product.
Respond to comments, messages and engage with your followers.
Creating Sponsored Content as an Affiliate Marketer on Pinterest

Sponsored content is what many also refer to as native advertising or branded content. It is a type of advertising that involves creating a piece of content that is sponsored by a brand and is intended to promote the brand's products or services. Sponsored content is different from traditional advertising in that it is intended to be educational or informative, rather than purely promotional. The goal of sponsored content is to provide value to the reader and to build trust with the brand.
To create sponsored content, start by identifying the target audience for the content. This will help you determine the tone and style of the content, as well as the topics that will be most relevant and engaging to your audience.
Next, come up with a creative concept for the content that aligns with the brand's values and messaging. This could be a blog post, a video, an infographic, or any other type of content that will resonate with your audience.
Once you have a concept in place, work with the brand to develop the content in a way that effectively promotes the brand's products or services. Be sure to include calls to action and other elements that will encourage the reader to take action, such as visiting the brand's website or purchasing a product.
Finally, promote the sponsored content through your own channels and through any partnerships or sponsored content networks that the brand may be a part of. This will help to maximize the reach and impact of the content.
Read Also: Best Guide to WhatsApp Business Web
3. Sell your Own Products or Services
If you have your own products or services to sell, you can use Pinterest to drive traffic to your website or online store and make sales.
You can create boards that showcase your products and include links to your website or online store in the pin descriptions. Otherwise, you can use Pinterest shopping tool to sell directly on the app.
With Pinterest's in-app checkout, pinners can discover your product and buy it without having to leave the Pinterest platform.
However, the in-app checkout feature is available to a few merchants who qualify for it. To qualify for Pinterest's in-app checkout, you must:
use the shopify app with store that has a U.S billing address.
not have active non-Shopify feeds uploaded to Pinterest.
accept returns.
have an email address for customer support inquiries.
exceed monthly checkout conversions threshold.
and so on.
Upon your approval for the in-app checkout feature, your product pins will have a "Buy" button appear below the pins.
When someone clicks on the BUY button, your product's details will appear and the person will be redirected to a checkout page within the Pinterest app.
But don't forget that I said that the in-app checkout feature is only available to a limited number of merchants. So, if you don't have it yet, you can still create eye-catching pins and direct viewers to your website to buy the products.
4. Promote Your Own Blog or Website
Another way to make money on Pinterest is by promoting your own blog or website. You can use Pinterest to drive traffic to your blog or website by creating boards that are related to the content on your site and including links to your blog or website in the pin descriptions. This can help you generate more views and potentially increase your advertising revenue.
Read Also: Top 5 Ways to Make Serious Money from your Blog
5. Help Other Pinterest Users Shop your Look
Over 50% of Pinterest users are on the app basically to shop one item or the other. Since shopping is the top priority of most pinners, you can take advantage of that to make money on Pinterest.
You do this by helping Pinterest users to shop your look. Here's how…
You can show off an alluring styled outfit that users will easily like. Then create a Pinterest board with images of the items you're wearing in your outfit. You can then add links to the items in the description of each pin so that other users can easily purchase the items if they like your style.
You can also use Pinterest's Shop the Look feature, which allows users to shop items in your outfit by clicking on individual items in the image. This feature is only available to a select group of users at the moment, but you can sign up to be notified when it becomes available to everyone.
6. Join the Pinterest Creator Fund
The Pinterest Creator Fund is another great way to make money on Pinterest if you get accepted.
But what exactly is Pinterest Creator Fund?
The Pinterest Creator Fund is a 5-week training program where content creators learn about creating inspiring Pinterest content, gain industry insights from experts and receive potential brand sponsorships.
The goal of the Creator Fund is to promote the growth and success of underrepresented creators. By that we mean people of color, people with disabilities and members of the LGBTQ+ community. The fund comes in the form of a cash grant, ad credits and an equipment stipend.
Interested participants can wait for the quarterly announcement of a new Fund cycle. Each fund cycle has a theme which could be Fashion and Beauty, Food and Wellness, and so on.
Note that the Creator Fund is currently available to underrepresented U.S., U.K. and Brazil creators.
If you don't want to miss out when the next cycle of the Creator Fund opens, you'll need to sign up for the Pinterest creator newsletter.
7. Participate in the Pinterest Creator Rewards Program
If you tried joining the Pinterest Creator Fund but did not qualify, you can try the Pinterest Creator Rewards program.
Pinterest Creator Rewards is a program offered by Pinterest to reward creators who make original high-quality content that are popular on the platform. So creators can earn money by creating original Idea Pins which are based on Pinterest prompts.
I would need to quote Pinterest here for clarity,
"Every prompt will outline specific engagement goals, like getting a certain number of saves, reactions, or takes on your Idea Pin. When you meet the engagement goals, you'll see rewards in your bank account the following month."
However, users need to be eligible to benefit and earn from the program. And it is pertinent to note that a limited number of people qualify to apply for the Creator Rewards program. Some people suggest that the reason is because Pinterest is still in the testing phase of the program.
Conditions for Eligibility for Pinterest Creator Rewards Program
To be eligible for Pinterest Creator Rewards program, you need to:
have a Pinterest business account.
use the Pinterest app on your phone.
be 18+ years old.
be a legal resident of, and located in, the United States or the District of Columbia.
have at least 250 followers.
create original and engaging content.
have created at least 3 Idea Pins in the last 30 days.
have 150 saves of your published pins in the last 30 days.
follow the Pinterest Creator Rewards policies and guidelines.
Once you meet the above conditions for eligibility, you can apply to participate in the program. To know if you meet the conditions, check the Pinterest app on your mobile device for a "Get Started" button.
If you don't see the button, it means that you don't meet the conditions for eligibility.
If you see the "Get Started" button, then apply by filling out the application form.
You'll need to check the Pinterest app on your mobile device to see a "Get Started" button to apply.
Once you are approved, you can earn money through the program by creating original content that drives traffic and engagement on Pinterest. However, it is not clear how much you can earn through the program, as the amount you can earn will depend on the popularity and engagement of your content.
8. Partner with brands
Use the paid partnership tool to tag brand partners in your Pins.
It's simple. Just make a Pin, add the paid partnership label and tag your partner brand. Once they approve the request, their brand name will appear on your Pin.
Brands can also choose to promote your Pins as ads—expanding your reach to even more people.
When you use the paid partnership tool, you work directly with the brand to define the payment terms and process. Pinterest will not be directly involved in payment.
Conclusion
So here's where we end this very informative article for today trusting that it is helpful. Really thanking you for visiting this website. We want to encourage you to bookmark this site on your browser and also subscribe for notifications from us. By so doing, you will always be the first to read new information about "How to make money on Pinterest" and other similar updates. If you stay in touch with this website, you won't miss anything.
Also remember that you can use the comments section to ask questions in case there's something you don't understand. Otherwise, just share your thoughts with us; we'd love to hear from you.
Furthermore, kindly help us to reach others with this post. Share with friends on Social Media. Just scroll down to see the Facebook and Twitter and WhatsApp buttons. Thank you so much!
See you on the next article.
---
Still Got a Question? Drop Your Question Right HERE 👇👇 and click on Search.
Get an Immediate Response...
---
---
---
Get in touch with us
---
If this post was helpful to you, please help us to reach others by sharing with the buttons below!