This post is for Enugu State indigenes who are interested in accessing the state government scholarship offers. Here, you will learn how to access the Enugu State scholarship portal and complete the application form. Thereafter, we shall drop information on Enugu State Scholarship Past Questions and exam dates.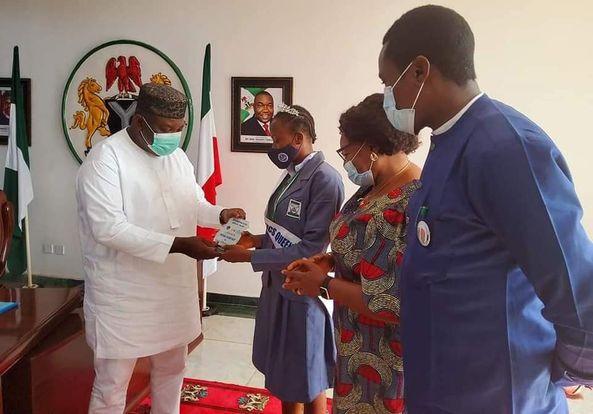 Enugu State Scholarship Board
Enugu State Scholarship board was established in 2009 under the Sullivan administration with the objective, inter alia, of ensuring that many indigent but exceptionally brilliant students are given the opportunity to go to school.
Since the establishment of the board, not so many people knew about its existence until the administration of His Excellency, Rt. Honourable Ifeanyi Lawrence Ugwuanyi. In his administration, the board became a household name through the award of various degrees of scholarships to Enugu indigenes to study both within and outside the country.
The Scholarship board has automated the system of application of scholarships through its portal that enables all Enugu applicants create an account through which all their applications are made and processed. This portal is designed in such a way that enables the applicants track the status update of their applications online without any human interference.
In addition to the above, the portal offers CBT solutions that make the conduct of aptitude tests and exams seamless. It equally contains an internal control mechanism to ensure that non-Enugu indigenes do not usurp the opportunities meant for 'ndi' Enugu.
So the state government has got you covered.
Read Also: Other Currently Available Undergraduate and Post-graduate Scholarships
How to Apply for Enugu State Government Bursary, Undergraduate and Post-graduate Scholarships
Please follow these simple steps.
STEP 1: Obtain Application Voucher from the Board Office: 28 okpara Avenue, old CCB building, Enugu.
You may, however, call any of the following numbers to obtain the voucher. 07032284693, 09033661882, 09044022730, 09045085589, 09054915257, 07053900572.
STEP 2: Prepare Required Documents To upload.
For Bursary Allowance:
School Id Card.
Admission Letter or Your profile print-out from your school portal.
Letter from your HOD on the departmental Letterhead stating your current CGPA.
Certificate of LGA Origin.
Recommendation letter from village head.
Read Also: e-YES (Enugu Youth Empowerment Scheme) | Loan | Application and Registration Now Open
For Undergraduate Scholarship:
Your WAEC/NECO or equivalent result.
JAMB admission letter or its equivalent.
Certificate of LGA Origin.
Recommendation letter from village head.
For Post-graduate Scholarship:
Your 1st degree result/certificate.
Admission letter from the post graduate institution.
Certificate of LGA Origin.
Recommendation letter from village head.
Note: All respective documents should be scanned into one PDF file not more than 1mb in size. If File size exceed 1mb, your application will not be considered for review.
Enugu State Scholarship Portal
The following are links to Enugu State Scholarship Portal for easy login. The first is for undergraduates while the second is for post graduates.
Enugu State Scholarship Login (Portal)
Use any of the links to access the Enugu State scholarship portal. Once on the portal, you login by entering your Application ID and selecting your Application Category.
Enugu State Scholarship Exam Date
The application for Enugu State Scholarship Exam starts on Monday 29th June and closes by Thursday 8th July, 2021.
There shall be a selection exam for candidates who completed the application stage successfully. The examination date will be communicated to the candidates via the email addresses they submitted on the portal during application.
So you must ensure that you submit a valid and functional email address.
However, if you did not receive an email with a detailed information concerning the Enugu State Scholarship examination schedule, you can always check this website for updates. We shall post the information here as soon as it is out.
More so, bookmark this website for more Enugu State Scholarship news and updates.
Enugu State Scholarship Past Questions
Access a comprehensively compiled Scholarship Past Questions and Answers from the board through
>>this Link<<
. You can also join our Students Whatsapp Group for to interact with others.
Join here
.
Enugu State Scholarship List (PDF)
Several weeks after the examination, the list of successful candidates are published on the state scholarship board's portal. So, you are expected to check your name there.
The board may, however, decide to contact successful candidates directly through email.
The method that would be used depends on the discretion of the state scholarship board. So, it is the responsibility of the candidate to keep checking their email account and the
scholarship portal website
for updates.
Our Recommendation
Help us to reach all Enugu born students with this information. Share this post to your friends and family. It's actually very simple. Just scroll down a bit and use the social media share buttons.
---
Still Got a Question? Drop Your Question Right HERE 👇👇 and click on Search.
Get an Immediate Response...
---
---
---
Get in touch with us
---
If this post was helpful to you, please help us to reach others by sharing with the buttons below!